News
Black Hammer Trailer is an Exclusive Look at Superhero Return
One of our favorite superhero books returns with a bang this week, and there's a trailer to celebrate.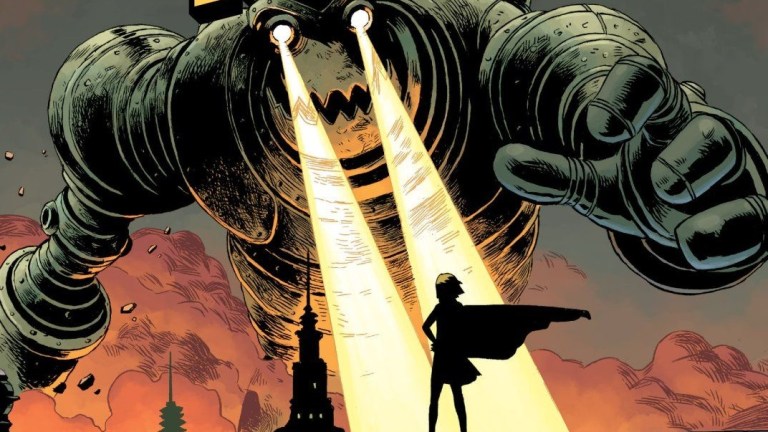 Black Hammer, one of our Best Comics of 2016, has been on hiatus for a bit as peripheral series have fleshed out the main comic's universe and deepened its core mystery. But now it's back, with Black Hammer: Age of Doom, and Dark Horse created a trailer video to get us excited.
Watch it here…
Black Hammeris the story of a group of heroes, after a fight with the giant, villanous Anti-God, trapped in an eerie idyllic farm town. Abraham Slam was a brawler in peak physical condition who came out of retirement to be the last line of defense against Anti-God. Golden Gail was an elderly woman who traded places with a superpowered preteen girl when she muttered a magic word. Colonel Weird and Talky Walky explored the para-zone together as man and female expressing robot best friend. Barbalien is the Martian diplomat who made first contact with Earth. And Madame Dragonfly controls earth-toned magic from her mysterious swampy cabin. The six of them defeated Anti-God, but were transported to a mysterious farm at the climax of their battle along with Black Hammer, a god in his own right who left his family to save the planet. 
Upon arrival at the farm, Black Hammer, trying to get back to his daughter, flew into an energy barrier and was torn apart, one body system at a time, leaving the remaining six to slowly slip into despair over ten years at their seemingly hopeless situation. 
Meanwhile, Black Hammer's daughter Lucy, now a journalist, is trying to figure out what happened when she stumbles across a probe sent out by Talky Walky, and eventually makes her way to the farm where she picks up her father's hammer, becomes a hero and "remember[s] everything." The trailer picks up with Lucy as Black Hammer, popping in and out of the parazone.
The Black Hammer world has been expanding during the main series' time off. Sherlock Frankenstein and the Legion of Evildug into the villains of the universe (including Cthu-Lou, the greatest villain pun ever created). Doctor Star and the Kingdom of Lost Tomorrowsplayed with the idea of legacy in the Black Hammer universe. And The Quantum Age, coming later in 2018, jumps us 1000 years into the future of Spiral City.
All three series so far – the main Black Hammer, Sherlock Frankensteinand Doctor Star– have been written by Jeff Lemire, with art from burgeoning superstars. Dean Ormston on the main series is like a cross between Frank Quitely and Mike Mignola. Sherlock Frankenstein's David Rubin is a cartoonist's cartoonist out of Paul Pope's artistic family tree. And Max Fiumara, a stylish chameleon, knocked it out of the park on Doctor Star.
For more on Black Hammer, stick with Den of Geek!