News
New Birds of Prey Comic Coming from DC
Black Canary, Huntress, and Harley team up in a new Birds of Prey series from Brian Azzarello and Emanuela Lupacchino.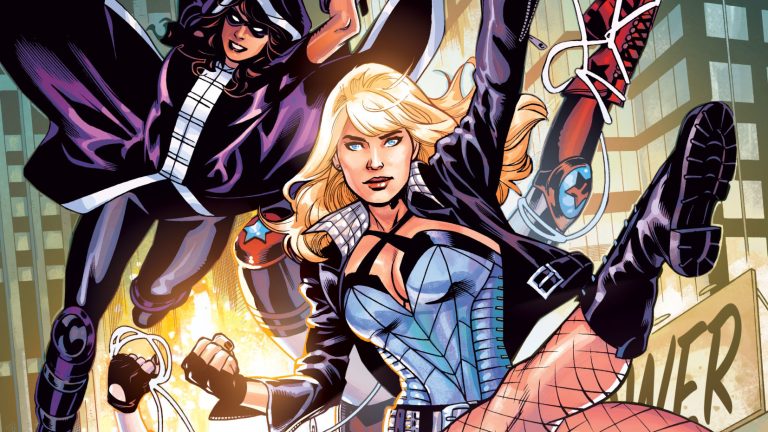 With a movie coming out in February, DC is putting some heft behind a classic property. Brian Azzarello (Batman: Damned, Wonder Woman) and Emanuela Lupacchino (Superwoman, Starfire) are bringing back the Birds of Prey in October with a new monthly series.
The Birds were originally introduced by Chuck Dixon and Dick Giordano in 1995 as a team-up between Black Canary and then wheelchair-bound genius strategist, ex-Batgirl and then-Oracle, Barbara Gordon. The team later grew to include…nearly every superhero woman in the DC Universe, from Judomaster to Poison Ivy to Huntress to Lady Blackhawk.
"I'm thrilled to work on Birds of Prey with Brian Azzarello," Lupacchino said in a press release. "The Birds are a super-team I've never worked on before but that I've always loved. Harley is shining with her craziness, which is something I love to draw."
When the new series begins, Dinah Lance's life is on the rocks. An ex points her at a new group of villains, Las Esposas De La Muerte, and sets her on a path to probably a lot of kicking (hopefully a lot of kicking? Kind of what I'm here for, and I suspect I'll get my wish). She connects with Huntress, who has also been set on Las Esposas by Renee Montoya, last seen all Question-ed up in the pages of Lois Lane. And somehow, Harley Quinn gets involved to lighten the mood.
"It's cool to have a story to tell about these characters I've never worked on before, with Ema, a terrific artist I've never worked with before," Azzarello said. "Having Harley involved screws with the new BOP dynamic—hell, with every dynamic. She's chaos, but she might be the most together member of the team. Canary, Huntress, and Montoya have a lot of damaged baggage. Ema and I are gonna unpack it."
The series has enjoyed a bit of a who's who of creators over the years. After two of the most important Bat-creators of all time launched it, the Birds have been written or drawn by Gail Simone, Duane Swierczynski, Terry Moore (!?!), Gilbert Hernandez (HOW DO I MAKE THE CONFUSED PUNCTUATION BIGGER?!?!?!), Amanda Conner, Jesus Saiz, Ed Benes, Butch Guice, and Nicola Scott, among others. The most recent series was written by the Benson sisters (The 100), with art from about-to-be-huge Claire Roe and others.
"Tonally, this series will surprise many readers," Azzarello said. "Ema and I are pushing the envelope, both character-wise and plot-wise, with equal parts estrogen and adrenaline. Our BOP will be the must-read title every month. Ambitious? Sure. That's why it's worth doing."
"The story is GREAT," Lupacchino continues. "We're introducing interesting, energetic new characters and have developed designs for their costumes that will instantly give fans an idea about their nature. It'll be a fantastic run. This will be a lovely opportunity to bring these women to life and let the reader feel their emotions. I'll give them their energy and power."
You can check out some preview pages below: