News
Batwoman vs. Batman Coming This Week
Batwoman and Batman throw down as Alice's mutagen covers Gotham in this exclusive preview of Batwoman #16.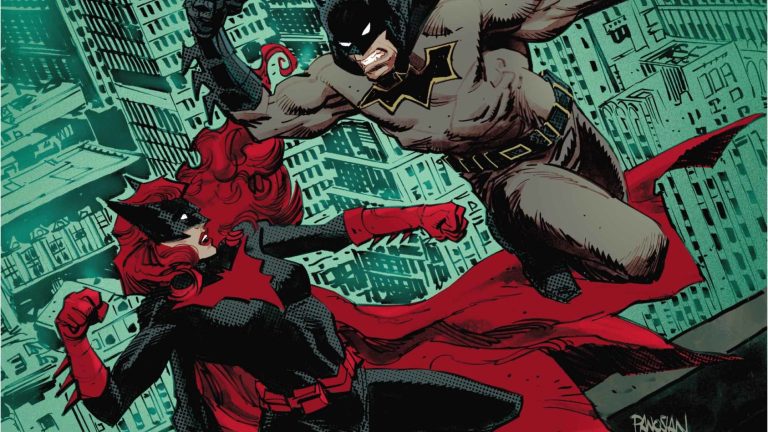 Let's talk about panel layouts NO COME BACK THIS IS IMPORTANT.
Modern comics feel like their panel layouts tend towards one of two styles: completely straightforward grids, which are clear and provide a clean structure to a story, even when the story is complex; and the elaborate, artistic flowing patterns of artists with painterly sensibilities, like JH Williams or Mike Del Mundo. 
Fernando Blanco, the artist on this arc of Batwoman, is one of the few people doing something in between. He can do the six panel grid and he's really effective at it. He's got a very clean line and an eye for blocking out motion that gives you a strong sense of the space it's happening in. But take a look at this exclusive preview of Batwoman#16. He doesn't just block out the motion of Batman, Batwoman and Alice to give you a sense of their movements – he actually moves and twists the panels themselves to show mood and motion. This is a classic trick that feels very early Vertigo, like something Mark Buckingham did a lot on Sandman. Needless to say, it's well done and very entertaining to read.
further reading: Everything You Need to Know About Batwoman on CW
Here's what DC has to say about this issue.
BATWOMAN #16 Written by MARGUERITE BENNETT Art by FERNANDO BLANCO Cover by DAN PANOSIAN Variant cover by MICHAEL CHO Retailers: This issue will ship with two covers. Please see the order form for details. "The Fall of the House of Kane" part four! Alice's deadly plague of virus-ridden bats may have been torn from the sky, but she still roams free. Now Batman must do whatever it takes to stop her—even if that means going through her sister, Batwoman, to do it. Blood ties and betrayal wage war in a clash for control that's been in the making since the day Kate Kane put on the cowl: Batman vs. Batwoman!
Now go look at what I was talking about! This is good comics.
[gallery:0]