News
Batwoman #17 Teases the Return of an Old Romance
As Batwoman draws to a close, love might be in the air...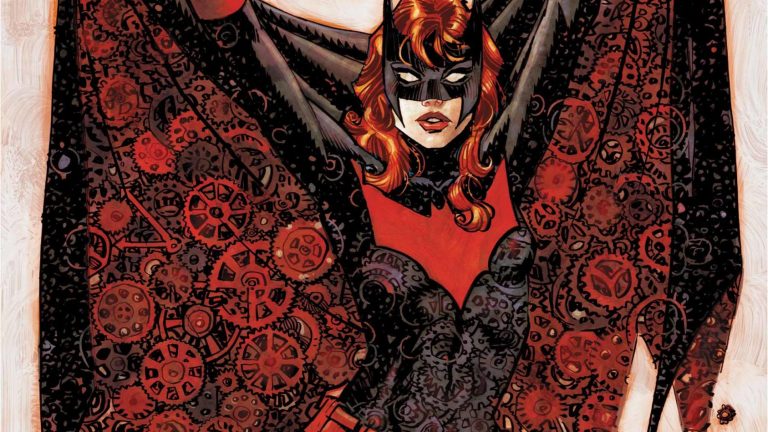 John Rauch is a clever guy. Rauch, Fernando Blanco's colorist on Batwoman, is a critical part of the atmosphere of Blanco's art. So much of the tension in the last issue was from his oranges, yellows and purples as the virus was being spread in Gotham. But that's not what made him jump out at me in this preview of Batwoman #17 that DC sent us. What was the most striking thing about it was the bottom middle panel on the last page of the preview. Rotating cameras happen all the time in comics – here, Kate, Julia and Kate's sister Beth, rescued by Batwoman last issue, are sitting having breakfast. Beth is still in posession of a personality graft from the Religion of Crime, so she's in some kind of chamber apart from Julia and Kate.
Normally, when the camera swings around, you don't see a color change based on the perspective. You don't even really think about the persective – in one panel, I'm looking at person A's face, in the next, Person B and there's no reason to ground the room with a sense of place. However, here the color changes and indicates that the camera is actually on the inside of the cell with Beth.
further reading: Everything You Need to Know About Batwoman on CW
That really good, and something I only noticed because Rauch's color pallette was so effective and evocative in the last two issues that I started paying attention to it. In comics, adequate coloring is like good refereeing – you don't notice it. But good coloring can move good art to the next level, and that's clearly what's happening on Batwoman. Also, as the series wraps up over the next two issues, it looks like we get to spend some time with Kate and Renee Montoya, one of the fated couples in comics history. That's also very good. Here's what DC has to say about the issue.
BATWOMAN #17 written by MARGUERITE BENNETTart by FERNANDO BLANCOcover by DAN PANOSIANvariant cover by MICHAEL CHOKate Kane's latest assignment is leaving her cold-it's a cold case that forces her to team up with GCPD Detective Renee Montoya, and which, as usual, has Gotham City running out of time. Is this the start of a beautiful crime-fighting partnership? No spoilers, but expect sparks and punches to fly!
For moreon why coloring is so important to good comics, read these preview pages and then stick with Den of Geek!
[gallery:0]