News
Batman/Teenage Mutant Ninja Turtles III Coming This May
Batman and the TMNT have taken on Shredder, Ra's Al Ghul, a mutated Joker, and Bane. Now it's time to save the multiverse from Krang!
News recently broke that in a few months, we'll be getting a Batman vs. Teenage Mutant Ninja Turtles movie because sometimes the universe truly loves us. The Dark Knight and the Heroes in a Half-Shell have crossed paths a handful of times in the last couple years of comics, starting with early 2016's Batman/Teenage Mutant Ninja Turtles by James Tynion IV and Freddie E. Williams II. It's since gotten a sequel and a reimagining.
Now it's time for part three…or four, technically. On May 1, we'll be getting Batman/Teenage Mutant Ninja Turtles III, again by Tynion and Williams. Oh, and TMNT co-creator Kevin Eastman will not only be returning to do some covers like the previous miniseries, but he'll be doing some interior art during, "a pivotal point in the new run."
"The story for volume three is a blast, and I am having the time of my life illustrating it," said Williams II in a statement. "And lucky for me, I'm not alone in this grand task. I'm having a huge and exciting personal crossover of my own with one of my all-time heroes and favorite artists, Kevin Eastman! Say what? Yup, you heard that right! We've got something so fun and exciting planned! I'm geeking out about it every day, and I think all of you will, too!"
"I'm absolutely thrilled to have Kevin Eastman, co-creator of the TMNT, as our creative partner on the series," adds Tynion IV. "Kevin will be working closely with Freddie, contributing art on part of the run in a really exciting way that I can't wait for fans to see. We're going to see Bats and Turtles collide like never before in a story so big, it's the perfect way to conclude our Batman/TMNT trilogy."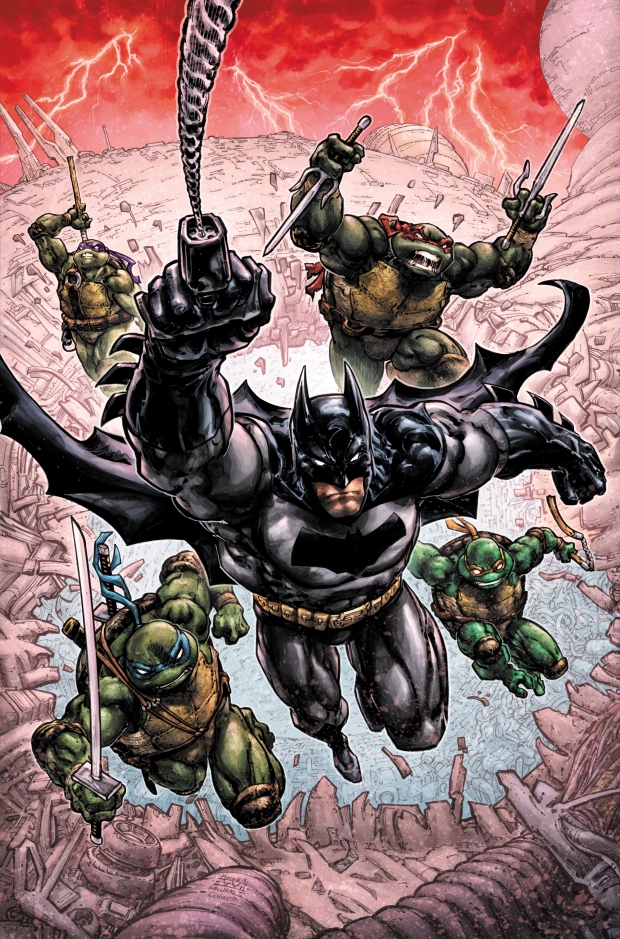 The original Batman/Teenage Mutant Ninja Turtles miniseries dealt with the alliance between Shredder's Foot Clan and Ra's Al Ghul's League of Assassins, which led to an army of Arkham inmates being turned into animal hybrids via mutagen. It also gave us a panel of Batman explaining his origin to Raphael, which had gone a little viral back in the day due to its own innate ridiculousness. Batman/Teenage Mutant Ninja Turtles II focused on Bane being unleashed in the Turtles' New York City and running a venom-laced Foot Clan alongside more-jacked-up-than-usual versions of Bebop and Rocksteady as well as a mutant fly incarnation of Baxter Stockman.
Then there was a Batman/Teenage Mutant Ninja Turtles Adventures by Matthew K. Manning and Jon Sommariva, where instead of being based on the modern comic incarnations of each party, it was Batman: The Animated Series crossing over with the CGI Nickelodeon version of the Ninja Turtles. That one even gave an in-universe explanation for why the Scarecrow's design changed up in-between seasons.
read more: The Many Crossovers of the Teenage Mutant Ninja Turtles
In this final chapter, Batman will be joining Leonardo and the rest as they take on Krang and the Technodrome. Because if you're really going to end your trilogy, you're going to want to go big. I know my inner-ten-year-old is losing his mind over getting to see Batman punch that son of a bitch in his brain-stomach-face.
Shut up, Liz. Batman knows Krang. That's all we need.
This joint celebration for Batman's 80th anniversary and Teenage Mutant Ninja Turtles' 35th anniversary will hit this May.
Gavin Jasper writes for Den of Geek and now wants to see Michael Keaton Batman team up with the Jim Henson Turtles. Read more of his articles here and follow him on Twitter @Gavin4L