News
Batman Villains Harley Quinn and Poison Ivy Will Meet Archie Comics' Betty & Veronica
Gotham City and Riverdale collide in Archie Comics' next big crossover.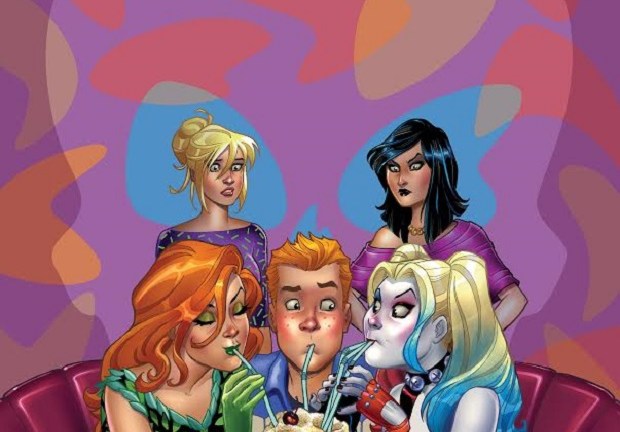 Recent years have seen Archie and his pals and gals encountering everyone from The Ramones to the Predator. These crossovers are always interesting (and they follow a long-standing trend that arguably began when the characters hung out with Soupy Sales back in 1965), but it has been awhile since the Riverdale gang actually met up other popular comic book characters. The most infamous example of this is 1994's Archie Meets the Punisher, although equally shithouse bonkers — if somewhat underappreciated — is Teenage Mutant Ninja Turtles Meet Archie from 1991.
With Archie now distributing Marvel Digests, it seemed at least within the realm of possibility that it was just a matter of time until another Archie/Marvel crossover event happened. But one thing that has become evident of late is to always expect the unexpected with Archie is involved, because they are nothing if not full of surprises.
Enter the announcement of Harley & Ivy Meet Betty & Veronica. from none other than Paul Dini, Mark Andreyko, and Laura Braga. This upcoming one shot hits stores on October 4th, and here's a breakdown of what insanity you can expect:
 "It's the sort of offer you scream out 'YES!' to before your eyes reach the middle of the email," said Paul Dini in a statement. "I've always wanted the chance to play in Riverdale, and to help Harley and Ivy invade it is a dream come true.  Marc's a great talent and a good friend. Writing this series with him has been like sitting on the lawn during summer vacation and reading a big pile of DC and Archie comics.  Except we have to stay indoors and type a lot."
 "It's going to be a blast to bring these amazing ladies together in this once-in-a-lifetime crossover," said Braga. "Each character is different and special. While Harley is one of my favorite characters ever, Betty and Veronica are giving her a run for her money! I love all these ladies, and this book is going to be non-stop fun. "
 "When I got the call for this, I was in disbelief!" said Andreyko. "Getting to co-write with Paul on a series bringing four of the most iconic ladies in comics together under one roof for the first time? This must be what winning the lottery feels like! I cannot wait for readers to see what mischief Paul, Laura and I have dreamed up!"
Here's the official synopsis:
Harley and Ivy Meet Betty and Veronica starts with a plan for free college tuition for all Riverdale residents. The town just needs to build a new campus by draining the wetlands that lie between Riverdale and Gotham City.

The only snag? A certain botany-obsessed super-villain.

When Poison Ivy enlists her bestie Harley to kidnap both Veronica Lodge, daughter of Riverdale's most important citizen, and her friend Betty, she's counting on some assistance—and mayhem. Are these two teams of BFF's headed for disaster?
There's a lot to love about this, primarily the fact that Archie's leading ladies should make great comedic foils for the Gotham troublemakers. And then there are the laugh-packed possibilities of seing how eternal player Archie inevitably falls for either (more likely, both) Harley & Ivy, and how this will complicate his already fraught relationships with Betty & Veronica. Seeing how Betty is, spoiler alert, currently laid up after a car wreck in the main Archie continuity, this new crossover exists outside of that, just as the other oddball team-ups of recent years do. The DC tie-in actually makes a great deal of business sense too, as Riverdale runs on the DC-centric CW network, both of which are, synergy time, owned by Warner Brothers.
So while this writer's dreams of a Jughead/Howard the Duck book written by Chip Zdarsky, who did memorable runs on both titles, are still just wishful thinking, there is much excitement to be found in the fact that Dini, Andreyko, and Braga have much mirthful mayhem in store for all of these characters. Bring on October folks, this one sounds unmissable.