News
Batman v Superman Ultimate Edition: Watch the First 10 Minutes
Everything you need to know about the Batman v Superman Director's Cut Blu-ray can be found here.
Batman v Superman: Dawn of Justice has come and gone…and now it's back. The movie that sets the stage for the rest of the DC Superhero Movie Cinematic Universe still has work to do even after it has left theaters. While comic book fans spent the spring watching DC superheroes in 2.5 hour chunks, there's now an R-rated, three-hour version of the tale. 
Are you on the fence about possibly checking this out? Watch the first 10 minutes of the Ultimate Edition, and get a glimpse of how much new material is waiting for you…
Batman v Superman Blu-ray Release Date
The Ultimate Cut of Batman v Superman: Dawn of Justice actually has two release dates. Beginning on June 28, you will be able to download the extended version of the film on Digital HD. But if you wish to wait a little bit longer, on July 19 (just in time for Comic-Con), there will be the full three-hour version and its loads of special features released on Blu-ray.
Batman v Superman Ultimate Edition Trailer
Enjoy snippets of new footage and even action in this below glimpse of the director's cut for Batman v Superman: Dawn of Justice…
Batman v Superman Rating
Batman v Superman: Dawn of Justice has been rated PG-13 by the MPAA. Not because it's mandatory for any superhero movie not named "Deadpool" to be rated PG-13, but because it contains (via Box Office Mojo) "intense sequences of violence and action throughout and some sensuality." We haven't seen anything remotely resembling "sensuality" in any superhero movie in the last decade (unless you count the "International Women's Day" scene in Deadpool), so I can't imagine that there's anything particularly objectionable (or interesting) here in that regard.
Violence, though. Plenty of that to go around! And there will be lots more in that R-rated version on the Blu-ray!
Batman v Superman Blu-ray Special Features
Take a gander at all the featurettes awaiting you in this bleak abyss!
Uniting the World's Finest

Gods and Men: A Meeting of Giants

The Warrior, The Myth, The Wonder

Accelerating Design: The New Batmobile

Superman: Complexity & Truth

Batman: Austerity & Rage

Wonder Woman: Grace & Power

Batcave: Legacy of the Lair

The Might and the Power of a Punch

The Empire of Luthor

Save the Bats
Batman v Superman Trailer
Here are all the trailers released so far…
If you want to know what's going on in this one, we have a shot-by-shot analysis of the trailer for you right here.
The bombardment of TV spots is underway, so we'll round them all up right here for you.
There's an international trailer (although it's subtitled). Watch it here:
There's another promo for the movie, although it doesn't seem to have much in the way of new footage. For you completists, here it is…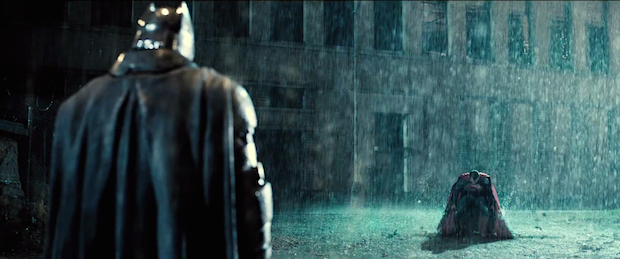 Batman v Superman Plot
We always knew that Man of Steel would be the beginning of a new DC Comics cinematic universe. What we didn't know was that its sequel would be the movie that really introduced the rest of the DC Universe. Batman v Superman: Dawn of Justice isn't Man of Steel 2, that's for sure, and it's shaping up to be much more than just a Dark Knight Returns inspired hero vs. hero slugfest.
In fact, Batman v Superman: Dawn of Justice is going to have to do all the heavy lifting that solo movies would ordinarily do, as it will introduce new versions of Batman and Wonder Woman, Aquaman, Cyborg and possibly quite a few others (including the Flash and Robin). By the time the Justice League movie rolls around, you won't have to learn how the team formed, as it looks like this one will have gotten that out of the way for you.
Zack Snyder co-wrote the story with David Goyer, and Chris Terrio (Argo) came in to help write the screenplay. The story draws some inspiration from The Dark Knight Returns, the classic story by Frank Miller, Klaus Janson, and Lynn Varley which climaxed with an impressive street fight between Batman and Superman. While there are likely going to be some similarities, it's also pretty clear that this isn't anything resembling an actual adaptation.
Some of their conflict may stem from the controversial ending to Man of Steel, as Mr. Goyer promised, "we will be dealing with this in coming films…He isn't fully-formed as Superman in [Man of Steel], and he will have to deal with the repercussions of that in the next one." The trailers certainly point to that fallout as a major component of what puts the two of them at odds, as the media seems to be stoking a firestorm surrounding Superman's presence and actions.
There's an official synopsis for the movie, which comes to us via the good folks at Collider:
Fearing the actions of a god-like super hero left unchecked, Gotham City's own formidable, forceful vigilante takes on Metropolis's most revered, modern-day savior, while the world wrestles with what sort of hero it really needs.  And with Batman and Superman at war with one another, a new threat quickly arises, putting mankind in greater danger than it's ever known before.   
So, that "new threat" could be any number of things, but we speculate on that down in the "villains" section of this article. Although, truth be told, we know who it is…we just aren't at liberty to say at the moment.
There's another synopsis for the movie, courtesy of the UK Odeon cinema chain.
"At long last, see Batman and Superman square off against each other in Batman V Superman: Dawn Of Justice, an epic superhero showdown which will change both their lives forever.

Clark Kent doesn't trust Gotham's mysterious masked vigilante. Bruce Wayne doesn't trust the alien who nearly destroyed Metropolis. And Lex Luthor, who hates Superman more than anyone, is manipulating both of them for his own twisted ends.

Choose your side: the Man of Steel or the Dark Knight? Learn the answer to the age-old question – who would win? – in Batman V Superman: Dawn Of Justice"
You have to love the "at long last" lead-in, as if Batman and Superman fighting is something that anyone other than a Warner Bros. exec would want to see in the first place.
CBM have another, even longer synopsis for the film, courtesy of UK movie theater chain, VUE. Unfortunately, the VUE link is down at the moment, so we can't verify this, but here it is anyway…
"Following his titanic struggle against General Zod, Metropolis has been razed to the ground and Superman is the most controversial figure in the world. While for many he is still an emblem of hope, a growing number of people consider him a threat to humanity, seeking justice for the chaos he has brought to Earth.

As far as Bruce Wayne is concerned, Superman is clearly a danger to society. He fears for the future of the world with such a reckless power left ungoverned, and so he dons his mask and cape to right Superman's wrongs. The rivalry between them is furious, fueled by bitterness and vengeance, and nothing can dissuade them from waging this war. However, a dark new threat arises in the form of a third man: one who has a power greater than either of them to endanger the world and cause total destruction.

The superhero stand-off that the world has been waiting for is finally arriving in cinemas, with an all-star cast bringing to life the characters we all love. Zack Snyder (300) returns as director following the huge success of 2013's Man of Steel, along with Henry Cavill (The Man from U.N.C.L.E.) in the role of Superman. Also starring Ben Affleck (Gone Girl) as Batman, Amy Adams (American Hustle) as Lois Lane, and Gal Gadot (Fast & Furious 7) as Wonder Woman, Batman v Superman: Dawn of Justice is an explosive, action-packed blockbuster that is sure to thrill DC fans everywhere."
As for what else Batman vs. Superman has in store, well…it looks like we're going to get a gathering of heroes. There's a whole mess of DC Comics superhero movies on the schedule, including Justice League and Justice League 2, both of which will be directed by Zack Snyder. We figure that whatever differences Bats and Supes have with each other in this one should be resolved by the time they get around to Super Friends: The Movie. 
And speaking of all those characters…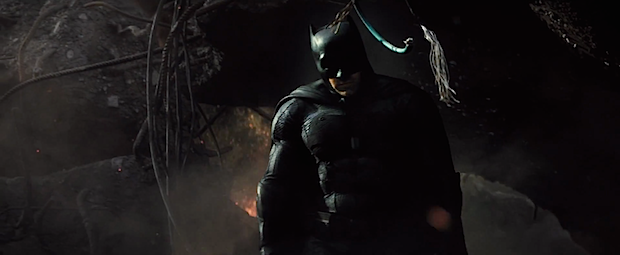 Batman v Superman Cast
Henry Cavill will return as Superman and Ben Affleck will play Batman/Bruce Wayne. Affleck fits the mold of the "older and wiser" Batman who "bears the scars of a seasoned crimefighter" that Warner Bros. was looking for, which neatly sidesteps the need to re-establish Batman's origins on screen once again.
There have been some origin flashback sequences filmed, though, because what Batman movie would be complete without young Bruce Wayne sobbing outside of a movie theater, right?  
Here's a closer look at Batman's mask…
— Batman v Superman (@BatmanvSuperman)
February 15, 2016
Alright, enough about Batman…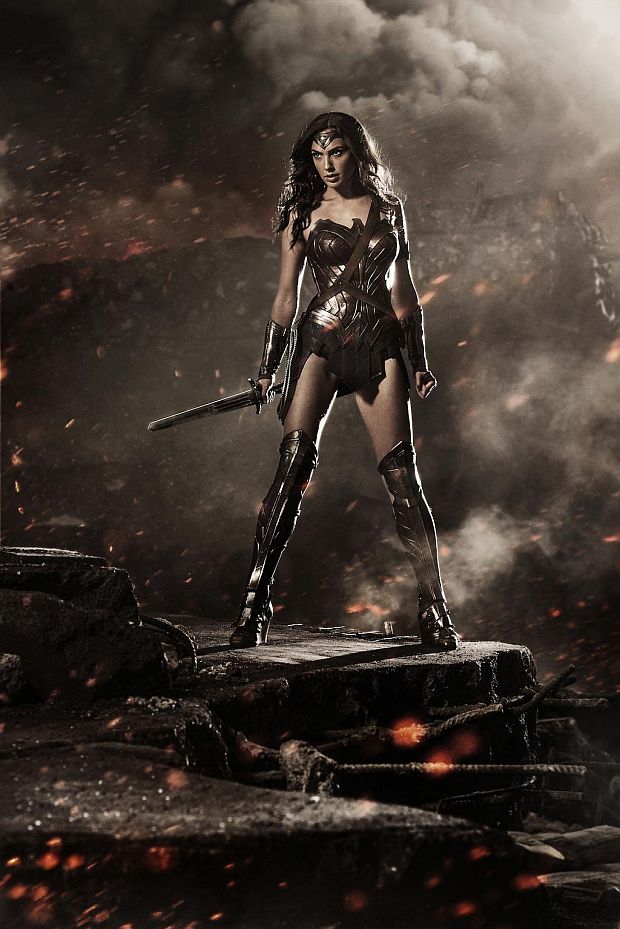 While the first live-action meeting of Batman and Superman is historic enough, Batman v Superman: Dawn of Justice goes even further, by introducing Wonder Woman into the mix, played by Gal Gadot. She doesn't have a very large role in the movie, but she will clearly be there for a big battle that counts. This will mark the first appearance of Wonder Woman on the big screen, and her first live action appearance (not counting an unaired NBC television pilot from a few years back) since Lynda Carter hung up her bracelets in 1979. We also know that the character's origin will follow the recent New 52 reboot, so she's the daughter of Zeus and Queen Hippolyta.
Jeremy Irons plays Batman's right-hand man, Alfred Pennyworth. While we don't know how much from previous incarnations of the character Irons will draw on, Alfred is described by Zack Snyder as "Bruce Wayne's most trusted friend, ally and mentor, a noble guardian and father figure. He is an absolutely critical element in the intricate infrastructure that allows Bruce Wayne to transform himself into Batman." He's a serious presence in the trailers, offering a revealing speech to Bruce Wayne that gives an indication of where their relationship stands.
Scoot McNairy has an unspecified role, too. Speculation on his part has ranged from Morgan Edge to Jimmy Olsen to Hal Jordan…we're hoping he's Blue Beetle, but wouldn't count on that. Nobody knows, really.
Ray Fisher will play Vic Stone…who is also known as Justice League member, Cyborg. He's also scheduled to get a solo movie in 2020.
Jason Momoa is playing Aquaman. Get a look at him in all his magnificence right here: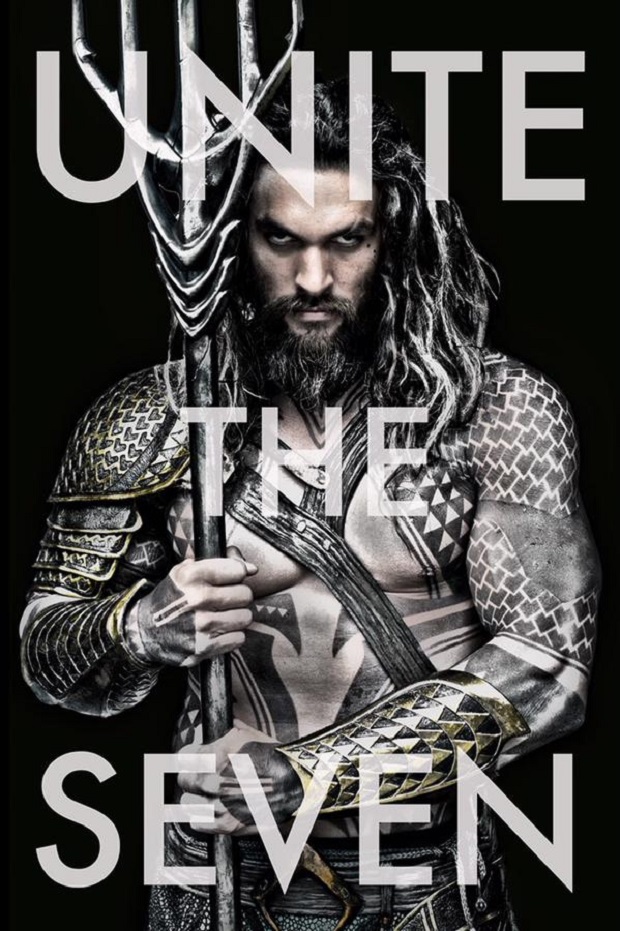 It seems likely that we're going to at least get a glimpse of Ezra Miller as The Flash in some capacity, as well.
Jena Malone has a role in the movie, although what it is hasn't been revealed. She appears to be playing Carrie Kelley, the female Robin who was introduced in The Dark Knight Returns comic…or she might be playing Barbara Gordon/Batgirl. She was cut from the theatrical release, but she'll be put back in for the R-Rated Blu-ray edition down the road.
An edition of DC All Access, the propaganda network for DC Entertainment, confirmed once and for all that Tao Okamoto (first seen in the most recent trailer) is absolutely playing Lex Luthor's bodyguard/badass, Mercy Graves.
Here's what she looks like in character: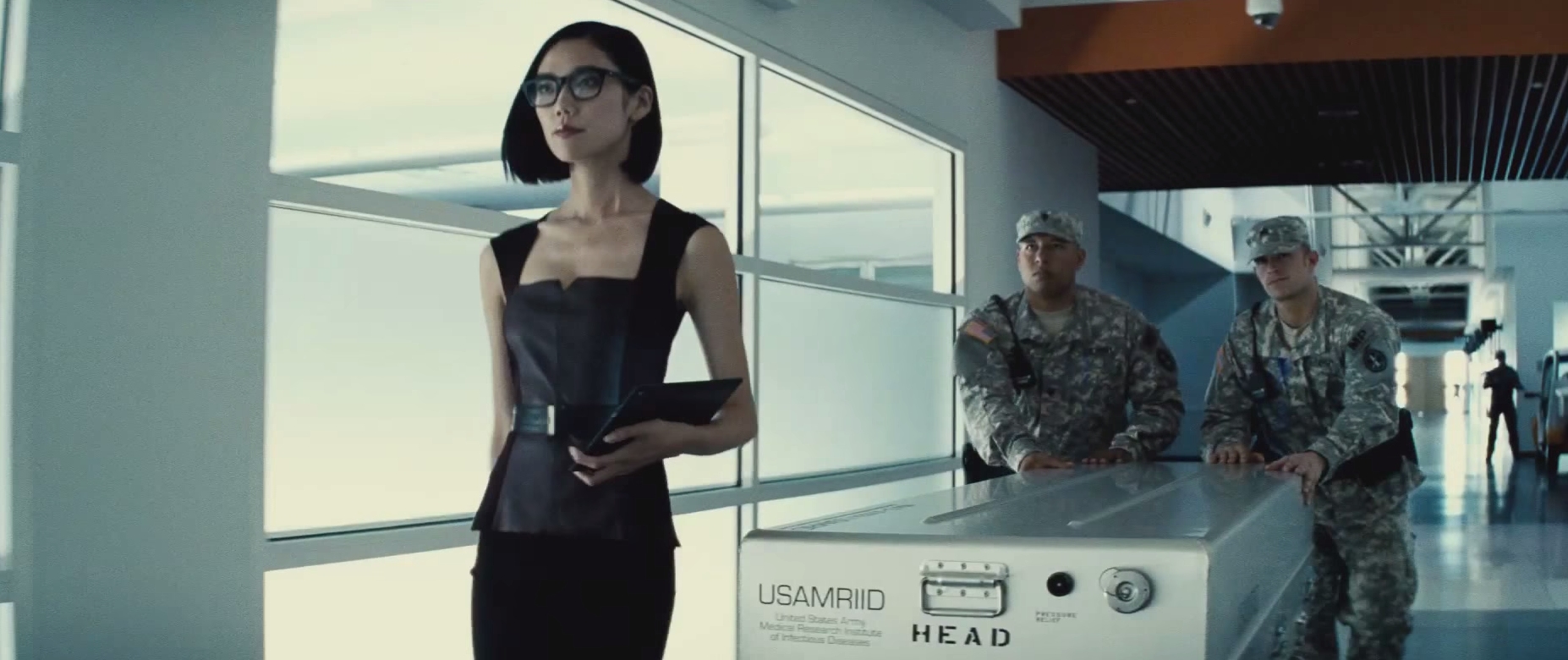 Amy Adams, Laurence Fishburne, and Diane Lane will also reprise their Man of Steel roles. Holly Hunter and Callan Mulvey are on board in roles created specifically for the film. It's been confirmed that Christina Wren will return as Carrie Farris in this one, as well.
[related article: Everything You Need to Know About the Justice League Movie]
We have information on the villains, and some potential spoilers…
Batman v Superman Villains
Jesse Eisenberg is Superman's arch-foe, Lex Luthor. David Goyer has stated that "Lex [Luthor] in this world is more a Bill Gates or Rupert Murdoch like character. He's probably a multi, multi billionaire. He's not a crook." While this quote comes from an interview that was conducted well before the Batman v Superman: Dawn of Justice announcement, Goyer's vision for Lex would certainly put him in the same social circles as someone like Bruce Wayne.
Zack Snyder describes Luthor as "a complicated and sophisticated character whose intellect, wealth and prominence position him as one of the few mortals able to challenge the incredible might of Superman."
Here's the only image of Jesse Eisenberg as Lex Luthor where he's sporting his traditional bald look. This is actually pretty cool. It looks like a mugshot, and Eisenberg looks plenty menacing…almost like Frank Quitely's Lex Luthor from the pages of All-Star Superman.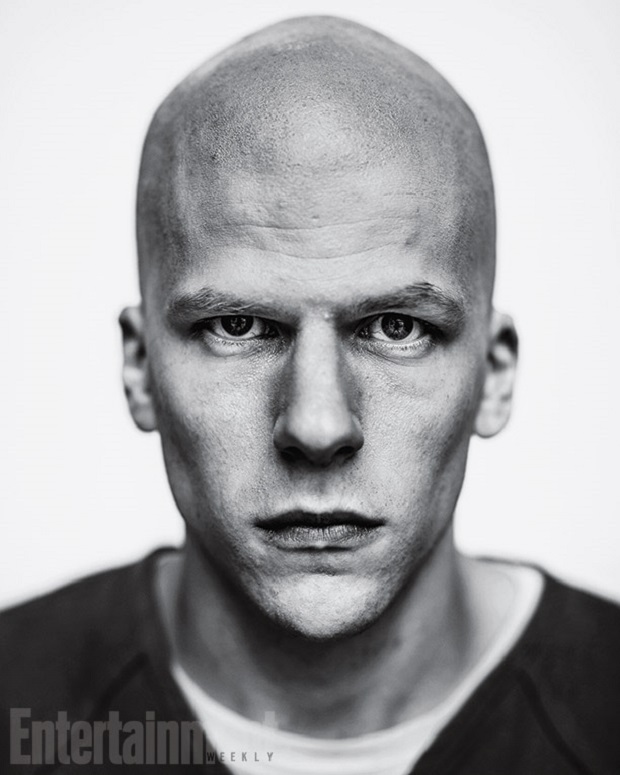 "He's not any of the Lexes that you've seen, that's for sure," director Zack Snyder told Entertainment Weekly, "other than him being a captain of industry and one person to the world and another person to himself. And bald, of course….Our Lex is disarming and he's not fake. He says what he believes and he says what's on his mind. If you can unravel the string and decipher what he means, it's all there."
Jesse Eisenberg also sounded off about the Batman v Superman: Dawn of Justice script and his role as Lex Luthor. It all sounds really positive, particularly his praise of Chris Terrio's writing.
"it's a really great character that's written by this guy, Chris Terrio, he's a phenomenal writer…he loves my character in the same way I love my character. He put a lot of work into it. It's a great character, there's an emotional core to the character. It's not this silly, villainous character. This is a real depiction of a person who thinks these things. So the challenge is to make it seem real."
You can read more of his interview with MTV right here.
And here's a rather different look at Jesse Eisenberg as Lex Luthor, looking every bit the young, billionaire, tech genius type.
[related article: Lex Luthor – Jerk of All Trades]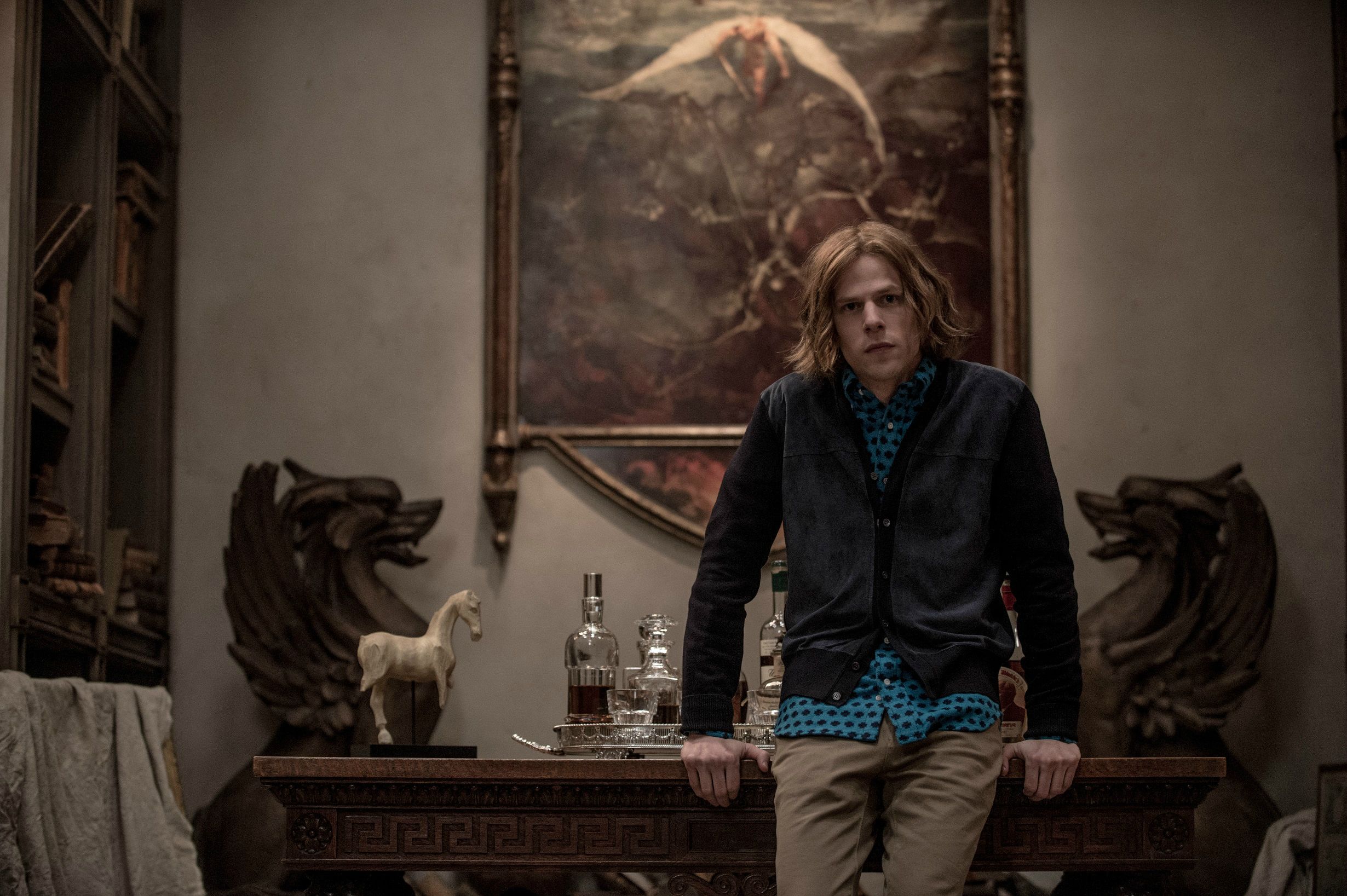 Since we've already seen what Lex will look like bald, anyone want to take bets how he lost his hair? Was it burned off during the battle of Metropolis? Is Superman somehow responsible for the loss of Lex's ginger locks?
Eisenberg spoke about Lex to the LA Times. "To call him self-aggrandizing is to say that the Titanic was a sailboat," he said. "He is a narcissist of the first order but complicated in that way as well in that he is terribly troubled and competitive and vengeful. He looks at Superman not as somebody to destroy but as genuine threat to humanity."
[related article: The Many Faces of Lex Luthor]
You can hear snippets of Eisenberg's Lex Luthor whipping people into a frenzy with anti-Superman rhetoric in the trailers.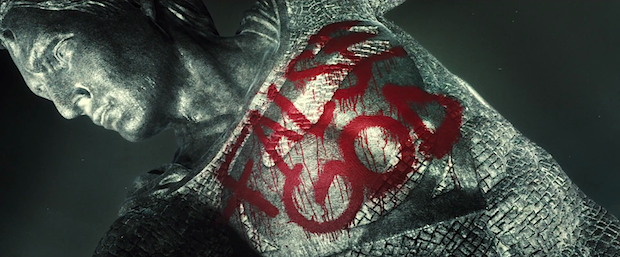 As for other potential villains? Well…
Doomsday is definitely in the movie. We saw him in the trailer, remember?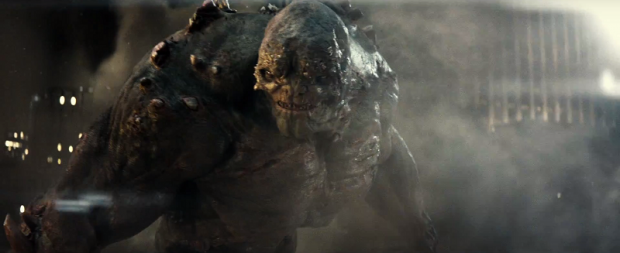 It seems that this Doomsday may be a mutated clone grown from the body of Man of Steel villain General Zod. 
There appears to be a Darkseid connection of some kind as well. This is potentially spoiler-y, though, so click here at your own risk.
There were also rumors that Brainiac could be the guy manipulating Batman and Superman into fighting each other, and once his villainous presence is revealed to the world, it will lead directly into the first Justice League movie. We haven't verified this ourselves, but it would make sense. I can't help but wonder if his mental powers are helping to turn the tide of public opinion against Superman, as well.
We're probably going to see minor baddie the KGBeast as an agent of Luthor's, although probably without a costume or a code name. You can click here for some more details if you want them, but this gets pretty spoiler-y.
Batman v Superman: Dawn of Justice Production
Principal photography began in Detroit in the spring of 2014 and the film shot in locations as diverse as Illinois, Africa, and the South Pacific. Some second-unit filming took place at a football game between rival college teams from Metropolis and Gotham (this might be where Vic Stone/Cyborg is introduced), as well as locations in Illinois which have doubled as the Kent farm.
Filming wrapped in December of 2014.
Batman v Superman is produced by Charles Roven and Deborah Snyder. Hans Zimmer will return to provide the score for the movie. However, when Zack Snyder stated that they'd want Mr. Zimmer back "as long as he'll have us" he also seemed to confirm that Zimmer wouldn't reuse any previous Batman themes, in order to distinguish this version of the character from Christopher Nolan's Dark Knight films. Junkie XL is helping out on that front.
And speaking of those Dark Knight movies, one thing that Snyder is now definitely carrying over from Nolan is the use of IMAX cameras. Batman v Superman: Dawn of Justice will be partially shot in IMAX.
We've got a gallery of photos from the movie, too…
Batman v Superman Photos
You can click through them all as a gallery here if you don't feel like scrolling…
[gallery:0]
The SDCC edition of Entertainment Weekly had some nice stills from Batman v Superman: Dawn of Justice. First up, check out Gal Gadot as Wonder Woman…well, really, it's Gal Gadot as Diana Prince, hanging out with Ben Affleck as Bruce Wayne.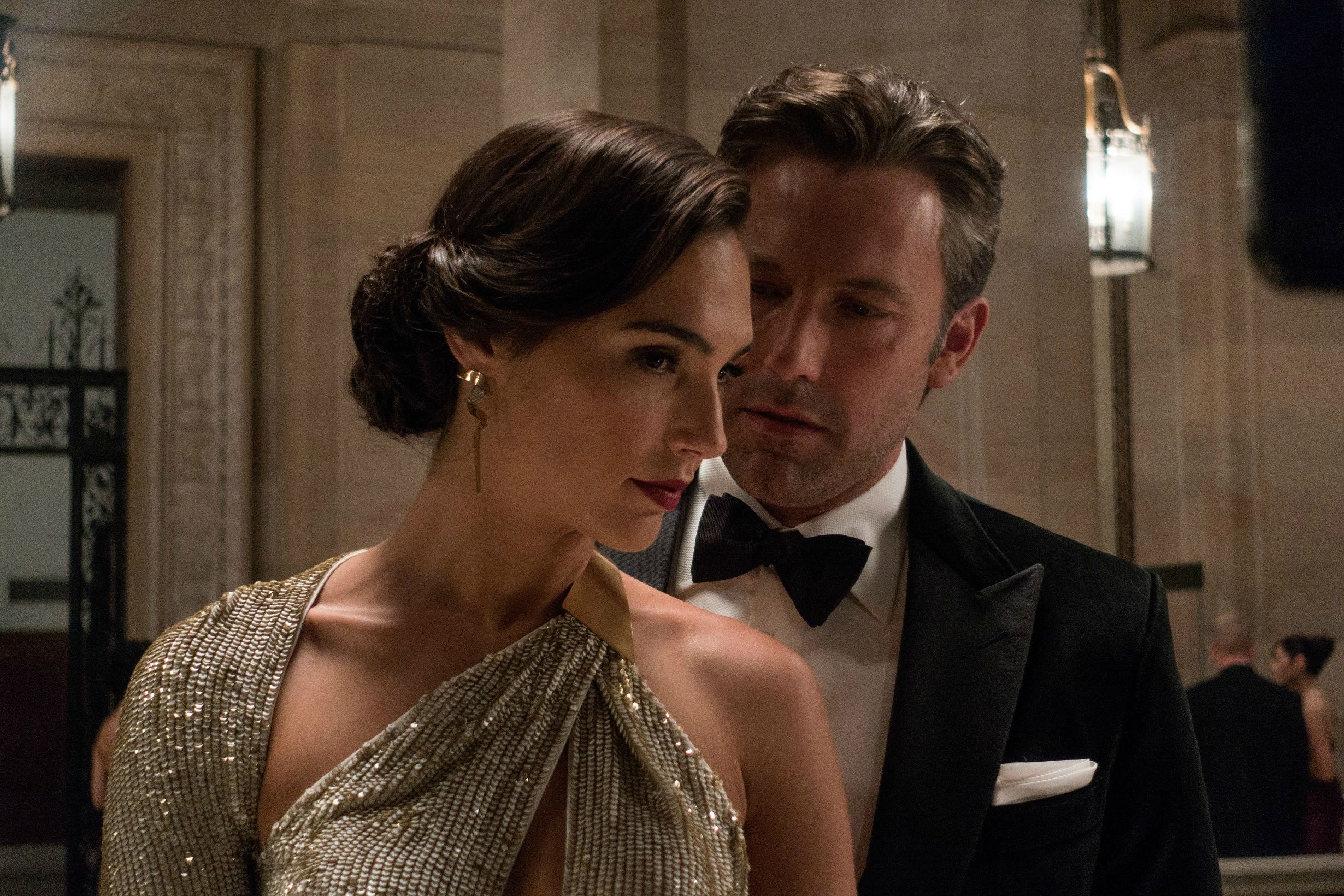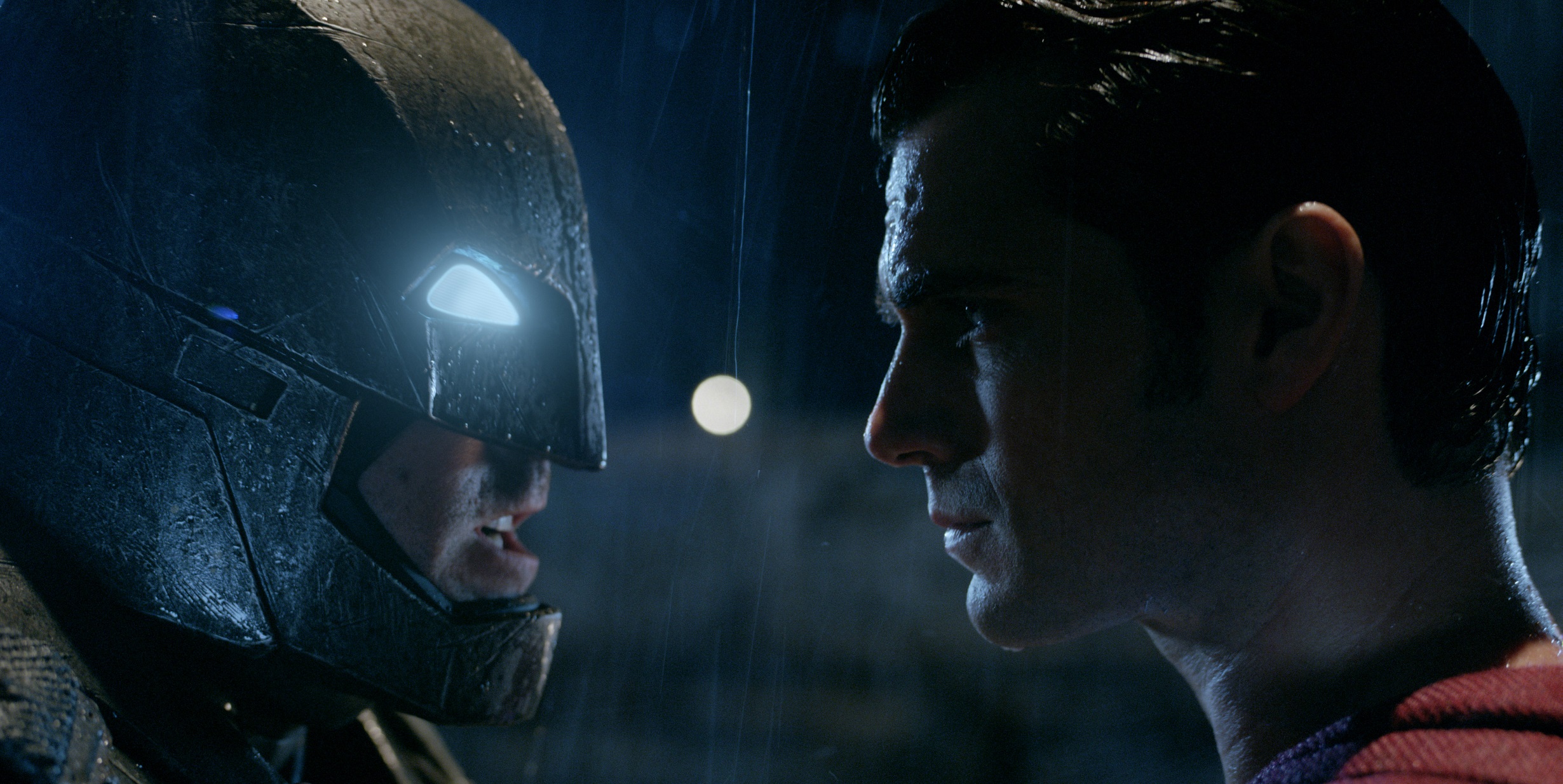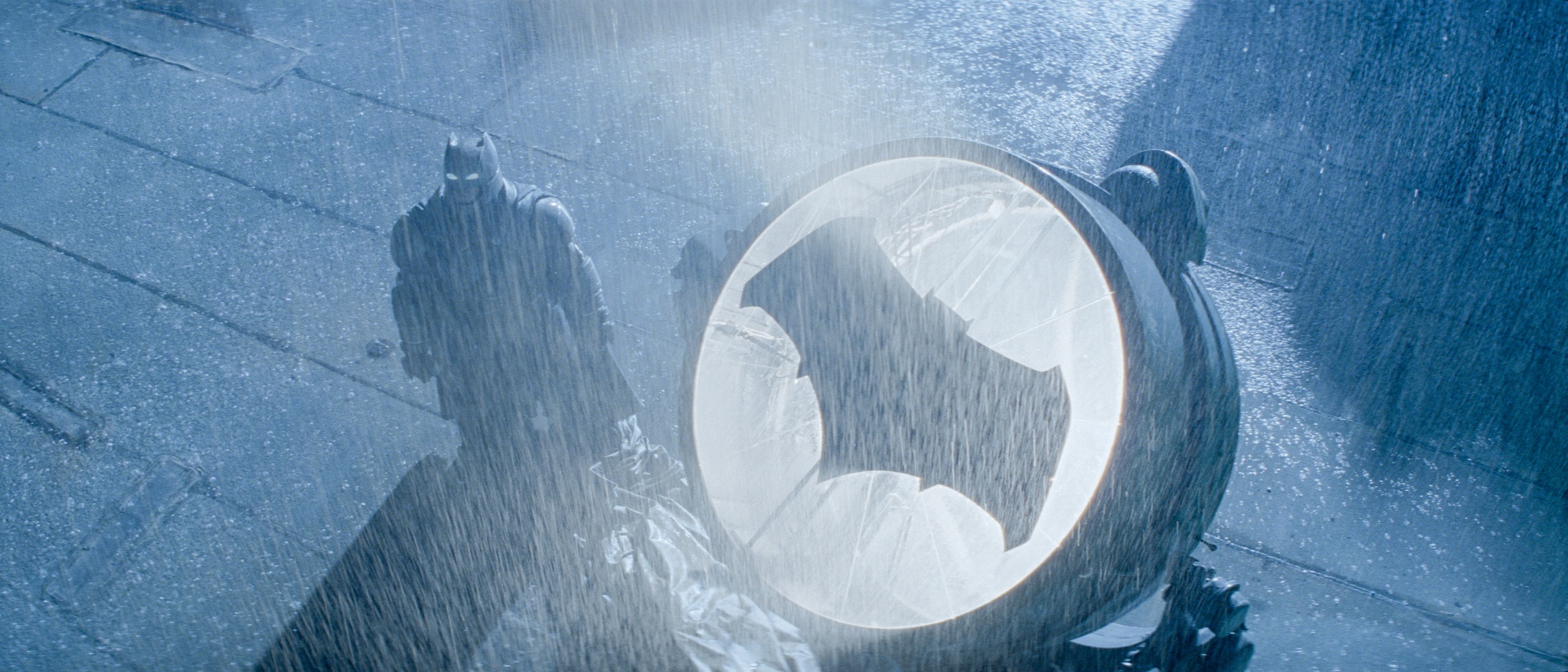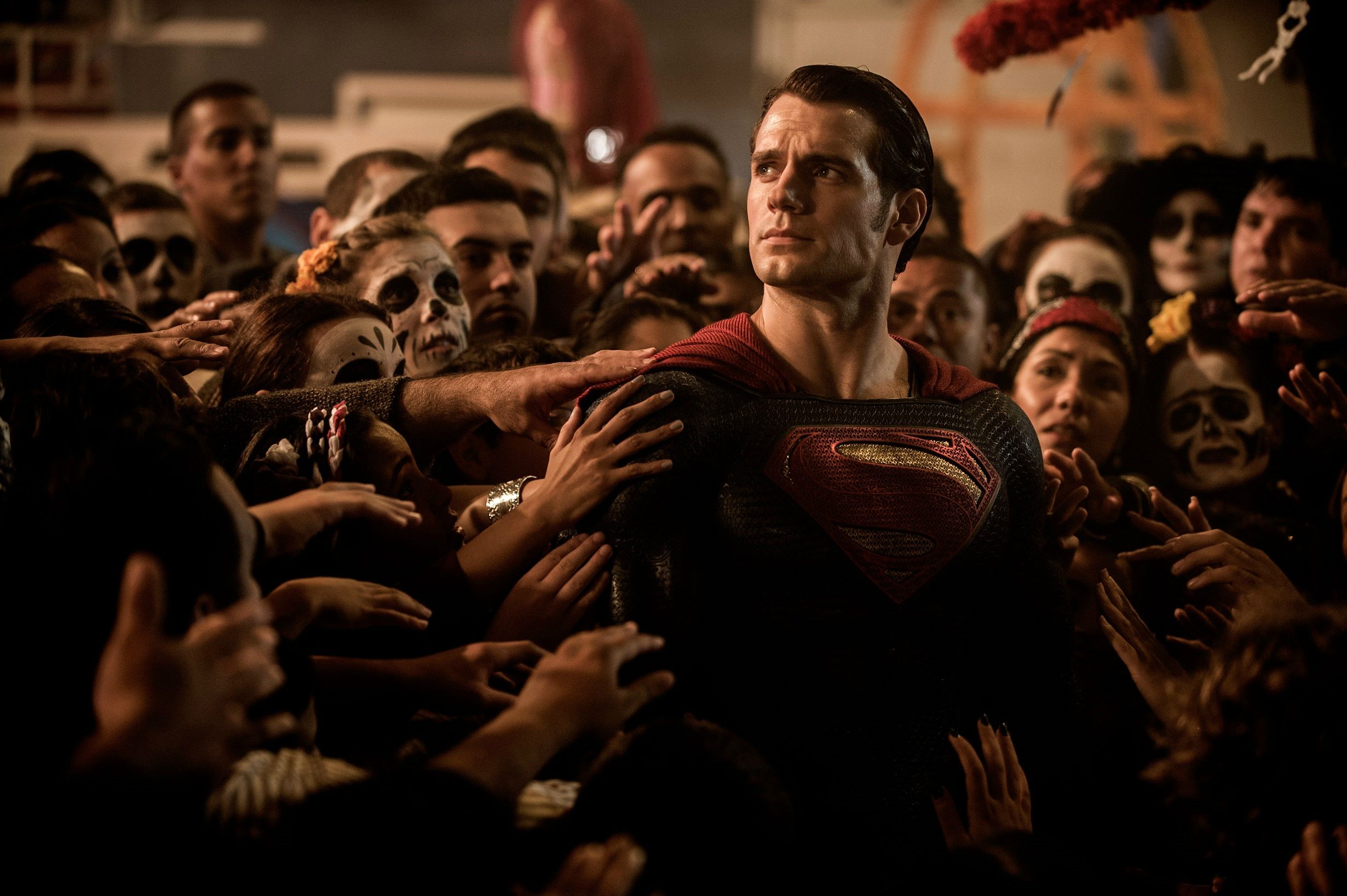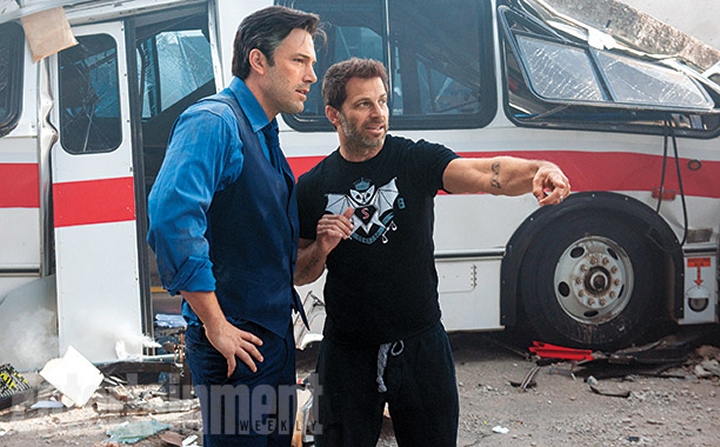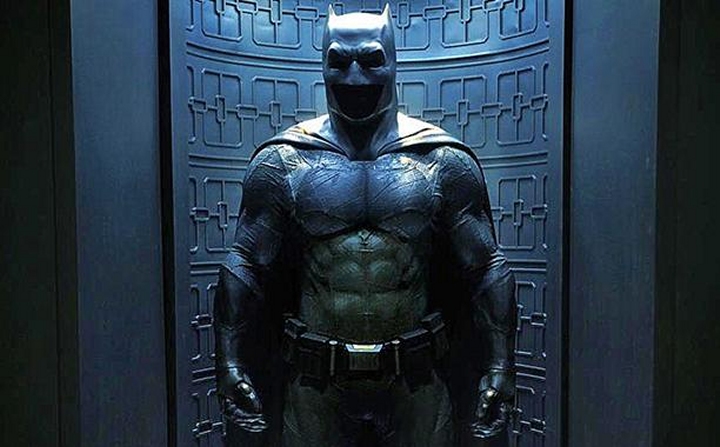 We also have a nice look at all three superheroes of the DC Trinity–Batman, Superman, and Wonder Woman–in their full regalia, plus a more traditional but still groovy couple of pics of Batman and Superman getting ready to square off.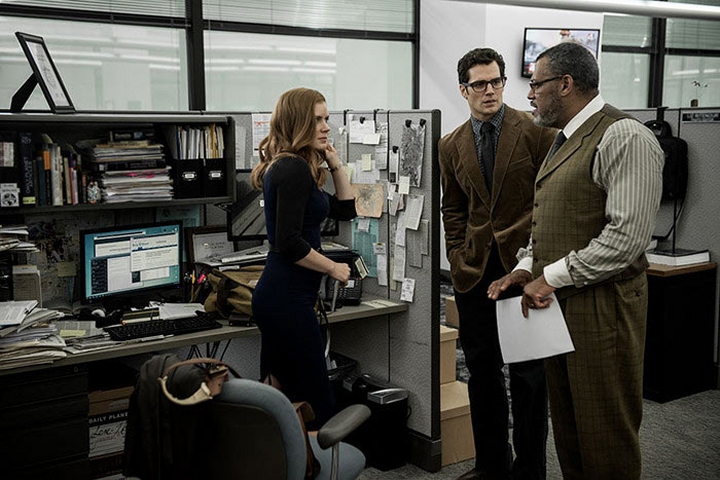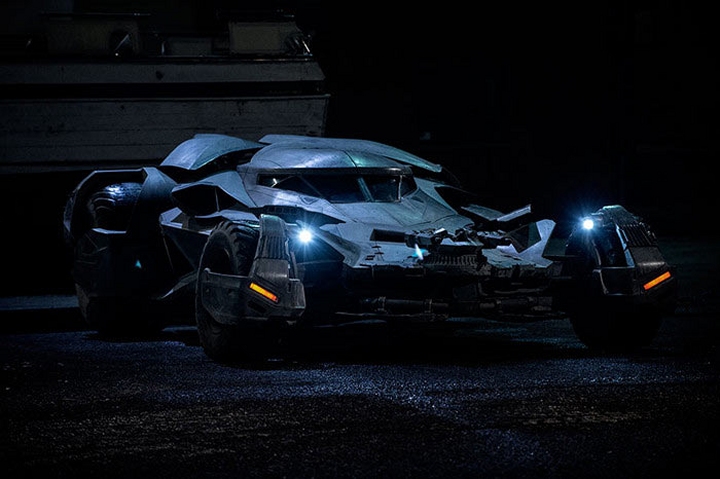 There are some other behind the scenes images from the film, courtesy of the latest issue of Total Film.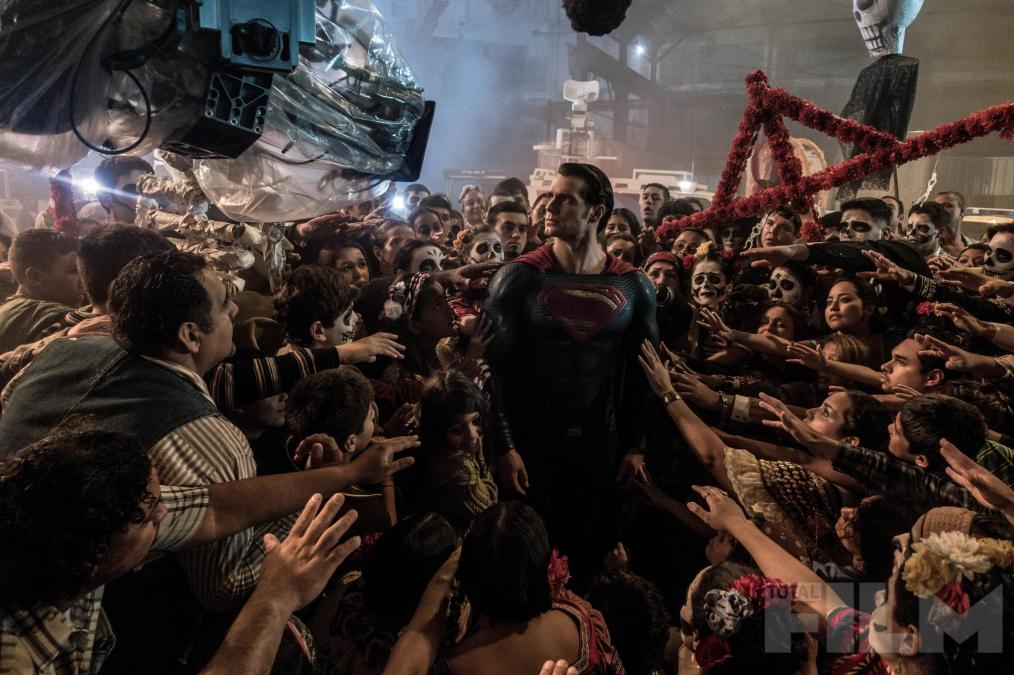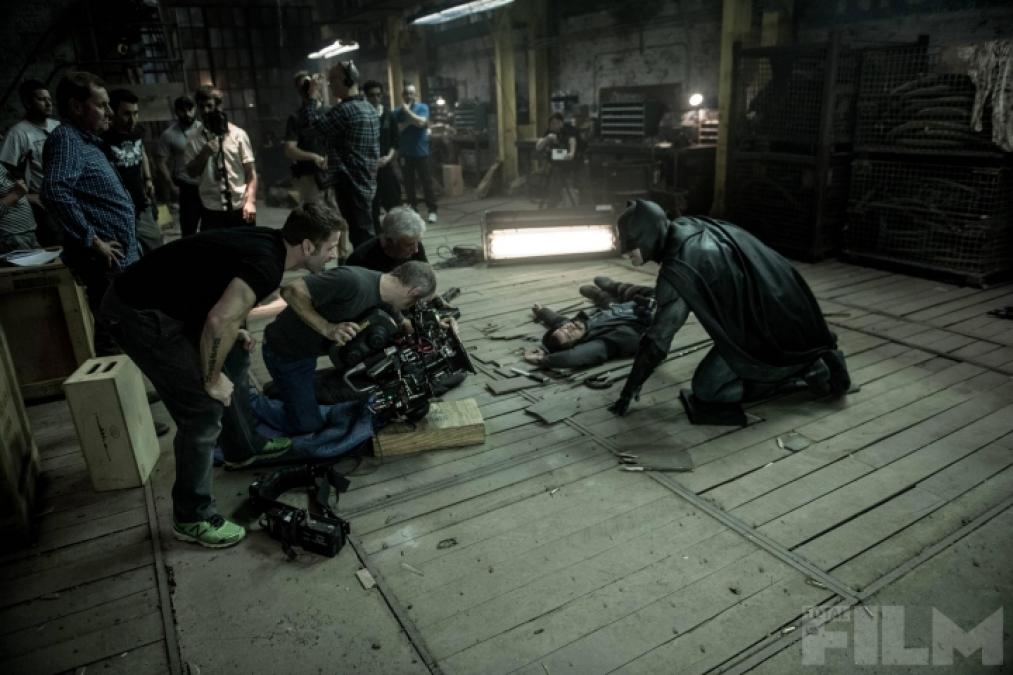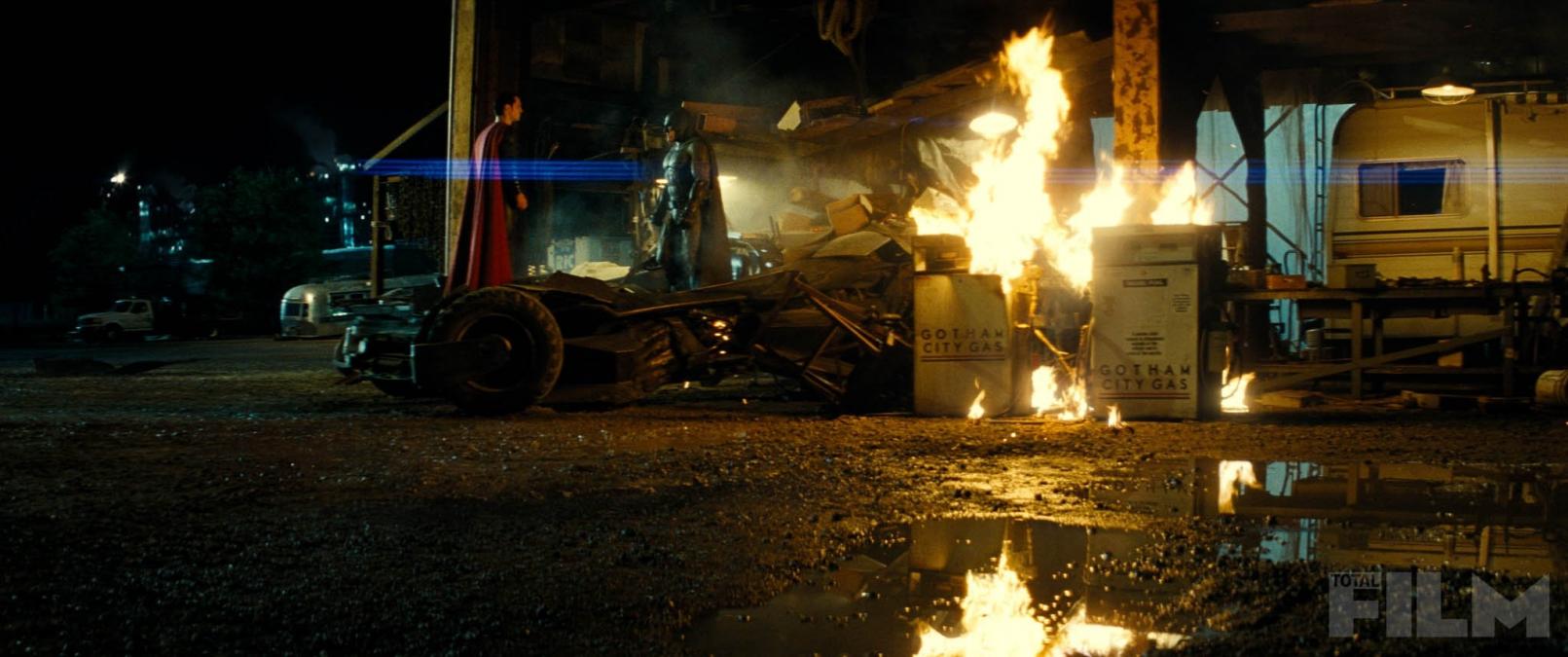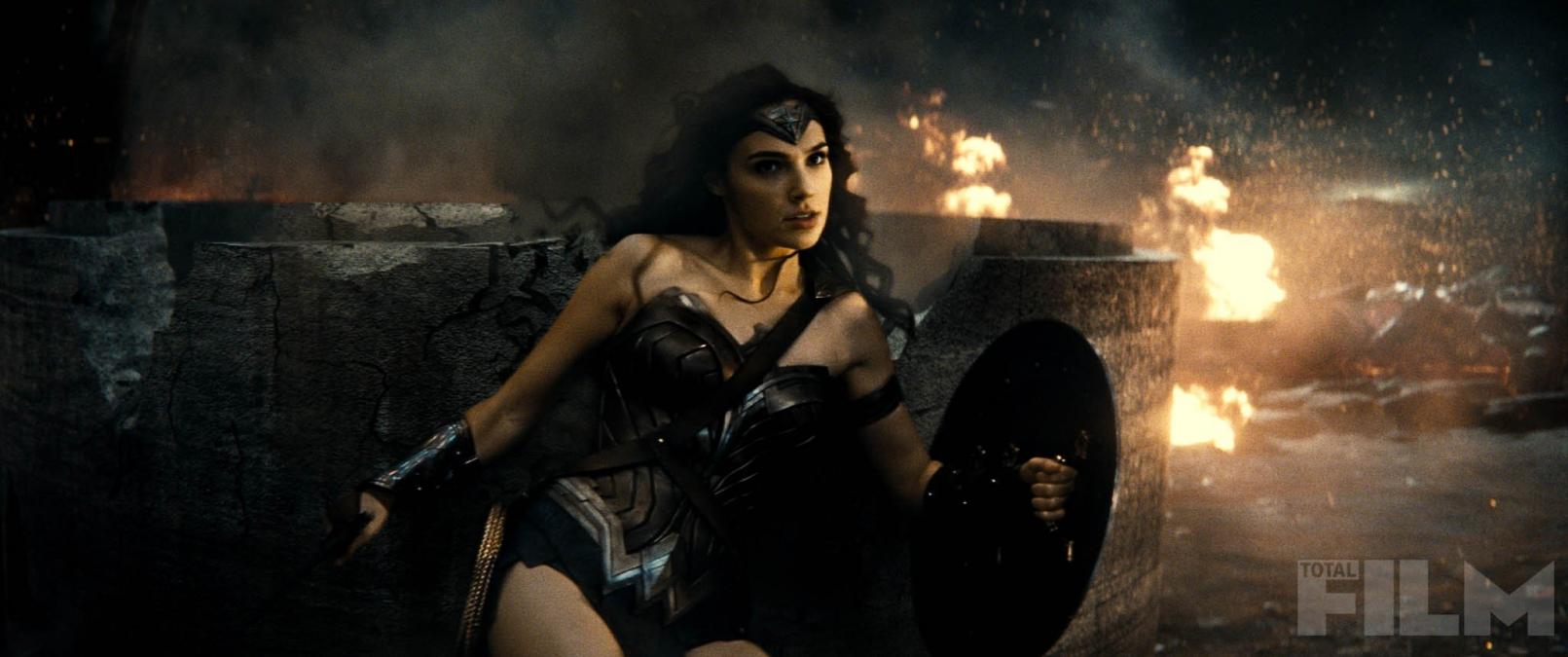 Batman v Superman: Dawn of Justice Costumes
And check out these new photos of the costumes and the Batmobile interior!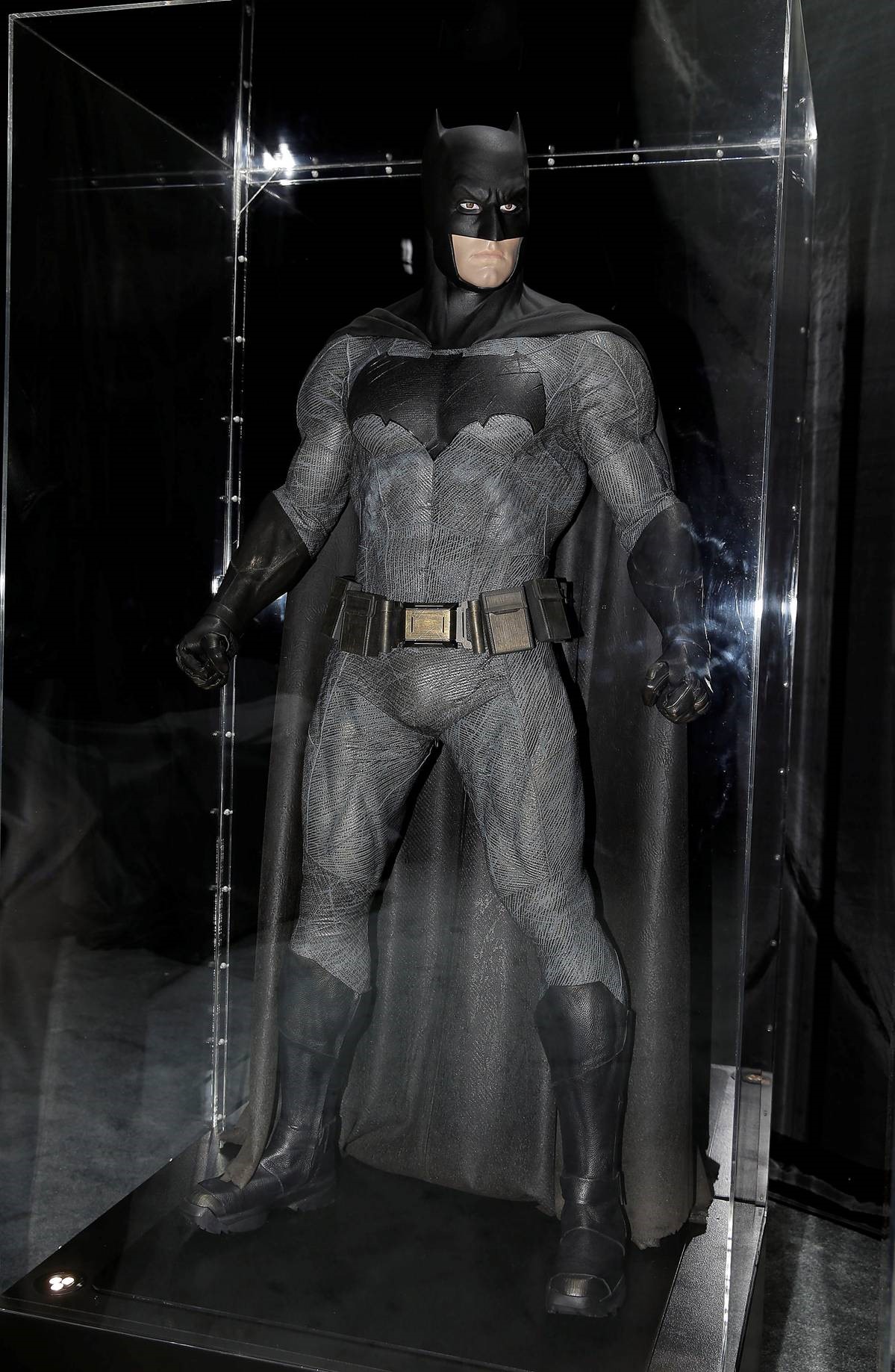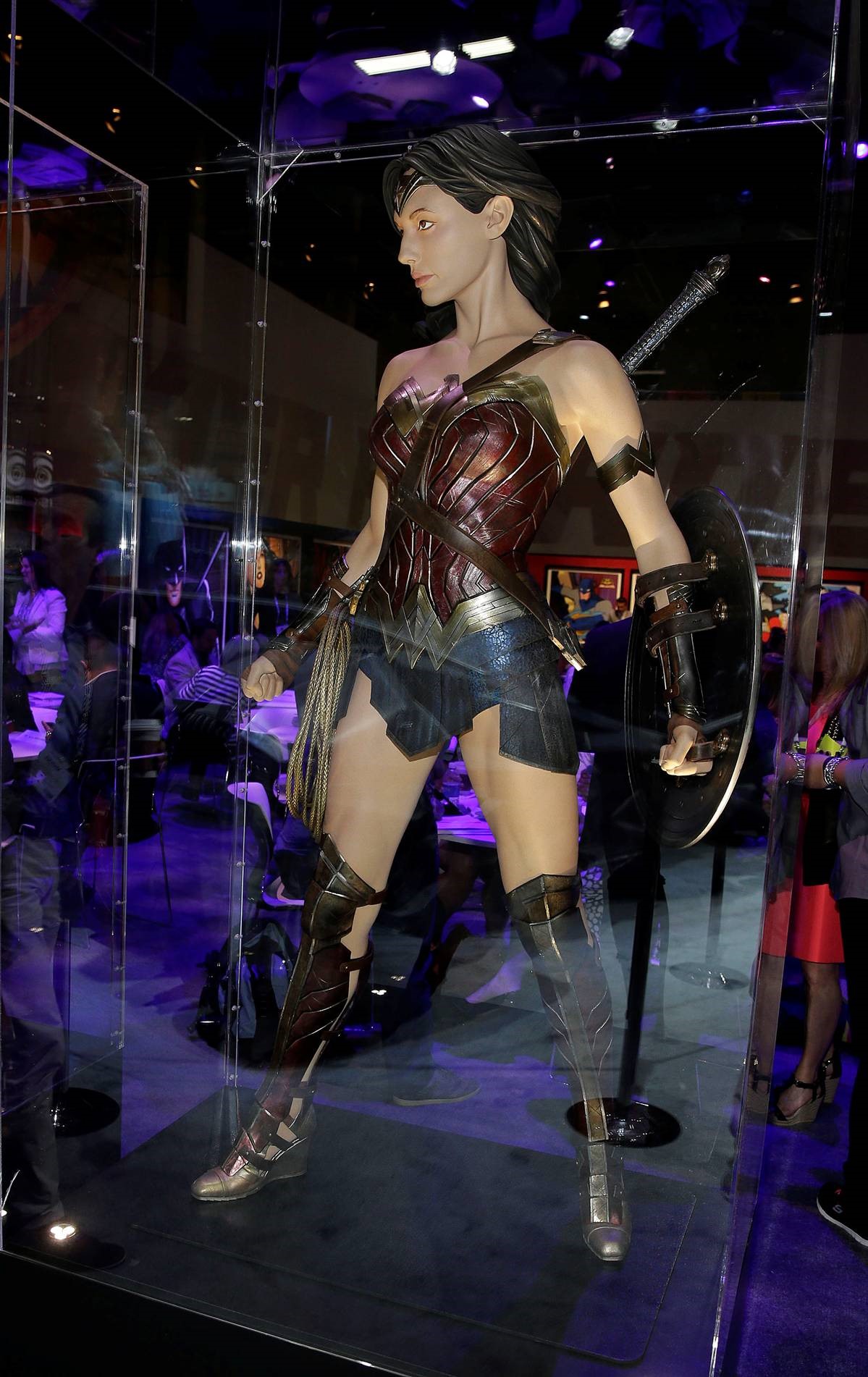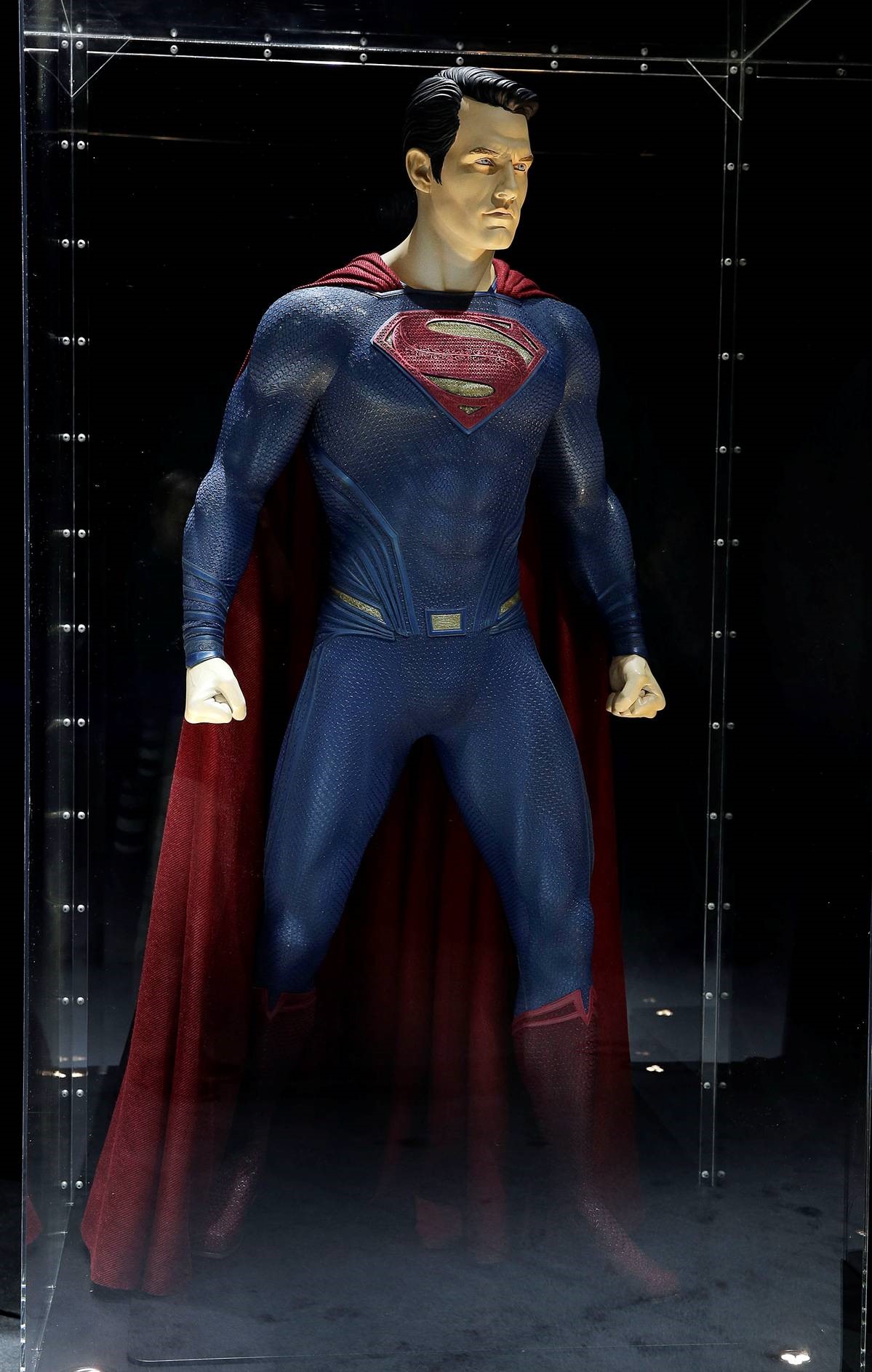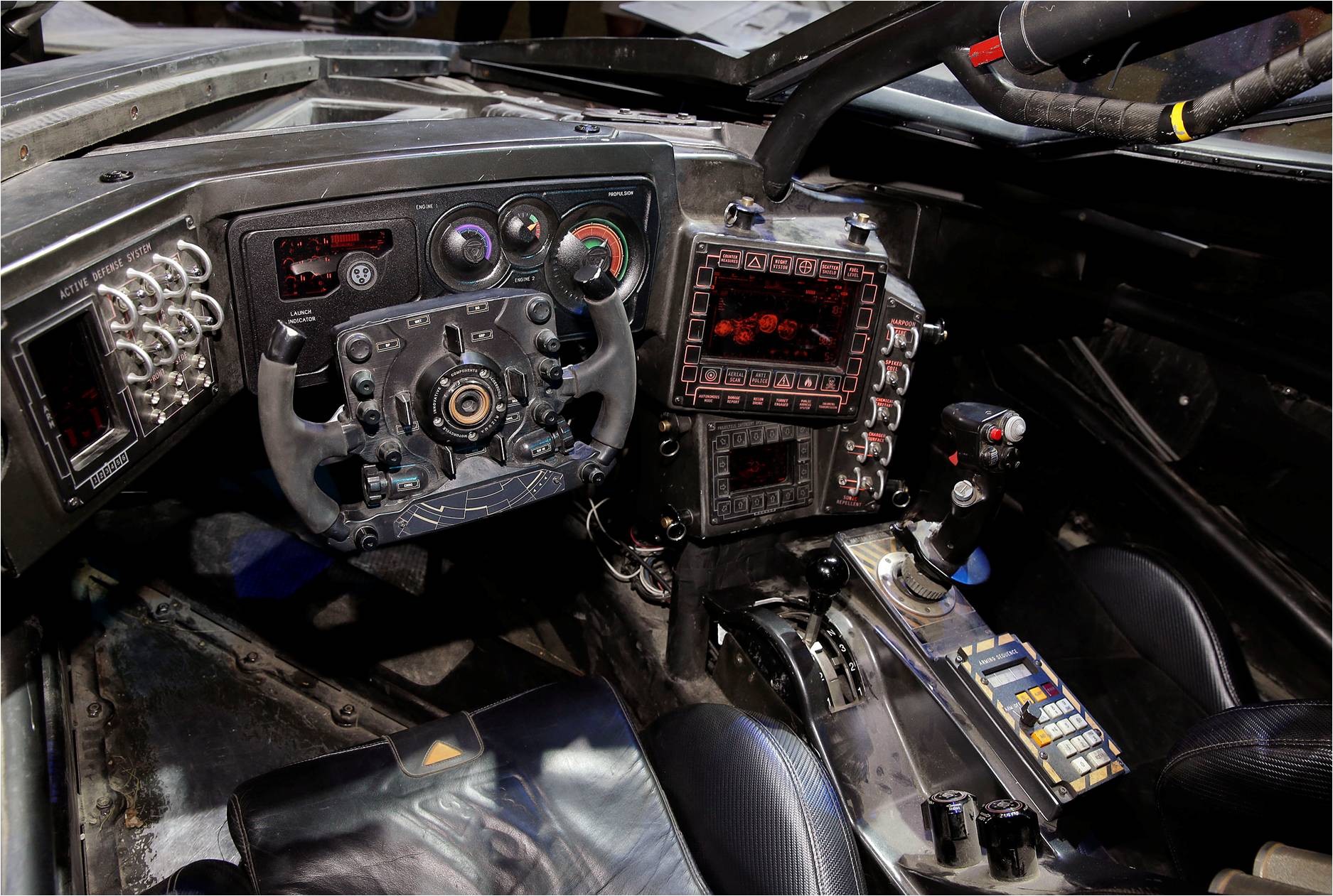 License! Global has another look at the Batmobile in Batman v Superman: Dawn of Justice. It doesn't look good. I mean, the picture looks good, but things don't look good for the Batmobile. Check it out:
That's definitely had some mileage put on it, hasn't it?
we took some photos of the costumes, including our best look yet at the armored Batsuit!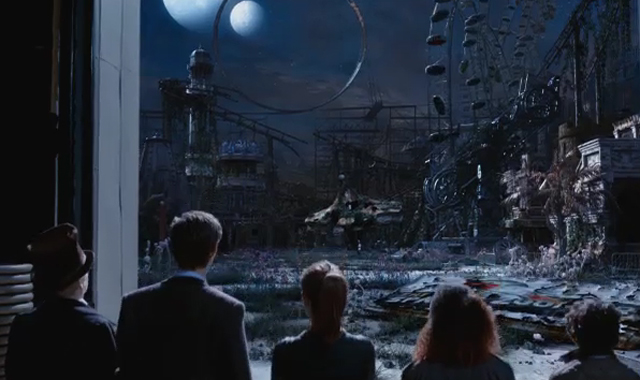 A better look at Ben Affleck in the Batman costume has surfaced. It's just an unaltered version of the Batman image that appeared on the IMAX posters, but it's still our best look yet at Ben Affleck actually wearing the batsuit.
Check it out: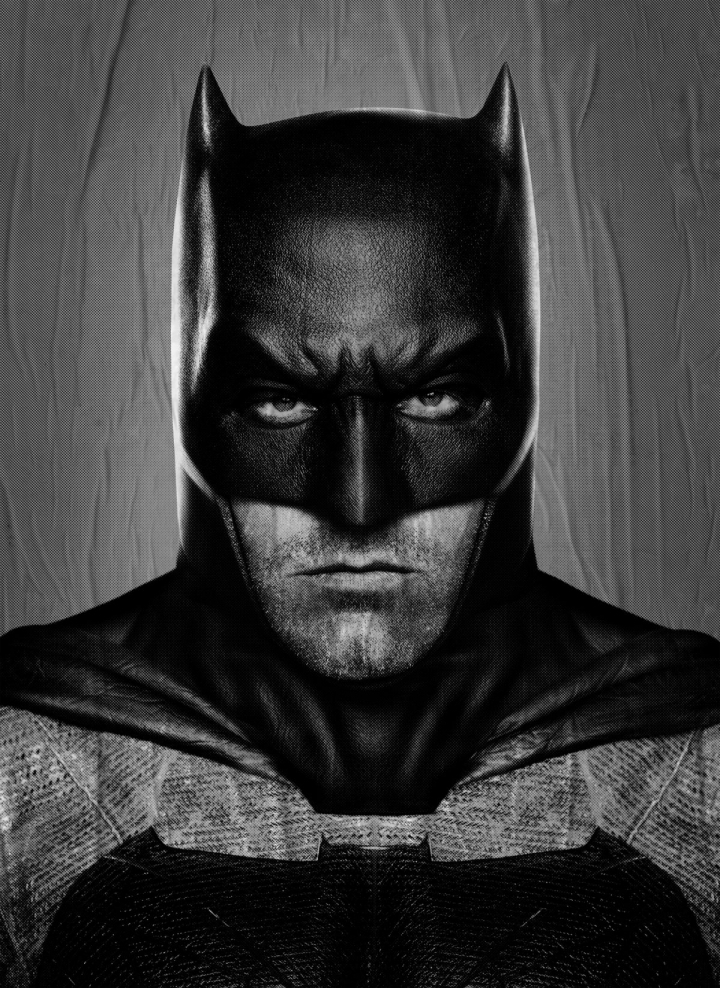 Zack Snyder, director of this movie and fan of sneaky Twitter reveals, just showed off two pop-art flavored Batman v. Superman: Dawn of Justice posters AND a fresh look at the Ben Affleck Batman costume.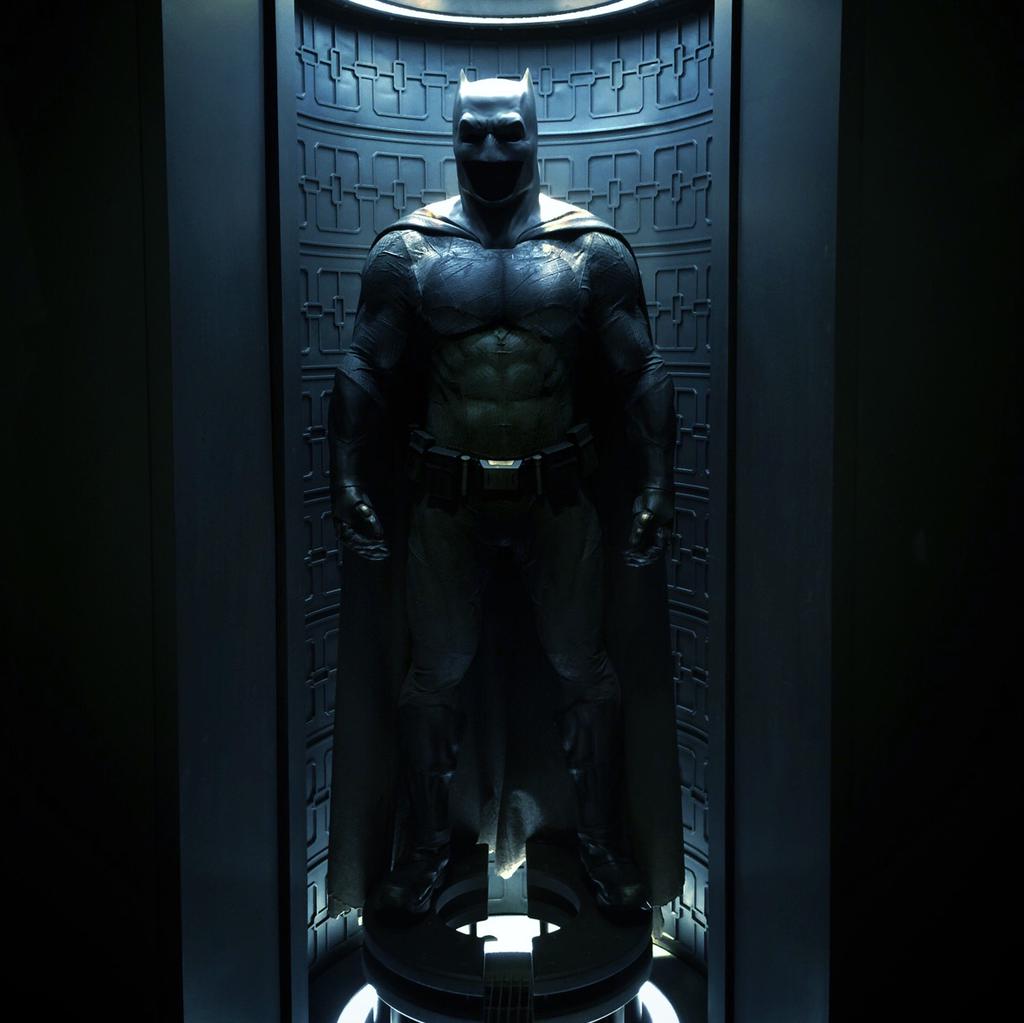 Here's a better, wider look at that image, too…
A new picture on photographer Clay Enos' Instagram gives us a closer look at Batman's desert get-up from the new trailer that was released at SDCC 2015. Why is Batman fighting an army of Superman-approved soldiers in the desert? Your guess is as good as ours. For now, we have this new outfit to dissect: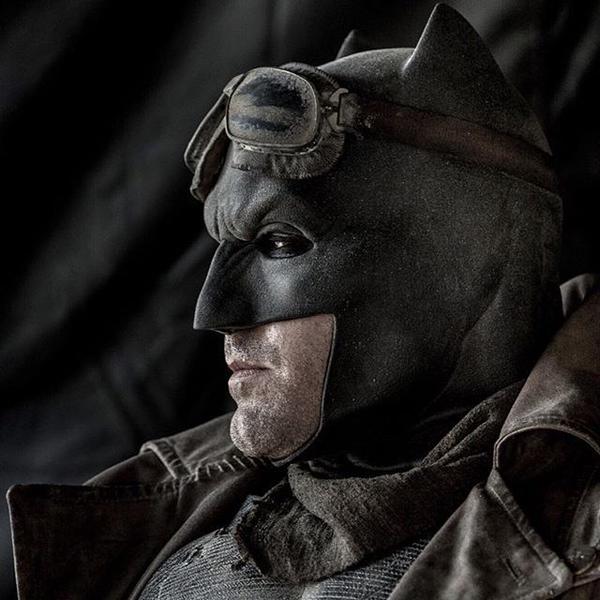 Batman v Superman: Dawn of Justice Posters
These were the same posters handed out to the people who attended the IMAX screening of the trailer on April 20th: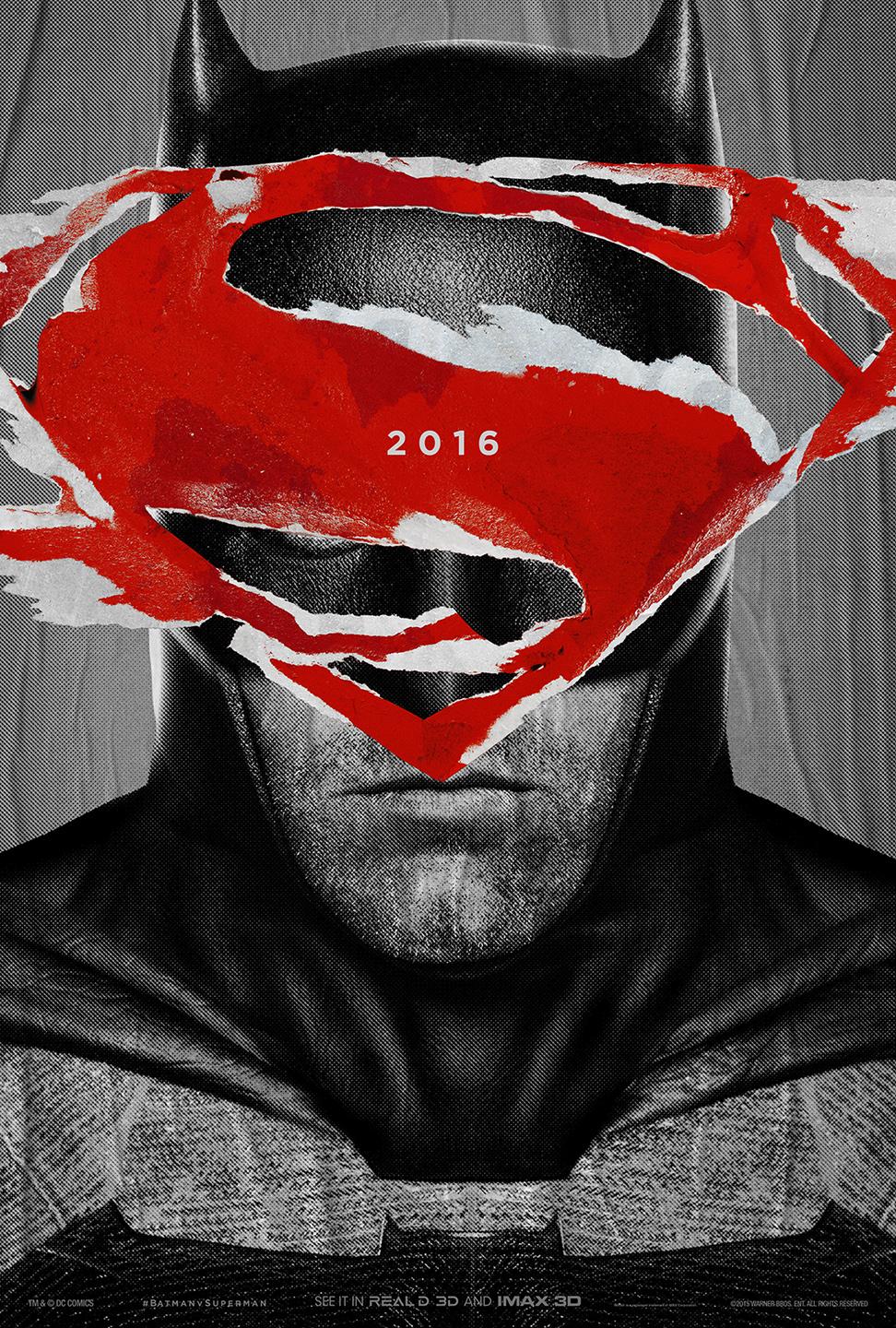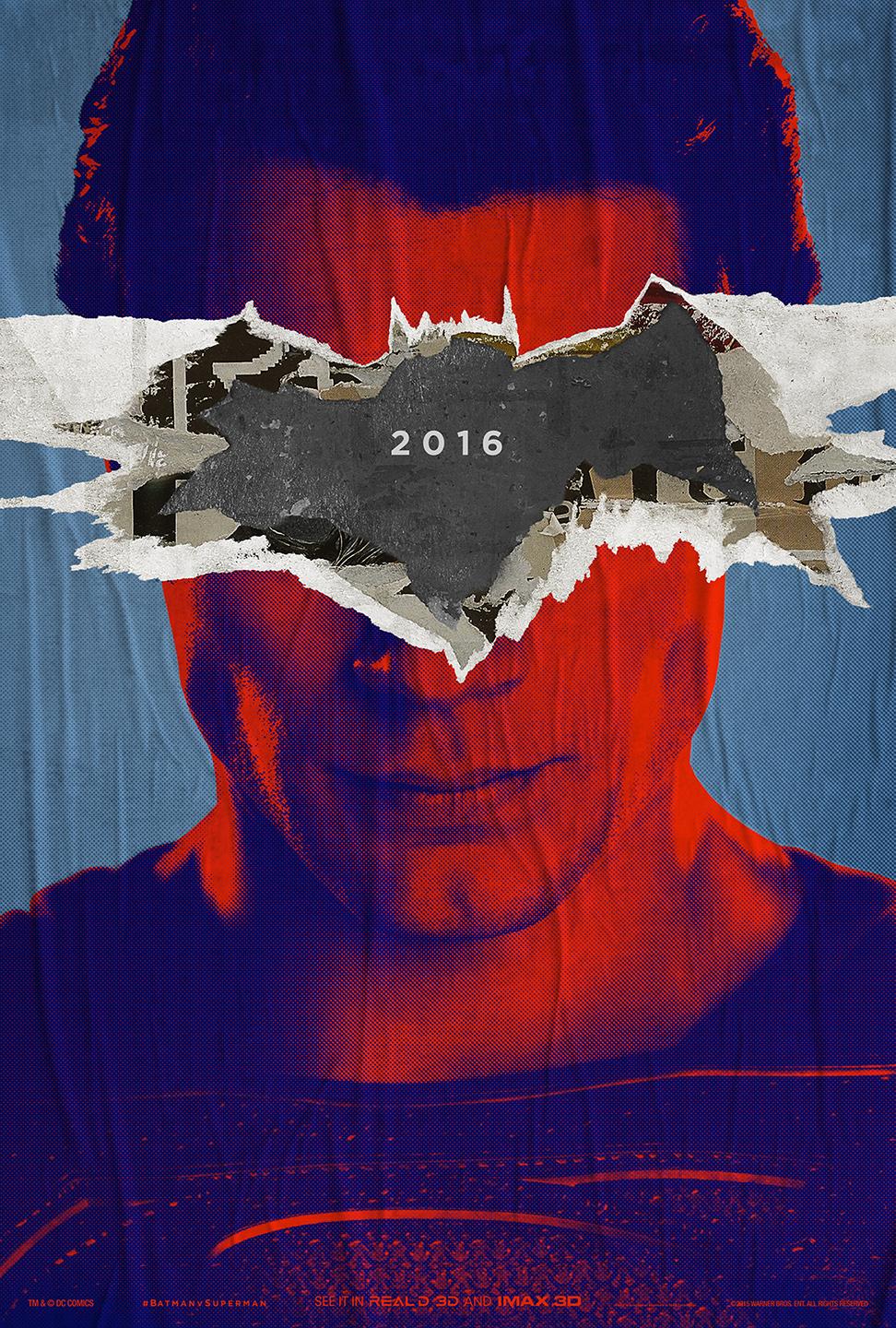 ANd here's another poster…
Here is what is almost certainly the final poster for the film, as well…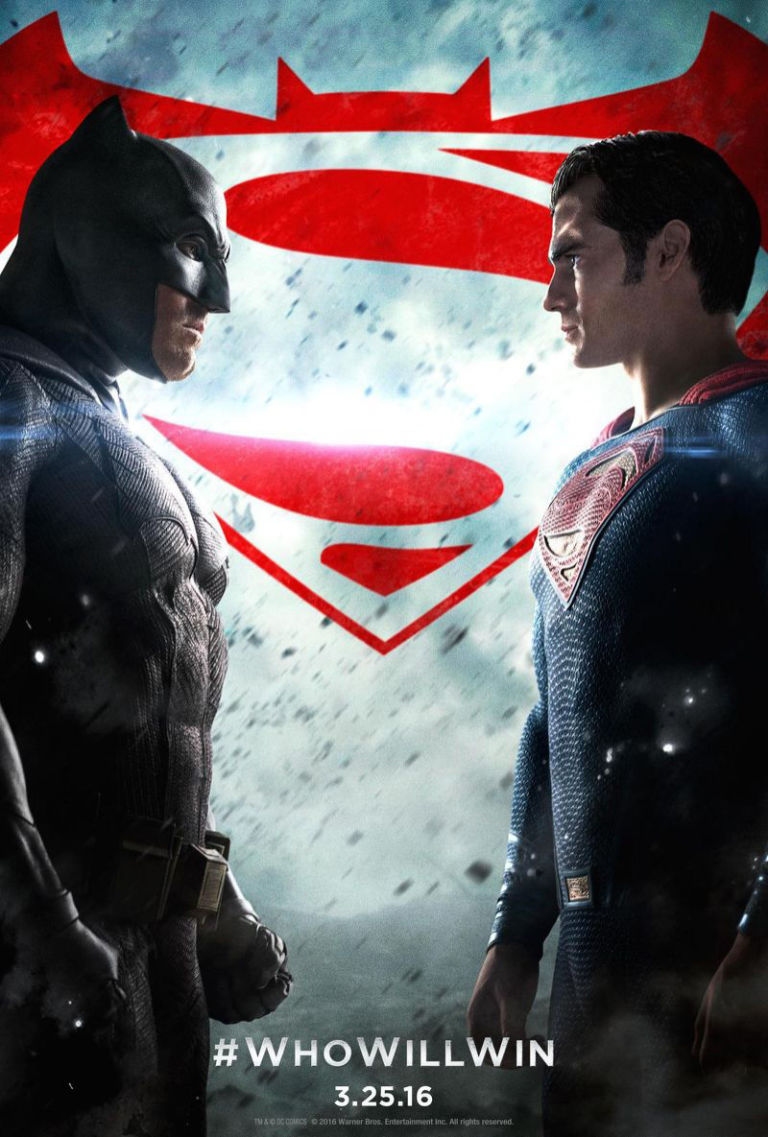 There are some new posters, too…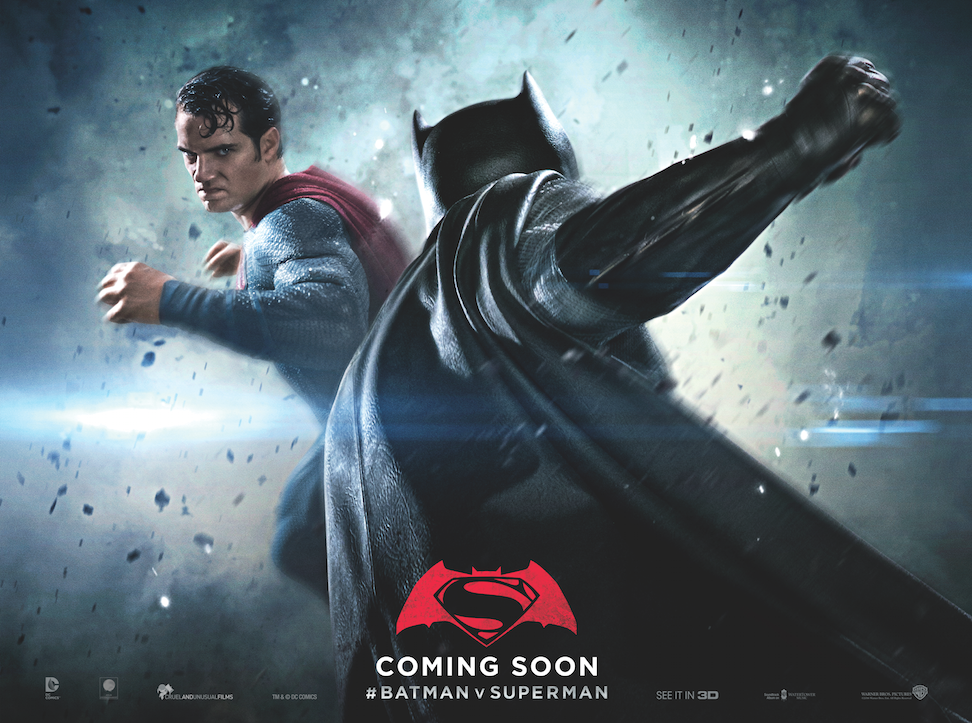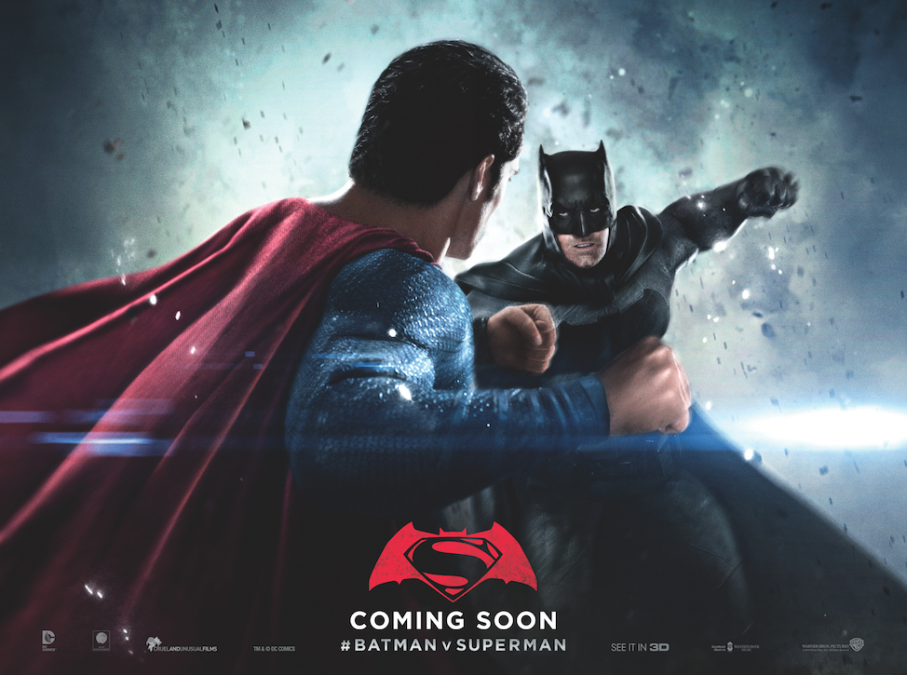 Batman v Superman: Dawn of Justice Soundtrack 
Hans Zimmer's soundtrack for Batman v Superman: Dawn of Justice will be released on March 18th via Water Tower Music.
You can listen to three excerpts here:
Here is the full tracklisting. 
Beautiful Lie
Their War Here
The Red Capes Are Coming
Day Of The Dead
Must There Be A Superman?
New Rules
Do You Bleed?
Problems Up Here
Black and Blue
Tuesday
Is She With You?
This Is My World
Men Are Still Good (The Batman Suite)
Blood Of My Orange (Bonus Track)
Vigilante (Bonus Track)
May I Help You, Mr. Wayne? (Bonus Track)
They Were Hunters (Bonus Track)
Fight Night (Bonus Track)