News
Batman: Tom King's 100-Issue Run Is Ultimately About the Hero's Relationship with Catwoman
Batman writer Tom King on the core relationship in his planned 100-issue run on the Dark Knight's flagship series.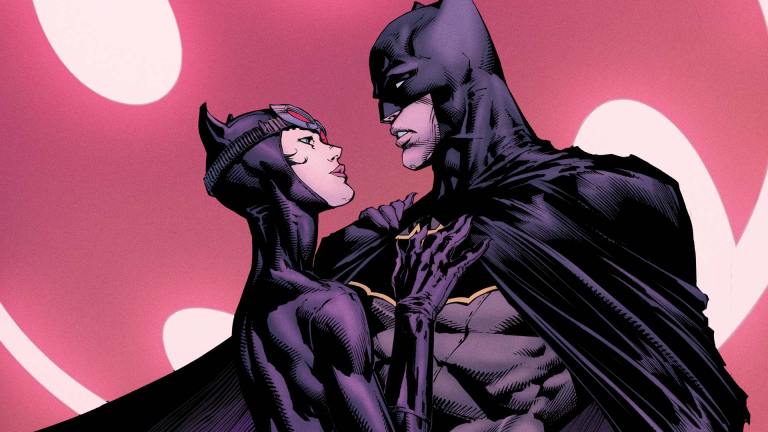 Tom King isn't joking about wanting to write 100 issues of Batman before he's through with the flagship series. That shouldn't be too hard, considering that an issue of Batman comes out every two weeks. In fact, the first third of his story has already come and gone, with issue #33 due out on Oct. 18. King still has a lot to say about the Bat, though, especially when it comes to his relationship with the Cat. 
At the DC Batman Spotlight panel at New York Comic Con, King reflected on his run, which began with the publisher's Rebirth relaunch last year, as well as where he's taking the story now that Bruce is engaged to Selina. Speaking of that momentous occasion in Batman #32 in which Catwoman said yes to Batman's marriage proposal, King revealed that he knew from day one that Selina would agree to marry Bruce. 
"If you look back at my issue 1, I knew I wanted to do 100 issues of this book and I wanted to focus on Bruce and Selina's relationship as the core of the run," King said. Indeed, Catwoman has been in the background of King's story from the very beginning. She joined him on a suicide mission to Bane's Santa Prisca and he later cleared her name of a terrible crime she didn't commit. They even spent a romantic night on a rooftop declaring their love for each other. The marriage proposal finally came in issue #24.
King's writing on the series has been arguably at its best when exploring the relationship between the Bat and the Cat. The two-part story "Rooftops" and the short story "Every Epilogue Is a Prelude" are major highlights of the run. (I'm also a big fan of the Batman/Swamp Thing team-up in "The Brave and the Mold" and the two-part "The Ballad of Kite Man." Hell yeah.)
The writer also talked about what's in store for Batman and Catwoman now that they're engaged. "The next 77 issues are going to be so flowery and nice," King joked. 
"Batman in an apron flipping pancakes," fellow Batman writer Scott Snyder added during the panel. 
On a more serious note, King revealed that issue #33, which will be drawn by Joelle Jones, will kick off a 17-issue arc called "The Rules of Engagement" as opposed to the solicited "A Dream of Me" story, which King and DC made up in order to keep Selina's answer to Bruce's proposal a secret.
King said that the arc will feature a confrontation between Selina and Bruce's former paramour and mother of his child, Talia al Ghul. 
"I thought about Catwoman and Batman being engaged…and then I immediately thought about Catwoman and Talia in a sword fight in the desert…and it gets awkward," said King. 
Bruce's son, Damian, will also have something to say about his future step mom. 
"It drives him a little more crazy," King said with a smile. 
It's not every day that a writer decides to address Batman's love life, let alone in an 100-issue run, but then King isn't your typical wordsmith. He's already delivered an amazingly subversive run about the domestic life of The Vision for Marvel and is currently hitting it out of the park with a truly surreal take on Mister Miracle. Don't be surprised if King gets weird with Batman and Catwoman for the next 77 issues. 
Read the latest Den of Geek Special Edition Magazine right here!