News
Batman Writer Tom King to End Run Early
Acclaimed writer Tom King will see his time on Batman come to an end this year, cutting his planned 100-issue run short.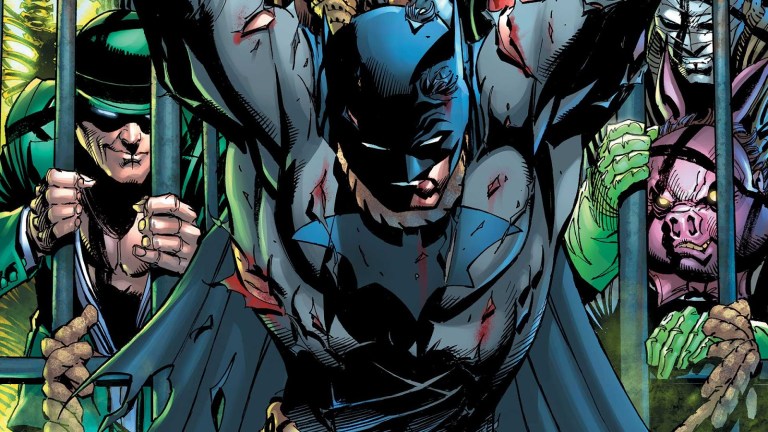 Tom King's 100-issue run on Batman, which would have concluded next year with issue #105, is no more. The writer will instead conclude his run with #85, which will arrive by the end of 2019. 
Comics Beat reported the news that King's run would end early and we've heard the same. While no reason was given for the writer's sudden departure, it's speculated that AT&T, which owns DC Comics, got cold feet about an upcoming twist in the final 15 issues that would "change the character for a generation." While we can't confirm this is the reason for the massive shake-up to DC's roster, it's worth noting that King has several unannounced projects still in the works at DC that will roll out over the next year.
King seemed to acknowledge the news of the shake-up on Twitter, thanking his followers for the kind words he'd received after reports hit the internet:
Artist Mitch Gerads, King's frequent collaborator on Batman, Mister Miracle, and Sheriff of Babylon, seemed to reference the news on Twitter as well, teasing that the writer's departure from Batman would lead to "even better things."
The move comes as a bit of a shocker, considering King's Batman remains one of DC's best-selling titles, although sales have slumped in the past few months, from the usual 90,000-100,000 units sold to about 80,000, per Comichron. DC (and AT&T) may hope that a shake-up to the creative team will boost sales. 
For fans of King's run, this is a crushing development. The writer has earned much acclaim for his subversive deconstruction of Batman, a run that questioned whether the Dark Knight could ever find love and leave his vigilante days behind him. Since 2016, King has taken readers on deep dives into Batman's psyche and added major new elements to the hero's mythos, such as young Bruce's attempted suicide and the Caped Crusader's engagement to Catwoman. He also brought back Bruce's dad, Thomas Wayne, back from the dead (so to speak), a development that's been unfolding in the comic for the last few months. 
King's time on Batman has proven controversial at times, though, notably after the planned wedding between Batman and Catwoman, which would have brought a major change to the status quo, ended with Selina leaving Bruce at the altar last summer. The fake-out led to King receiving death threats on the internet. 
The current arc, "The Fall and the Fallen," in which Batman will reach his lowest point, according to King, continues through issue #74 and will conclude with a confrontation between Bruce and a version of his father from another reality. Issue #75 will kick off the "City of Bane" event that will see Batman confront Bane, the mastermind of King's run, and his forces in a Gotham City under siege. "City of Bane" is scheduled to run up to issue #82, which means King will have three more issues to figure out a way to wrap things up by #85.
As for that big "twist" in the issues following the event, well, it's unclear if King will ever get to tell that story. We'll keep you updated as we hear more. 
Batman #72 is on sale on June 5. 
John Saavedra is an associate editor at Den of Geek. Read more of his work here. Follow him on Twitter @johnsjr9. 
Additional reporting by Mike Cecchini.