News
Batman to Team up with Penguin and Two-Face
Batman is teaming up with two of his most dastardly villains, Penguin and Two-Face, this fall!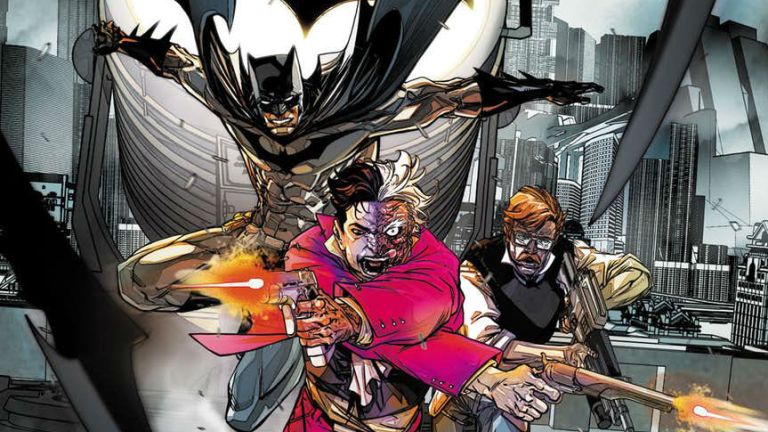 Keep your friends close, but your enemies closer — words Batman will be living by this fall when he teams up with Penguin and Two-Face, two of his most dangerous rogues, in upcoming issues of Batman and Detective Comics. As if almost marrying Catwoman wasn't enough, Batman will be working with villains to stop major plots against the city and his Bat family, but can the bad guys stay on the right side of the law long enough to actually help the Dark Knight?
It all begins in September when comic book veterans James Robinson (Starman) and Mark Brooks (Ultimate X-Men) take over Detective Comics with issue #989. The story sees Batman investigating a murder that puts him in a direct collision with Two-Face and his minions. But it's really in October and November that we'll see the shocking team-up come into fruition when Harvey Dent "asserts control" over his twisted half. 
Check out the cover and solicit for Detective Comics #992, which shows Two-Face going into battle guns blazing alongside the Caped Crusader and Jim Gordon!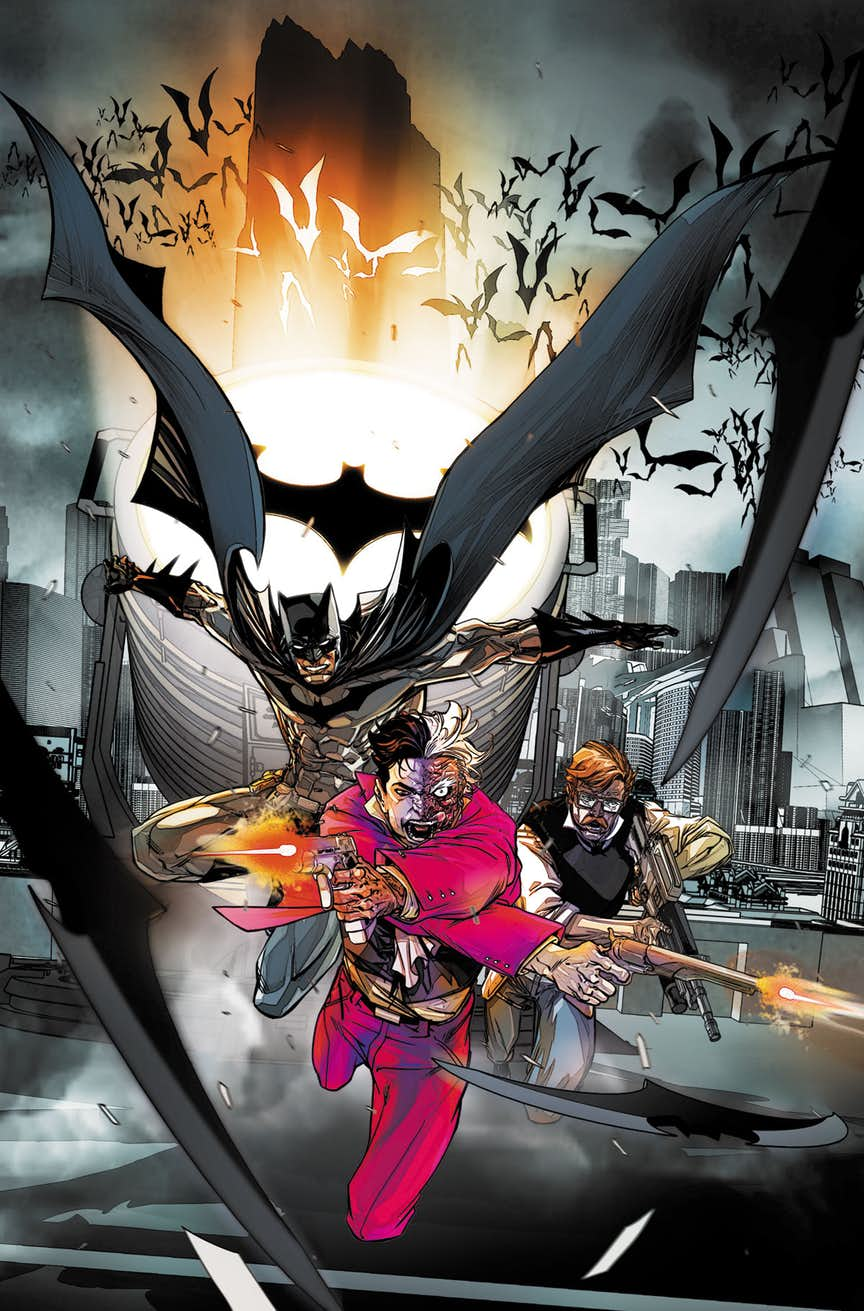 DETECTIVE COMICS #992

written by JAMES ROBINSONart and cover by CARMINE DI GIANDOMENICOvariant cover by MARK BROOKS

There's a new Dynamic Duo in Gotham City—introducing Batman and Two-Face! What the what?! The Dark Knight is forced to team with old friend and current enemy Harvey Dent to stop a Kobra-sponsored terrorist attack. Can Batman really trust his life to a coin flip? Even worse, Bats and Two-Face are of two minds over recruiting the two Fireflies for help—if Batman's gonna work with so many villains, he may as well join the Legion of Doom.

ON SALE 11.14.18$3.99 US | 32 PAGESFC | RATED T
Meanwhile, over on Batman, Tom King and Mikel Janin tackle the story of what happens when Penguin finds himself stuck in the middle of a war between Batman and a mysterious foe. Does he team up with the Bat or join the forces working to bring down the Dark Knight once and for all? To our delight, it's the former, as the Caped Crusader and Cobblepot become pals for a story arc!
Here's the cover and solicit for November's Batman #58: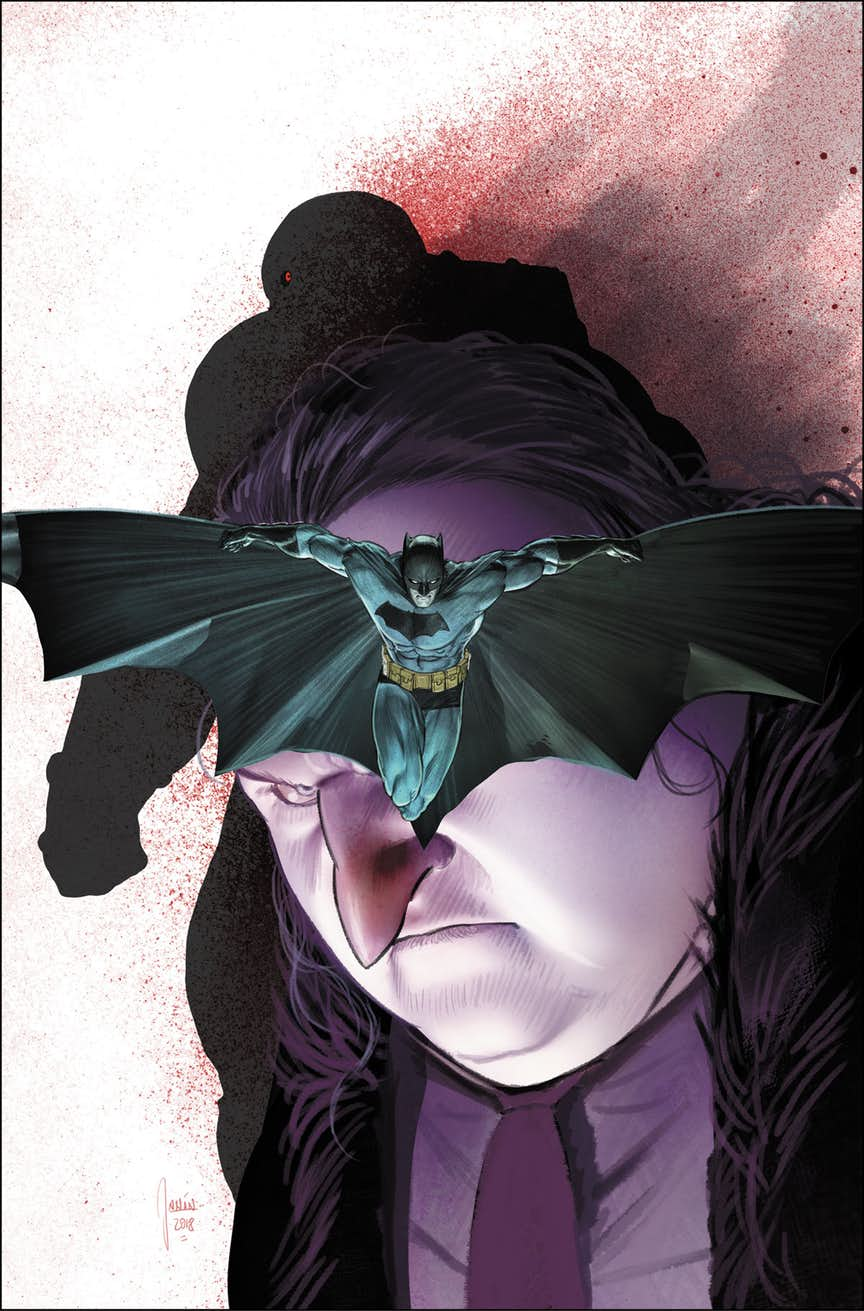 BATMAN #58

written by TOM KINGart and cover by MIKEL JANINvariant cover by FRANCESCO MATTINA

The Dark Knight waddles into a turf war with the Penguin! Still reeling from the attacks on his Bat-Family and reputation, the Caped Crusader looks to track down the mysterious operator lurking behind the scenes in Gotham City. As the hunt rages on, Batman runs "a fowl" of Oswald Cobblepot. But the Penguin is on Batman's side for once, and the crime boss sees dangerous things on the horizon. How can he convince the Caped Crusader he's on the level?

ON SALE 11.07.18$3.99 US | 32 PAGESFC | RATED T
Batman's newest pals might be a serious call for help. The Dark Knight keeps looking for love in all the wrong places. One of these days, he may not survive the night…
More on poor, confused Batman as we learn it!
John Saavedra is an associate editor at Den of Geek. Read more of his work here. Follow him on Twitter @johnsjr9. 
Read the latest Den of Geek Special Edition Magazine here!