News
Batman: Three Jokers Comic from Geoff Johns and Jason Fabok Revealed by DC
The Three Jokers mystery will finally be solved in a new miniseries by Geoff Johns and Jason Fabok! Here's your first look at the art...
Geoff Johns took advantage of his SDCC Spotlight panel to reveal a few projects he's working on, including a new Shazam ongoing series and the highly-anticipated "Three Jokers" comic he's been teasing since that famous issue of Justice League back in the New 52 era. A three-issue miniseries titled Batman: Three Jokers is indeed on the way, written by Johns and drawn by frequent collaborator Jason Fabok. 
The mystery of the Three Jokers began in Justice League Vol. 2 #42 when Batman asked the Mobius Chair (look it up because I'm not getting into it here) about the Clown's real name. Its answer was cryptic at best: "There are three." 
Johns shared during his panel that the Mobius Chair's answer should be taken literally. There are in fact three Jokers running around the DC Universe. Batman: Three Jokers will shed light on the mystery of the Joker and will star Batman, Jason Todd, and Barbara Gordon — three characters deeply affected by the Clown Prince of Crime. 
"I've never really done a Batman story beyond Batman: Earth One, and if I'm going to tell a Batman story, I want it to be amazing and cool and something no one's ever seen before," Johns explained. "This is a story about the shared pain between Bruce and Barbara and Jason and the way that some scars heal wrong and some heal right. I think of this as a Joker story.
"By the end of this series, Bruce and Joker will have a relationship that is completely different than the one they have now. There's a really fun scene where Joker drives this truck and he gets to the woods and he goes up to this cabin in the woods and there's another Joker standing there in the door wearing a Hawaiian shirt and the Joker who drove up says, 'That's my shirt.'"
Johns noted that the book will be in-continuity despite the fact that it's being published under the DC Black Label imprint. 
No release date has been set for the book. Johns did reveal the first piece of art for the series: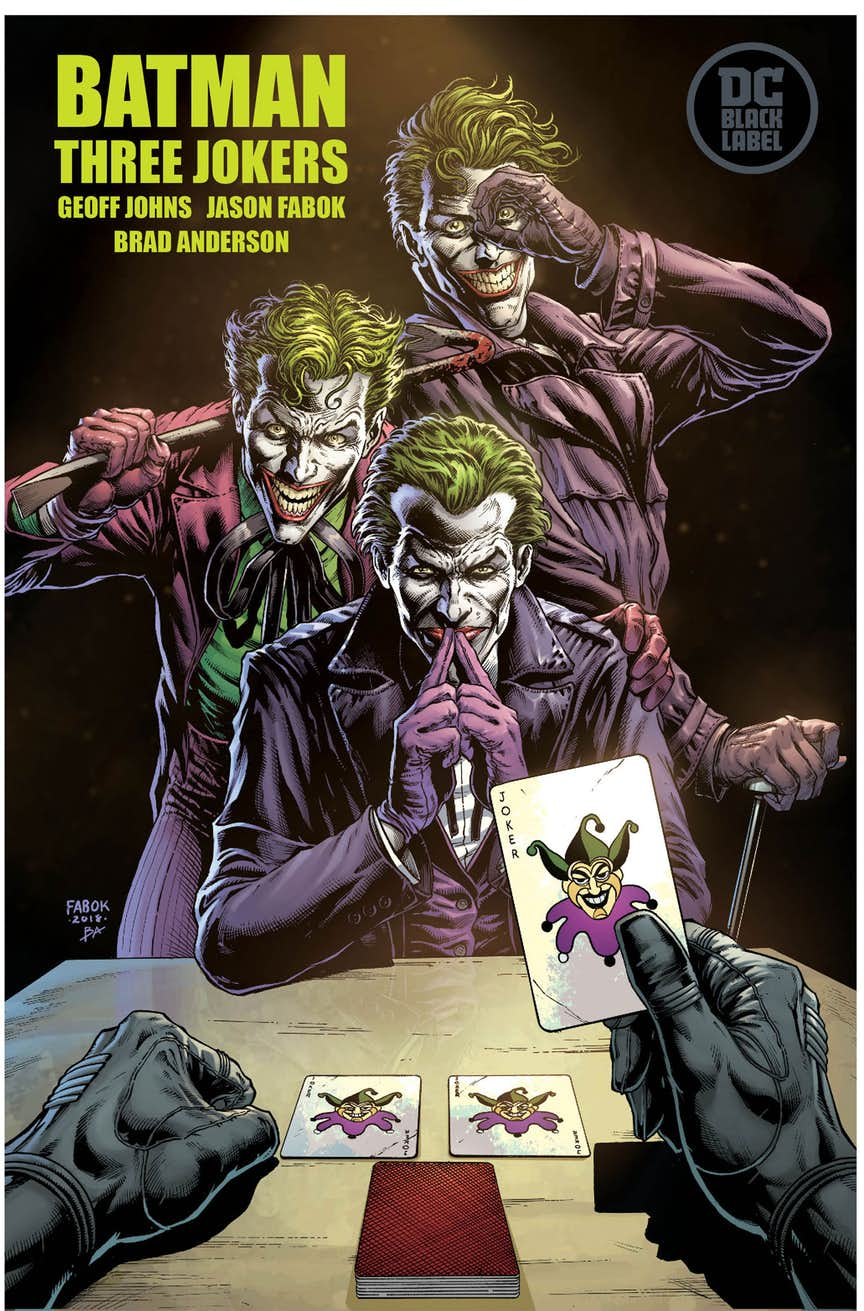 More news on Batman: Three Jokers as we learn it!
Read the Den of Geek SDCC 2018 Special Edition Magazine Here!