News
Batman Mourns a Death in the Family in New DC Comic
Batman will finally have to reckon with the death of Alfred Pennyworth in a new one-shot from James Tynion IV and Peter J. Tomasi.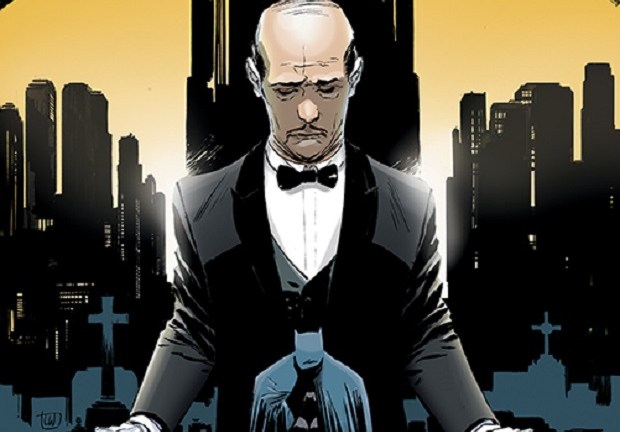 It's been five issues since the biggest death in Batman comics history — bigger even than when fans voted to kill off Jason Todd — but we're only just now getting around to the comics universe processing what happened. And in February, Batman gets to process it too.
This coming February, Pennyworth R.I.P. celebrates the life of the most influential man in Batman's history, Alfred Pennyworth. The book is a 48-page one-shot written by the main Bat-teams: James Tynion IV, taking over Batman with issue #86; and Peter J. Tomasi, current scribe of Detective Comics. Eddy Barrows, currently doing incredible work on Freedom Fighters, and Blackest Night and Wonder Woman's Eber Ferreira will be joined by others on art duties.
Alfred met his fate in Batman #77, when Damian's unauthorized infiltration of Gotham led to Bane murdering Alfred in front of the young Robin. We found out later that Damian's mission was actually authorized by Bruce, but based on shoddy intelligence. One of the big questions outstanding in the endgame of "City of Bane" is what's Bruce going to do when he finds out he got Alfred killed? Also who's left for him to take his revenge on? The answer to the second question is pretty clear: Flashpoint Batman, the contrast point to Alfred's nurturing, father figure. But after that, where does this leave Bruce?
There are a ton of rumors floating around the comics world right now about the future of the DC Universe, and a lot of quietly huge moves happening in-universe. Perpetua just collapsed the Gotham by Gaslight universe in Justice League, and while the surprisingly terrific Tales from the Dark Multiverse books are presented as one-offs, they're all seemingly tying together to lead towards one bigger story. The Speed Force is dead in The Flash, Superman is dumping his secret identity, the Green Lantern Corps is…decidedly not the GLC, Cheetah is killing her way around Olympus one at a time, and now we're getting a book that's ostensibly a memorial for Alfred that's also being billed as a turning point for Bruce. DC's announcement says that with Bruce truly alone, he "might either hang that cape up once and for all…or double down and carry on with his vengeful quest forever."
It certainly seems like something's up. If not for the entire DCU, then certainly for Bruce and the rest of the Bat-family. Regardless, Alfred's passing is a huge deal for Bruce, Tim, Damian, Jason, Dick, and the rest of Gotham's heroes. It looks like Pennyworth R.I.P. will give him the send off he deserves.
Check out the cover below: