News
Batman: Nightwing Suffers Shocking Fate in New DC Comic
Batman #55 delivers a shocking cliffhanger that might point to a new status quo for Dick Grayson.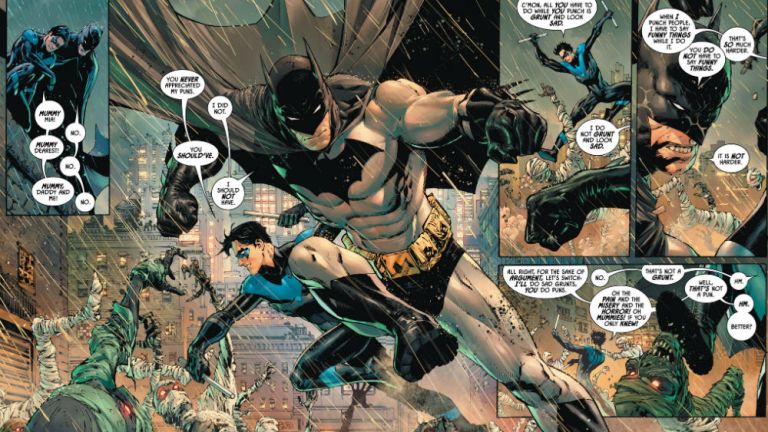 This Batman article contains spoilers.
Being left at the altar by Catwoman hasn't been easy for Batman and things are about to get even more difficult for the Dark Knight now that the deadly KGBeast has returned to Gotham. Yes, the Russian assassin that first terrorized the Caped Crusader in Batman #418 (March 1988) by the all-star creative team of Jim Starlin and Jim Aparo is back to hit Batman where it hurts: his family. 
Following a series of more lighthearted adventures involving Condiment King and Crazy Quilt, this week's Batman #55 by Tom King and Tony S. Daniel begins like an ordinary night of patrolling the streets for the Dark Knight and Nightwing, who has made it his personal mission to cheer up his mentor after the wedding fiasco. Batman isn't really having any of his former ward's fun-filled antics, though. He just wants to brood in peace. 
The story, which is titled "Beasts of Burden," alternates between the KGBeast's arrival in Gotham and Batman and Nightwing's battle with a new, mummy-themed villain, the Phantom Pharaoh. While the story could almost be mistaken for another standalone crime-fighting romp, King and Daniel quickly pull the rug from under ftheir readers as a shot rings out across Gotham…and connects with Dick Grayson's head! 
The issue takes a very methodical approach to the supervillain, showing him first arriving at the airport, then acquiring a rifle (the issue makes a point to show just how easy it is for the villain to get one at a gun shop), going for some lunch, and then breaking into an apartment to get a perfect shot at the first Boy Wonder while the Dynamic Duo meets with Commissioner Gordon on the usual GCPD rooftop. 
The last we see of Nightwing is the bullet impacting his head. We hear Gordon calling for medics as KGBeast packs up his rifle and exits the apartment, Dick's fate left unresolved. Has Nightwing met his maker at the hands of the Russian villain and the cruel Tom King?
Dick's probably not dead. We all know death isn't really a thing in modern comics, and with Grayson about to return to the small screen in the Titans TV series, it's even less likely that DC will shelve the character in the comics any time soon. Either way, we'll know for sure when Batman #56 hits comic shops on Oct. 3. 
John Saavedra is an associate editor at Den of Geek. Read more of his work here. Follow him on Twitter @johnsjr9.