News
Batman: Mister Miracle Team Brings Back Professor Pyg in New DC Comic
Tom King and Mitch Gerads, the Eisner Award-winning creators behind Mister Miracle, are bringing Professor Pyg back to the pages of Batman.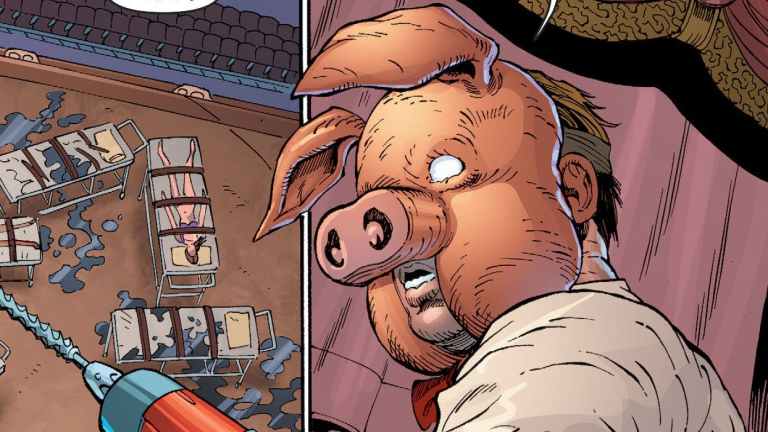 When the writer-artist dynamic duo of Tom King and Mitch Gerads isn't getting our blood pumping in Vertigo series like The Sheriff of Babylon or taking us on a trippy voyage through DC's cosmology in Mister Miracle, the team hangs out in Gotham City. This will be Gerad's fourth go-around on the Rebirth Batman title.
The issue, which arrives on Dec. 19, picks up after Batman's team up with the Penguin (yeah, that's actually happening!) and will see the return of the perverse Professor Pyg, a villain who first debuted in the twisted Batman #666 (July 2007) by Grant Morrison and Andy Kubert. That appropriately dark story stars Bruce Wayne's son, Damian, as a new Batman who's made a pact with the devil to protect Gotham City after an apocalyptic event that sends the planet plummeting into fire and brimstone. While Pyg's first appearance is brief, he later returns as a villain in Morrison's Batman and Robin series for a few twisted issues. 
In those early issues, Pyg is portrayed as a depraved torturer and a pervert. In one issue, he even ties Robin to a chair and performs a sort of striptease for the Boy Wonder while holding the electric drill and buzz saw he plans to cut him up with. Then he vomits in front of everyone and…gets off on it? That's my interpretation, anyway. You never know with Morrison. 
Professor Pyg has most recently appeared on Gotham season 4, played by Michael Cerveris (Fringe). 
Here's the solicit for the upcoming Batman #61, which teases a weird and bloody return for the villain:
BATMAN #61
written by TOM KINGart and cover by MITCH GERADSvariant cover by FRANCESCO MATTINA
The Eisner-winning creative team behind MISTER MIRACLE is back together as artist Mitch Gerads rejoins the Bat team for a special issue! Professor Pyg is loose in Gotham, and you know that means things are going to get weird…and bloody.!
ON SALE 12.19.18$3.99 US | 32 PAGESFC | RATED T
King and Gerads first brought their trademark nine-panel storytelling to Batman in 2017 for a story titled "The Brave and the Mold," which saw the Dark Knight and Swamp Thing team up to solve a mystery. While it's just a standalone issue, it's easily one of the best stories in King's more than 50-issue run thus far. It's issue #23 if you want to hunt the book down.