News
Batman Meets Black Lightning as New Detective Comics Writer Takes Over (Exclusive!)
Bryan Hill is taking over Detective Comics, and his first order of business is pairing Batman and Black Lightning.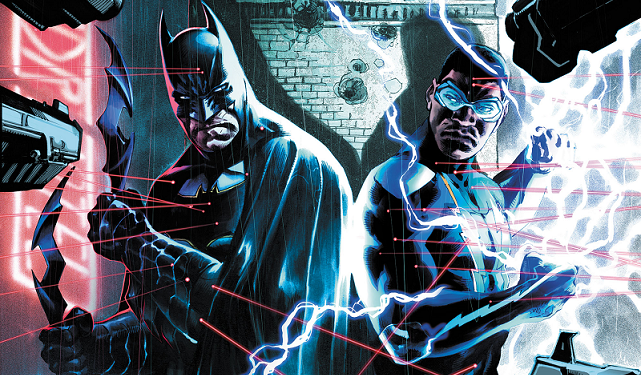 Den of Geek has learned that the next writer of Detective Comics, will be Bryan Hill, taking over from James Tynion IV, who has been steering the title since Rebirth. Hill is currently working on The Wild Storm: Michael Cray, spinoff of The Wild Storm where a more grounded Deathblow travels the Wildstorm universe murdering evil, scumbag Justice League analogs. It is as fun as it sounds.
Hill rose to prominence in comics with his work on Postal. He's also one of the leads on the recent Cyberforcerelaunch and has a substantial career outside comics as a pop culture consultant. Hill is also a writer for Ash vs Evil Dead.
Detective Comics isn't Hill's only upcoming DC project. It was also recently announced that Hill will be teaming up with Denys Cowan and Bill Sienkiewicz on Who the Hell Cares, You Should Just Buy It Because It Will Be Great starring Black Lightning and Hong Kong Phooey. Coincidentally, Hill will be bringing Jefferson Pierce (aka Black Lightning) with him to the pages of Detective Comics.
Hill will take over starting with Detective Comics #982 for a five-issue arc called "On the Outside," which will kick off in June.
Here's the official info on the books, and then let's have a chat about what it all means:
DETECTIVE COMICS #982Written by BRYAN HILL • Art by MIGUEL MENDONÇA • Cover by EDDY BARROWS • Variant cover by MARK BROOKS"On the Outside" part one! Duke Thomas. Cassandra Cain. They and other young heroes don't intend to stand down, no matter what Batman thinks is best. Who can Batman trust to guide them? They need a teacher…and Black Lightning fits the bill!On sale JUNE 13 • 32 pg, FC, $2.99 US • RATED T
DETECTIVE COMICS #983Written by BRYAN HILL • Art by MIGUEL MENDONÇA • Cover by EDDY BARROWS • Variant cover by MARK BROOKS"On the Outside" part two! Batman wanted Black Lightning involved in the lives of his protégés—but how involved was the Dark Knight thinking? What kind of missions will Jefferson Pierce take them on? And what, exactly, is he whispering in their ears about Batman himself?On sale JUNE 27 • 32 pg, FC, $2.99 US • RATED T
So. "On the Outside." A story about young heroes. Black Lightning. Yep, it sure sounds like we're getting a stealth relaunch of The Outsiders in the pages of Detective Comics this summer! Just on the off chance you aren't familiar, Batman & The Outsiders was a comic that first hit in 1983, which featured the Dark Knight leading a team of heroes that consisted of Katana, Metamorpho, Black Lightning (him again!), and others. We're ready for this concept to be revisited, aren't you? 
Hill is on Detective Comics for five issues. What could that next project be? It…it couldn't be an Outsiders book, could it? 
Check out the cover to Detective Comics #982!