News
Batman Endgame and the Future of Batman Comics
Batman: Endgame arrives in October. Newsarama spoke to Scott Snyder about all the cool, new Bat-stuff headed our way.
UPDATE: Issue #35 of Batman, the first part of Endgame, arrives this Wednesday. The new issue comes with a $4.99 price tag, but it will feature a longer story. Thirty of the forty pages will be A-story. There will also a backup story written by Scott Snyder and James Tynion IV.
Endgame jumps in time a bit, beginning at the end of the events of Batman Eternal, the Bat-weekly that ends next March. Eternal has already introduced some big characters (we won't spoil anything) from the Batman mythos to New 52 continuity. After 26 issues, it's safe to say Gotham is facing some major upheavel, which means that Batman might have to call upon his entire family for the first time since Death of the Family broke them apart. 
Greg Capullo, half of the spectacular creative team behind Batman, has posted some early panels for the arc (these are presumably for issue #35):
— Greg Capullo (@GregCapullo)
October 3, 2014
— Greg Capullo (@GregCapullo)
October 3, 2014
— Greg Capullo (@GregCapullo)
October 2, 2014
— Greg Capullo (@GregCapullo)
October 1, 2014
It looks like the civil unrest that begins in Eternal will continue into Endgame. Also, is that Batman behind bars? He's made an enemy of the GCPD by this point in New 52 continuity, and it seems like this arc will revolve around the motif of "capturing the Batman" in some way. You can also see the Justice League trying to apprehend Batman on the cover of issue #35: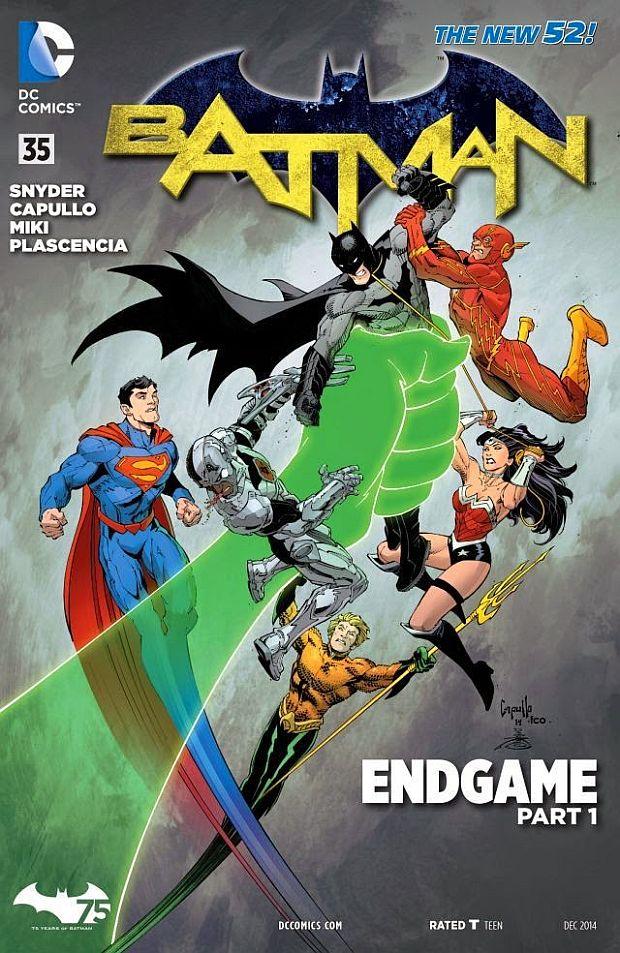 Endgame also ties in with other new Batman books, including Arkham Manor, Gotham Academy, and Gotham By Midnight.
The latter book stars supernatural detective Jim Corrigan, as he explores the darkest depths of the city. It comes from Ray Fawkes and Ben Templesmith, and is a spin-off of Batman Eternal's Arkham Asylum storyline. Gotham By Midnight arrives in November.
Together, all of these series will continue to push Batman forward into the future. There are still plenty of stories to tell!
The original story follows…
Batman: Zero Year, the ambitious origin story by the amazing Scott Snyder and Greg Capullo, comes to an end next week. Shed a couple of tears for a year-long storyline that's charmed us with its gorgeous and colorful punk rock sensibilities. But now that we know how and why Bats first put on the tights and purple gloves, it's time to head back to the present.
Starting in August with Batman #34, a standalone issue about a serial killer named "Meek," the title will jump a couple years forward. 
Newsarama interviewed Snyder about all the cool stuff headed our way, and there's a lot of new info on the future of Batman. 
While Batman #34 will be standalone and Batman: Future's End #1 (September) will be a crossover issue with the larger DC event, Batman #35 (October), titled Endgame, will be the beginning of a 6-issue story. 
Endgame picks up right AFTER Batman: Eternal, the current Batman weekly that's introducing tons of new/old characters to the New 52 continuity. The new story will introduce us to A LOT of BIG changes to Batman continuity, just in time for Batman's big 75th anniversary.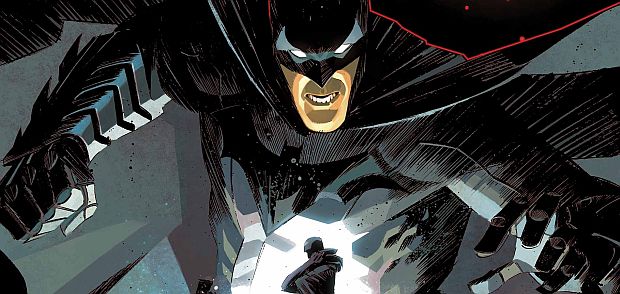 Unsurprisingly, you'll still need to read Batman: Eternal, which has been suffering from convoluted story syndrome of late, to see how those changes happened. Hopefully, that doesn't become a painful task.
Endgame will also tie into the new Arkham Manor title, which is written by Gerry Duggan, who is collaborating with Snyder on Batman #34.
Curiously, the three big DC weeklies (Future's End, Batman: Eternal, Earth-2: Future's End) and Endgame will all end in March 2015. What will be the state of Batman by the end of all this?
Snyder said about Endgame:
Yeah, Greg and I have been talking about it for awhile.

But I don't want to give anything away about it. I really want it to speak for itself.

I feel like I always come out and hype stories. And this time, I think it's just one of those things where, I'd just love for you to come see what we have in store for the 75th.

And you should know that, if you think that we try to go big most of the time, in general, and we're pretty ambitious for the 75th, if you think we're going to go small or doesn't have the biggest cast we've ever used and the biggest cataclysmic elements that we've ever used, then you don't know us as a team.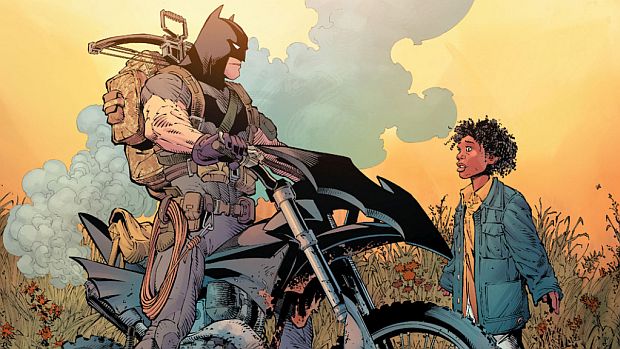 When asked if the name Endgame meant that this would be Snyder and Capullo's last Batman story together, Snyder put us at ease: 
I want it to be a surprise. But I can tell you — I mean, I don't want to tease fans; I don't want to hurt fans or make them worry about us leaving — it's not meant to be an indication that this is the last story that Greg and I will do. We've always felt that, along the way, we would stay as long as fans really want us.

This is definitely one of those stories that I felt… we have to do this one before we die.

So there's an element of, like, "Thank God we're getting to do it!" You know? And I could leave the book happy having done this. And there are a couple more I really, really want to do with big bads and stuff like that. But this is definitely one on our hit list.
Endgame will also see the return of back-up stories to Batman, which haven't been included since the early days of "Zero Year." Snyder will be collaborating with James Tynion IV, who is also working on Batman: Eternal, along with a new artist each issue. 
So much new Batman. Snyder also teased that there would be more Batman series announced in the next couple months: 
So between new series like Gotham Academy and Arkham Manor — and you'll hear about more — and the new take on Batgirl, the new writers' and artists' take on Catwoman, and what we're going to be doing on Batman as well, and what's happening in Batman and Robin, with "Robin Rises," and Detective with a new creative team and a new look….
Yeah…A LOT of new Batman.
BATMAN #35 
Written by SCOTT SNYDERBackup story written by SCOTT SNYDER and JAMES TYNION IVArt by GREG CAPULLO and DANNY MIKICover by GREG CAPULLOMONSTERS Variant cover by BRIAN STELFREEZE1:25 Variant cover by ANDY KUBERTOn sale OCTOBER 8 • 40 pg, FC, $3.99 US • RATED TCombo pack edition: $4.99 USRetailers: This issue will ship with four covers. Please see the order form for more information.From the superstar creative team that brought you a new start to the Caped Crusader comes the story that could end him. Be there in October for the biggest, deadliest and most epic story yet from writer Scott Snyder and artist Greg Capullo – "Batman: Endgame" begins here!
What are your thoughts on all the new Bat-stuff? Tell us in the comments!
Like us on Facebook and follow us on Twitter for all news updates related to the world of geek. And Google+, if that's your thing!