News
Detective Comics #1000 Features Legendary Batman Creators
Detective Comics #1000 will feature a who's who of legendary Batman creators. Here are the details...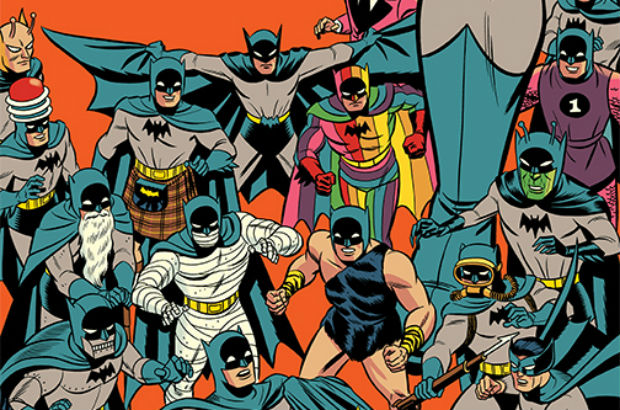 Batman didn't tie the knot last summer, but he still has plenty to celebrate in 2019. In May, the Caped Crusader turns 80 after his debut in Detective Comics #27 in 1939. And there's another milestone: Detective Comics, one of the books that formed the backbone of the publisher we know today as DC Comics, is hitting its 1,000th issue in March. To mark the occasion, DC is publishing an extra-sized issue featuring many of the great creators who have worked on the Dark Knight over the years. 
The issue will feature a story from the current Detective Comics creative team of Peter J. Tomasi and Doug Mahnke that will introduce a new version of the Arkham Knight, the villain from the Batman: Arkham Knight video game, to the comics. The issue will also feature a two-page spread from Jason Fabok spotlighting the current state of the Batman universe, as well as a wraparound cover from Jim Lee, Scott Williams, and Alex Sinclair.
Here's the full lineup of guest creative teams for the milestone issue:
Kevin Smith and Jim LeeBrian Michael Bendis and Alex MaleevWarren Ellis and Becky CloonanPaul Dini and Dustin NguyenDenny O'Neil and Steve Epting (a sequel to O'Neil's 1976 Detective Comics story "There's No Hope in Crime Alley")Christopher Priest and Neal AdamsGeoff Johns and Kelley JonesTom King, Tony Daniel, and Joëlle JonesScott Snyder and Greg CapulloJames Tynion IV and Alvaro Martinez
Variant covers include work from Steve Rude, Michael Cho, Jim Steranko, Bernie Wrightson, Frank Miller, Tim Sale, Jock, Greg Capullo, and Bruce Timm.
Further Reading: Scott Snyder Talks What's Next for Batman
"Batman is one of the most enduring characters in popular culture, and his debut in Detective Comics represented a pivotal moment in comics and pioneered a new type of superhero that would appeal to every generation," DC Publisher Dan DiDio said in a press release. "Batman continues to have an impact on entertainment worldwide and the 1,000th issue of Detective Comics is a testament to the creative genius of Bob Kane and Bill Finger and is a fitting tribute to Batman on his 80th anniversary."
This 96-page oversize collector's edition issue will be available at comics retailers and digitally on March 27, 2019, for $9.99.
John Saavedra is an associate editor at Den of Geek. Read more of his work here. Follow him on Twitter @johnsjr9.