News
Batman: Crazy Quilt and Condiment King Return in New DC Comic
Two of Batman's zaniest villains, Crazy Quilt and Condiment King, return in Batman #54 by Tom King and Matt Wagner.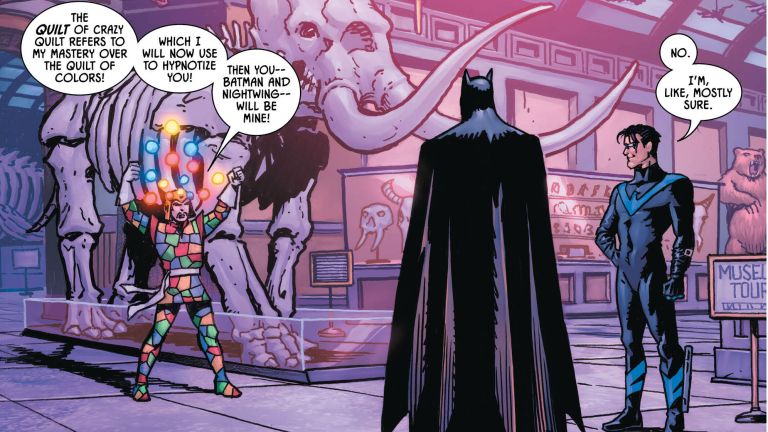 Batman has the blues after Catwoman left him at the altar back in July, but no matter how hard he tries to brood on his own, Nightwing is there to help him get through the heartbreak. After turning up as Batman for a few issues while Bruce Wayne was on jury duty, Dick Grayson decides to stick around to fight crime with his mentor.
Batman #54, titled "The Better Man," takes a heartfelt look at how both of these heroes have helped each other cope with trauma over the years. It's a sweet issue that retells the story of Dick's first days as Bruce's ward following the death of the rest of the Flying Graysons.
Tom King, who excels at telling one-issue stories, is at his very warmest when exploring what keeps all of these Batman characters united. The legendary Matt Wagner (Batman and the Monster Men, Sandman Mystery Theater) serves as guest artist for what turns out to be a zany look back at two of the Caped Crusader's silliest villains.
Tied into this tale of father and son are Crazy Quilt and Condiment King, two B-list Batman rogues that time forgot. In the story, the original dynamic duo faces off against these baddies in past and present, much to Nightwing's amusement. The Dark Knight isn't quite as tickled, though. King doesn't shy away from the gags as Crazy Quilt tries to hypnotize the dynamic duo with his "quilt of colors" while Condiment King shoots ketchup and mustard at our heroes.
It's really no surprise that we've not seen either of these villains in quite some time, but believe it or not, both of these rogues have some impressive origins: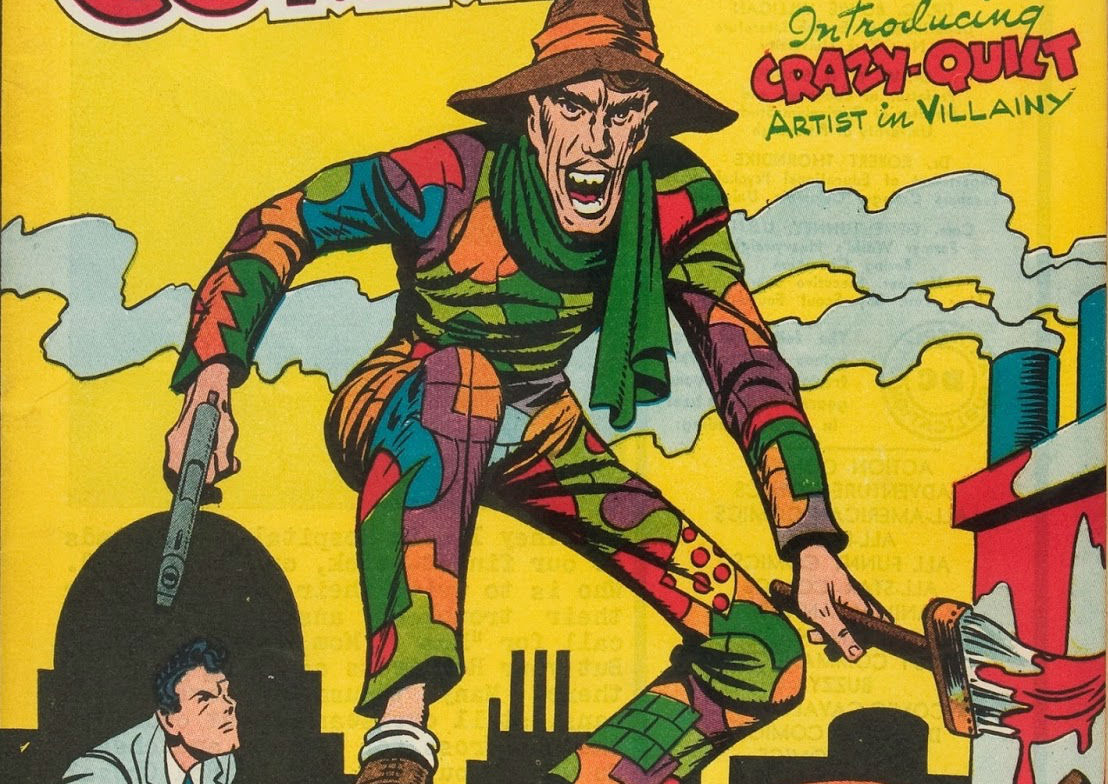 Crazy Quilt debuted in issue #15 of the popular "kids vs. Nazis" series Boy Commandos in 1946, written and drawn by none other than Jack Kirby. Yes, Kirby, best known as the co-creator of the X-Men, the Fantastic Four, The Avengers, and DC's Fourth World comics, also gave birth to Crazy Quilt!
The villain is introduced as a famous painter who moonlights as a crime boss. When he loses his vision, he goes through an experimental procedure that gives him his sight back but with one catch: Crazy Quilt can only see blindingly bright colors, driving him mad. While the Boy Commandos put Crazy Quilt in his place a few times, he eventually showed up in Gotham, where he had a rivalry with Robin, who blinded him again at one point. Most recently, Crazy Quilt has appeared in the Batman: The Brave and the Bold animated series and in an issue of Scott Snyder and Greg Capullo's seminal Batman run in the New 52 era.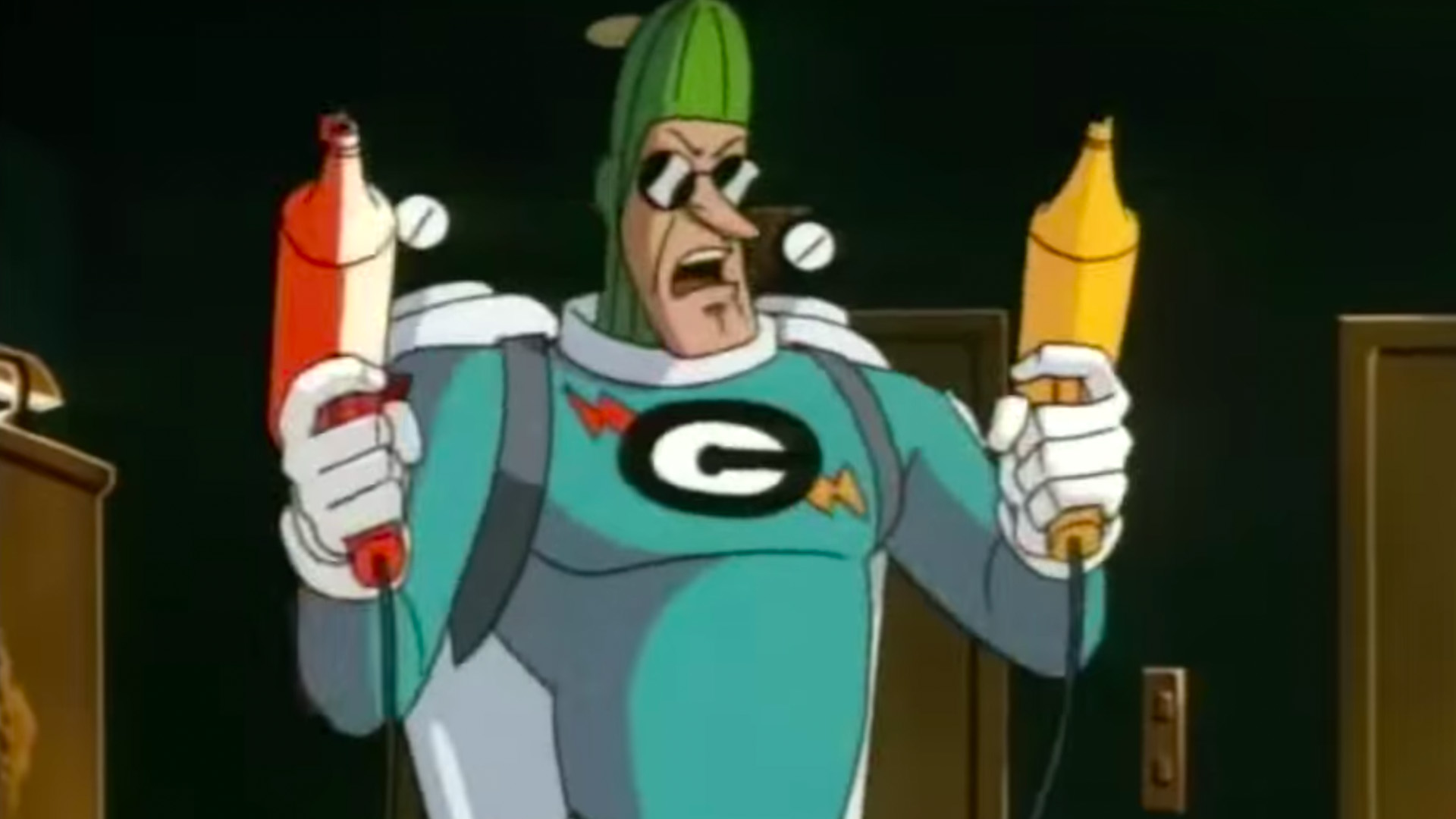 Condiment King hasn't fared as well in recent years, but his debut did come at the hands of Bruce Timm and Paul Dini in an episode of Batman: The Animated Series. First introduced in the episode "Make Em Laugh," Condiment King challenges the dynamic duo as a callback to the slapstick of the 1960s live-action Batman series starring Adam West and Burt Ward. In the episode, the Joker brainwashes comedian Buddy Standler into becoming the Condiment King and pursuing a life of crime while delivering condiment-based puns. Needless to say, this condiment spewing baddie is easily subdued by Batman and Robin.
This is only the most recent blast from the past from King, who also has quite the liking for Kite Man, a B-list bad guy from the '60s. It's always surprising when King, who is best known for depressing the heck out of readers with miniseries like The Vision and Mister Miracle, introduces these cringeworthy deep cuts into his comics as comedic relief. They work, though, and in the case of Kite Man, they can even become tragic additions to his stories. Let's just say Crazy Quilt and Condiment King should consider themselves lucky that they only get punched by Batman and Robin in this issue and not something much worse. 
John Saavedra is an associate editor at Den of Geek. Read more of his work here. Follow him on Twitter @johnsjr9.