News
Batman & Black Lightning Team Up Continues in Detective Comics
Not the abstract concept. A bad guy named Karma. Batman, Black Lightning, and Orphan have some work to do.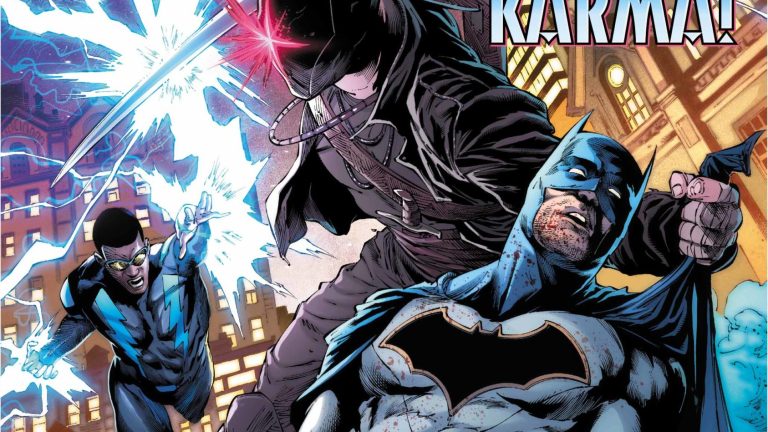 Bryan Hill is having a moment.
The writer, who got his start at Top Cow almost a decade ago, wrapped Postal to some acclaim earlier this year. At the same time, he picked up The Wild Storm: Michael Cray, a concept that could be as trite as Deathblow Kills the DC Universe in less capable hands, but has turned into an interesting character study plopped in a sort of What If style tale. And he was part of the slate of new books announced for Vertigo's big relaunch. American Carnage is about a half-black ex FBI agent going undercover to infiltrate a white supremacist militia. DC had copies of it in San Diego, and the first issue, with art from The Old Guard's Leandro Fernandez, is legit. It's grim and mean and vivid and engrossing and it's going on my pull list when I next get to the shop.
Meanwhile, he's also got a fun arc of Detective Comics running, with Batman and Black Lightning more or less putting together a new team of Outsiders. Here's what they have to say about the issue.
DETECTIVE COMICS #986 written by BRYAN HILLart by PHILIPPE BRIONEScover by EDUARDO PANISCIAvariant cover by MARK BROOKSBlack Lightning, the Signal and Cassandra Cain are working very well together…but now they're up against a foe who can tap directly into their worst emotions and play them like music! When you've seen the kinds of horrors these poor souls have, there's plenty of trauma to work with…and with that, you can turn these heroes into deadly weapons! Meanwhile Batman's "side project" has been revealed—what are the Brainiac Files, and what, exactly, does Batman plan to do with them?
Since Rebirth, Detective has been squarely aimed at people who came to Batman in a certain era (roughly "Knightsend" through the end of "No Man's Land"), and it's been great. James Tynion launched it and clearly loved Tim Drake, and Hill very obviously loves Cassandra Cain, and they're both so good. Check out the preview.
[gallery:0]