News
Batman and Black Lightning to Take on Brainiac This Summer
It looks like Brainiac is coming to Gotham City, and it's up to Batman, Black Lightning, and a new team of Outsiders to stop him.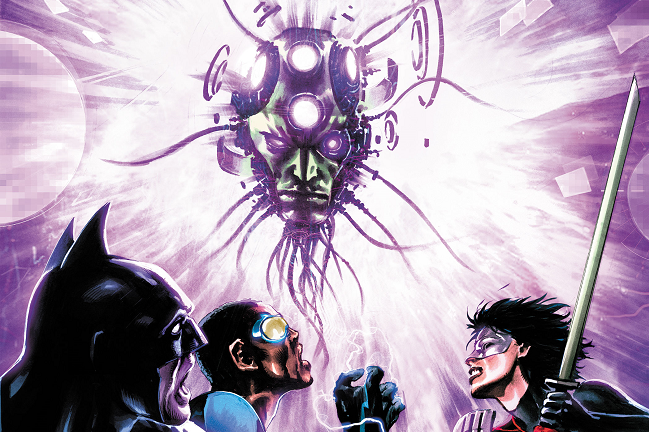 Changes are coming to Detective Comics in the coming months. James Tynion IV is wrapping his two year run as writer of the title, with Bryan Hill taking over. Detective has long been the "Batman family" corner of the DC Universe, and that's going to change slightly during Hill's tenure. Instead of focusing on the assorted Robins and the usual Batman supporting cast, "On the Outside" is bringing Black Lightning to Gotham City, and from the sound of things, a new team of Outsiders, as well.
We have more details on Mr. Hill's arrival on Detective Comics right here.
But lest you think that "On the Outside" is going to stop at teaming up Batman and Black Lightning, which is cool enough, there's a much bigger threat to be dealt with…and not a street-level one. Check out the first details on Detective Comics #984 and 985 (written by Bryan Hill with art by Philippe Briones), courtesy of DC Comics…
"Batman called Black Lightning to Gotham City for help with a specific case—but what is Batman hiding from Jefferson Pierce? It looks like he's in touch with somebody from their mutual past, and he doesn't want Black Lightning to know about it —and that operative might be in over their head! Then, Black Lightning, the Signal and Cassandra Cain are showing how well they work together…but now they're up against a foe who can tap into their worst emotions and play them like music! When you've seen the kinds of horrors these poor souls have, there's plenty of trauma to work with…and with that, you can turn these heroes into deadly weapons! Meanwhile, Batman's "side project" has been revealed—what are the Brainiac Files, and what exactly does Batman plan to do with them?"
Yes, what ARE the Brainiac Files, Bruce? What the hell are you up to this time? Whenever Batman is keeping secret files, it's never good. See also: JLA's Tower of Babel story and remember how poorly things went for him with The OMAC Project (is…is OMAC Project still in continuity?).
Brainiac's arrival in Gotham City of all places sure is convenient timing, though. Fans are finally properly getting a proper version of Brainiac in live action for the first time on the Krypton TV series at the moment, and DC has helped to celebrate this by finally making one of Superman's greatest villains the kind of DC Universe level threat that we've always known he should be. Brainiac keeps popping up in weird places (his famous skull ship is visible in some Green Arrow preview art, too), so it would make sense that Batman wants to keep Gotham City from ending up in a bottle.
Check out the cover to Detective Comics #985 by Eddy Barrows and Eber Ferreira.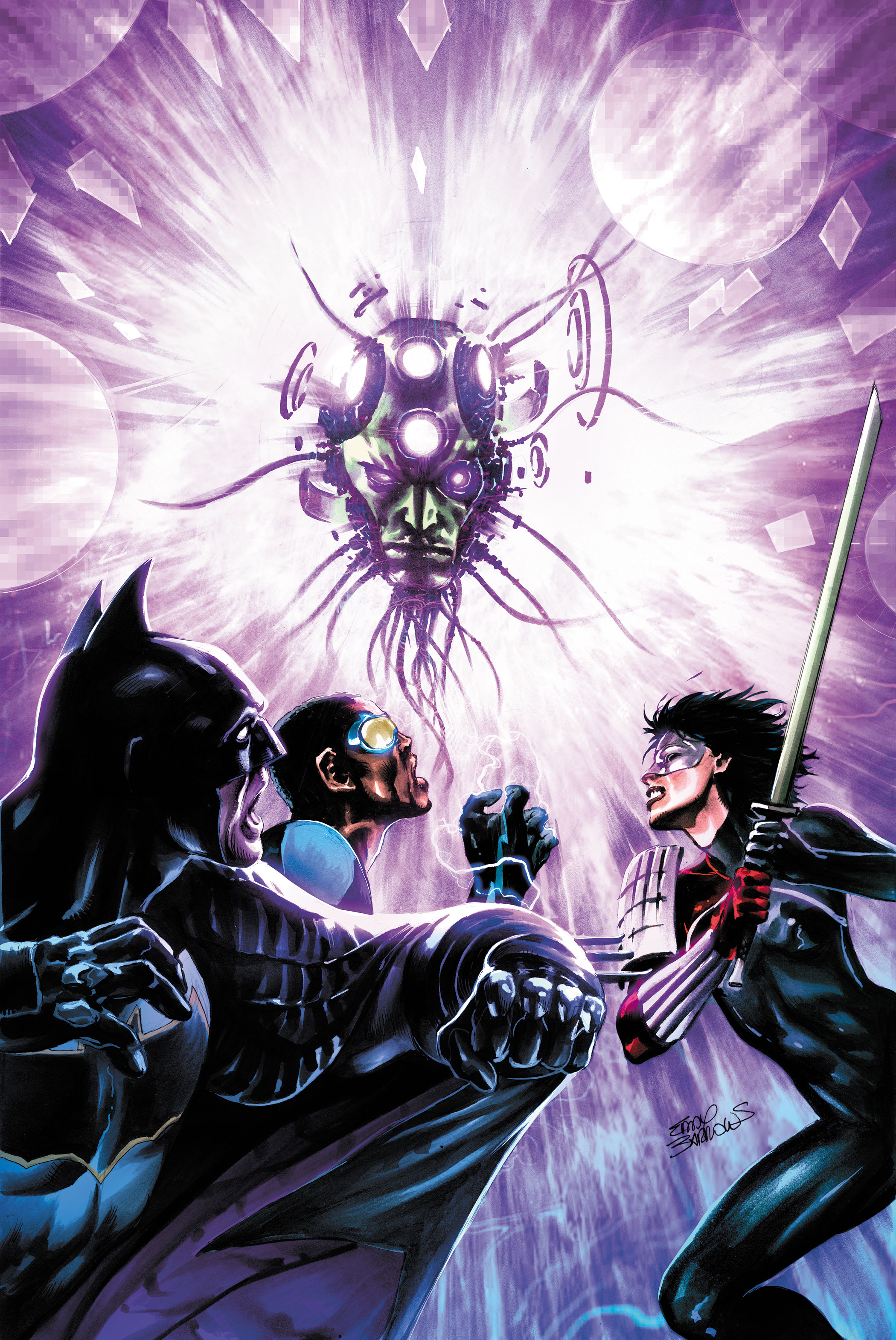 Batman, Black Lightning, and Katana…yes, we've almost got a full squad of Outsiders here. But Bruce, don't be proud. Give Clark a call. 
"On the Outside" kicks off in Detective Comics #982 on June 13. It seems that the Brainiac parts of this story begin with Detective Comics #984 which hits on July 11. Detective Comics #985 and its gorgeous cover arrives on July 25. Brainiac usually arrives unannounced. Call first, you inconsiderate green jerk!