News
Batman and Bane Fight for the Fate of Gotham City
The Dark Knight fights dirty as "City of Bane" accelerates. Check out a first look at Batman #82.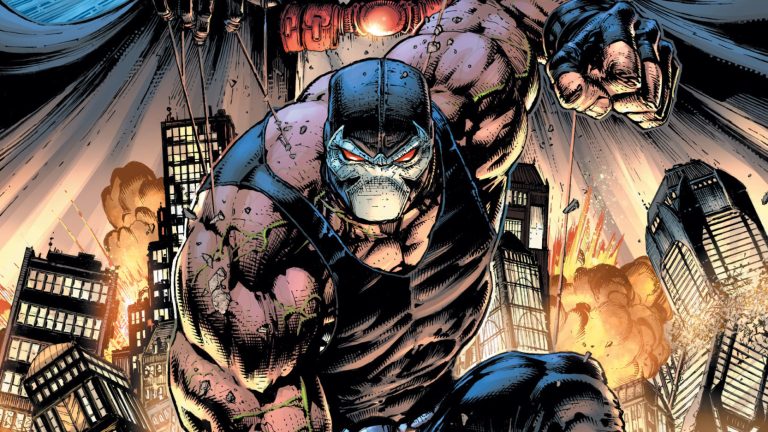 I don't know about you, but when I get an email that says "Hey, you remember in Batman#62 when…" I don't even wait to read the rest of the sentence before I'm in my basement hauling longboxes like I'm a gilded age Teamster, tossing boxes left and right with no regard for the care with which I'd previously packed them, trying to digging out my copy of Batman #62. Spoilers, it was actually in the "current run" shortbox I haven't updated in three months because when I'm organizing, I'm not reading.
ANYWAY, the point here is Batman #62 was awesome, and it was about Batman fighting Professor Pyg dirty. He was tied up and hanging upside down, and even though it was in the end a hallucination, it still gave us Batman ripping tape and batarangs from his back and his bare chest that he put there because you never know when your utility belt is going to get yoinked by a bad guy. So why wouldn't Batman overprepare and strap himself up with throwing knives under his shirt?
This is relevant again because we just got our hands on some unlettered preview art from Batman #82 – three before Tom King pivots over to Batman/Catwoman, and at the climax of the City of Bane story that this entire 80+ issue run has been building to. Everything that's been manipulated by Bane to happen to Bruce – the failed wedding, the psychological torture at the hands of Scarecrow in Knightmares, jury duty, Alfred's…thing…with his neck…, the repeated desecration of his city – it's all led to this moment: Batman ripping his shirt off, using his masculinity to trick Bane into ripping out his Venom tubes, and then pulling his drop Batarangs for some light stabbing.
Mikel Janin returns in #82 after a few issues away. He was last on the book for issue #77, the one with the thing with Alfred, but the art here reminds me of his work WAAAAAAAAAAAAAAAAAAAAY earlier in the series. This looks a ton like Batman's Santa Prisca invasion, the issue that only had a letter from Batman as narration. It was an early high point for the run, the spot where King's writing style really started to click and where the art went from good to absurdly gorgeous. Here's what DC has to say about the issue:
BATMAN #82 written by TOM KINGart by MIKEL JANINacetate cover by DAVID FINCHcard stock variant cover by TRAVIS CHAREST"City of Bane" part eight! Batman and his allies wage war on the City of Bane, but an unexpected turn of events will send everyone reeling. Will there be another death in the family, or can the Dark Knight break Bane's iron grip over Gotham City?
And we haven't even talked about that acetate cover that shows…Flashpoint Batman pulling Bane's strings. GASP! Check it out.