News
Batman Plans to Resurrect a Major Character from His Past in DC Comic
A major character from Batman's past might make a surprise return in an upcoming DC Comic.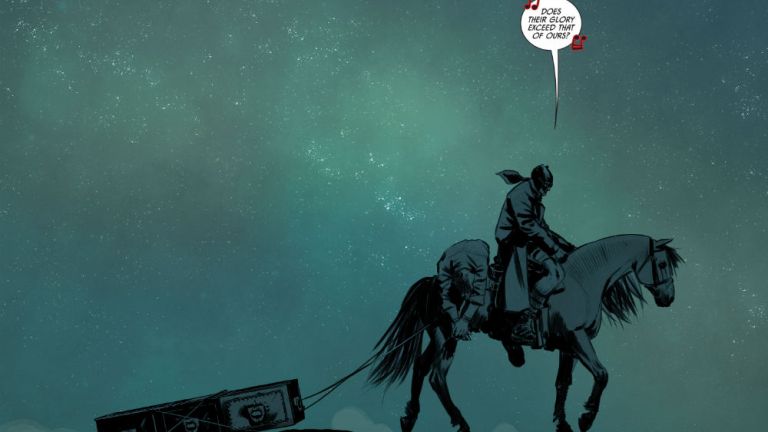 This Batman article contains major spoilers. 
The Dark Knight has had a very tough time in Tom King's 70+ issue run on Batman, and it looks like things are about to get much worse. In this week's issue #73, Bruce has been ushered away from Gotham City after being defeated by Bane and betrayed by his dad from an alternate reality (just go with it). Now, Bruce is being dragged across the desert by Thomas Wayne, who has an unexpected ulterior motive that doesn't involve helping Bane destroy the Bat. 
Much of the story in #73 involves the mysterious coffin Thomas and an unconscious Bruce are escorting to an unknown destination. As Thomas reveals his reasons for betraying his son to his archnemesis — it's the dad's twisted way of saving his son from a long, painful life as Batman — we also learn who is in the coffin: the deceased Martha Wayne, whom Thomas plans to bring back to life in one of Ra's al Ghul's resurrection pits. 
King has previously teased a big change to the status quo of the Batman mythos that would rock readers in the coming months. While we suspect that the big twist will be Batman and Catwoman's long-anticipated marriage, might the big twist actually be the resurrection of Martha Wayne?
Further Reading: Batman: Last Knight on Earth Begins with a Stunning Twist
Bruce has, of course, been pondering whether he could ever be happy without his life as Batman since the very beginning of King's run, and even lived through a Booster Gold-created timeline where both of his parents survived the fateful mugging in Crime Alley. Bruce seemed happy in the latter timeline, which was explored in "The Gift," aka the best arc of King's entire run, even though Gotham and the world were burning because he never became Batman. 
Could having both his father and mother back be what Bruce needs to finally give up his life as the Caped Crusader? Well, we both know that won't be the case since Batman and Catwoman are set to take the fight back to Bane in issue #75, the start of King's "City of Bane" event, which will bring his run to a close at the end of the year. 
With only one issue left in the current arc, "The Fall and the Fallen," we suspect Thomas Wayne's plan to bring back Martha will fail, but if he were to succeed, this would be a life-altering moment for Bruce.
We'll know for sure when Batman #74 hits your local comic book store on July 10. 
John Saavedra is an associate editor at Den of Geek. Read more of his work here. Follow him on Twitter @johnsjr9.