News
Batman #38 Tells Bruce Wayne's Origin Story
These exclusive preview pages have just the right amount of Zsasz.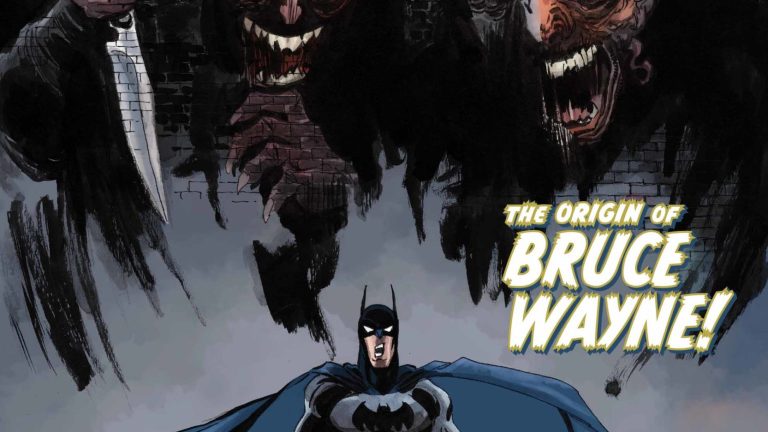 Tom King's Batmanhas been on fire lately. And by "lately," I mean "since issue 9." 
If you want to quibble, 28 issues isn't really "lately" material, but that's about the point where King settled into writing Batman as a character, and got to really dig inside Bruce's head and world. Each story, from the big arcs like the War of Jokes and Riddles, to the quiet, intermediate one-offs like the Swamp Thing team up, has given us a clear view of what King sees in the character, and it's as good as any Batman story I've ever read. This trend has peaked in the last two issues, the Superfriends arc with Joelle Jones. The contrast of King's Batman and King's Superman is incredible, conveying the awe the audience has for each character through the relationships with their partners, and still managing to make it read like a couple of friends being kind of shitty to each other. The Lois/Catwoman instant friendship is one of my favorite Batman moments of all time, and it's not even the best part of the arc. 
In this exclusive preview of issue #38, Travis Moore of Fables jumps in to help King poke around with character work on Batman's alter-ego. Here's what DC has to say about the issue:
BATMAN #38 Written by Tom King Art by Travis Moore Cover by Mikel Janin Variant Cover by Olivier Coipel "THE ORIGIN OF BRUCE WAYNE"! If Mattie could grow up to be anybody, he'd grow up millionaire playboy Bruce Wayne. But what would happen if he was forced to relive the worst tragedy of Bruce's life and his parents were murdered? Batman's hunt for the killer puts him face to face with a strange mirror version of his own past.
If Mattie is smart, he knows that the true path to becoming Bruce Wayne is by eating a fast food hamburger with a knife and fork he brought from home. Take a look at the preview pages.