News
Avengers: Infinity War to Have a Hulk and Rocket Raccoon Friendship
Mark Ruffalo is teasing that Avengers: Infinity War will showcase an unlikely bromance between his Hulk and Rocket Raccoon.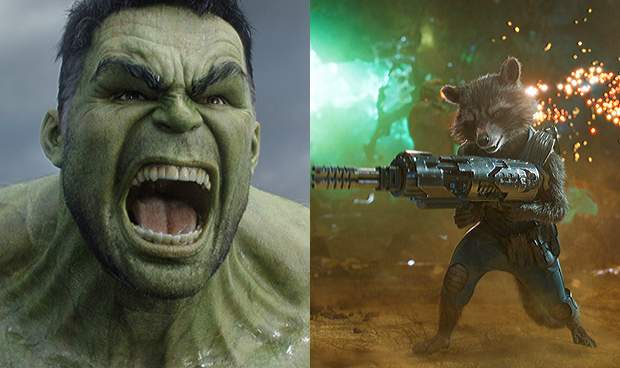 While the May 2018 release of Avengers: Infinity War is only six months away, the film – uniting the entire kit and caboodle of the Marvel Cinematic Universe in a grand battle with Thanos – still feels like a cinematic endeavor that's difficult to envision. Yet, of the intriguing character dynamics set to emerge amongst the colossal cosmic conflict, a teased friendship between Hulk and Rocket Raccoon stands out prominently.
In an interview with USA Today, Mark Ruffalo, promoting his appearance in this week's release of Thor: Ragnarok, describes the evolution of his version of Hulk (which debuted in 2012's The Avengers after Edward Norton first fielded the role in 2008's The Incredible Hulk). With Ragnarok showing Hulk as more talkative and separately struggling for control with his Bruce Banner alter-ego, the film's depicted détente between frenemies Hulk and Thor will serve as an aperitif of sorts for a friendship between Ruffalo's Jade Giant and Bradley Cooper's wise-cracking woodland animal Rocket Raccoon that's set for Infinity War and its untitled 2019 follow-up film.
Of all the cosmic craziness that we're likely to see in Infinity War, Ruffalo hints that a bonded bromance between Hulk and Rocket will stand as one of its most surreal components, stating:
"All of the universes coming together is just a sight gag within itself." Adding, "It's a very funny relationship that the two of them have: First of all, it's the biggest superhero and the smallest. Just keeping them in a frame together is a feat and hilarious in itself."
While the pairing of Hulk and Rocket sounds like action-comedic gold, it's also a throwback to Marvel Comics' Incredible Hulk #271, dated May 1982, in which Rocket Raccoon made his first proper appearance (after a non-canonical version appeared in Marvel Preview #7, dated June 1976). In the interplanetary issue, Hulk finds himself on Halfworld, a planet inhabited by anthropomorphic animals and home to Rocket Raccoon. There, the Jade Giant becomes ensnared into a quest to help Rocket stop megalomaniacal mole Judson Jakes and recover a powerful artifact called Gideon's Bible – a clear reference to lyrics from The Beatles' 1968 "White Album" cut, "Rocky Raccoon," which was the inspiration for the Rocket character.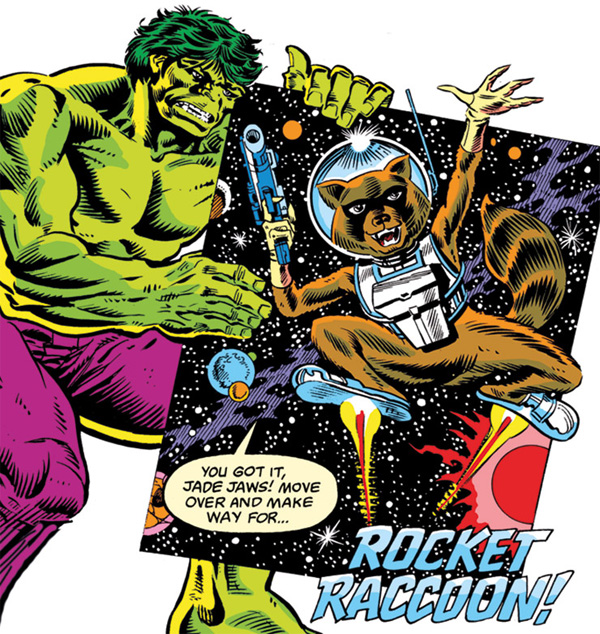 Despite Rocket's continuing presence in Marvel Comics lore, including his own four-issue 1985 limited series, he generally resided in the rarely-used D-list category of heroes for decades. Of course, his arrival as a team member in the reinvented Guardians of the Galaxy would finally give him a popular comic platform, leading to expectations-shattering success as the roguish partner in crime of Vin Diesel's (also formerly-obscure,) one-sentence-spouting living tree, Groot, in 2014's Guardians of the Galaxy movie and its 2017 sequel. Indeed, while Rocket debuted as an oddity in a once-dismissible issue of Incredible Hulk, the onscreen version of that issue's unassuming team-up will have both characters as certified A-listers.
Hulk will first attempt to make some intergalactic alliances in Thor: Ragnarok, which hits theaters on November 3. From there, he'll befriend a mocking mid-sized mammal in Avengers: Infinity War, which arrives on May 4, 2018.
Read the full Den of Geek NYCC Special Edition Magazine right here!