Features
"Art of" movie books: an appreciation
With Godzilla: The Art Of Destruction out now, we celebrate the geeky goodness found in the best "art of" movie books...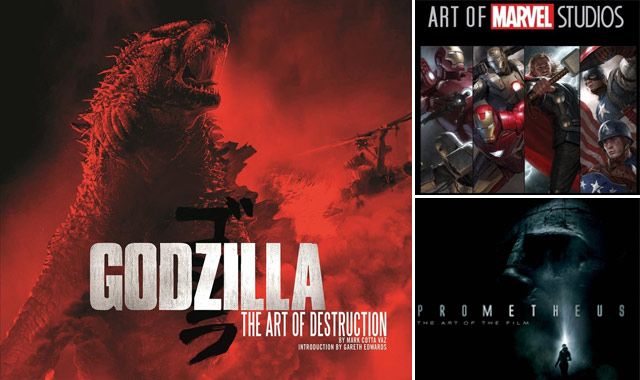 According to the biographer Giorgio Vasari, the sculptor and painter Michelangelo burned the majority of his preparatory sketches. This was, the writer said, "so that no one should see the labours he endured and the ways he tested his genius, and lest he should appear less than perfect."
Fortunately, the legion artists and designers behind such movies as, say, Pixar's Brave, Frankenweenie or Pacific Rim are less coy about their creative processes. Before a frame of film is shot, the average movie goes through months of pre-production work – costumes, sets, props and prosthetics all have to be planned, approved and built, while each sequence is planned and storyboarded.
It's often said in reviews that a film's budget is all there to be seen on the big screen, yet more often than not, the finished product is only a small part of a much bigger, intricate picture. And this is where "art of" movie books come in: those lavishly illustrated, slickly-designed volumes dedicated to the work that went on behind the scenes in our favourite movies.
A couple of days ago, Godzilla: The Art Of Destruction landed on our desk, and it served as a reminder of just how fascinating and inspiring these books can be. As you'd expect, The Art Of Destruction takes you on a guided tour through the making of Godzilla, from its earliest concept art and rough CG models to the final, explosive movie. It provides an absorbing insight into the ideas that were explored and later abandoned (Godzilla was originally going to begin in Siberia rather than South America), and also allows Matt Allsopp's production artwork to take centre stage.
The book's as lavishly produced as you'd expect, and offers a veritable goldmine of stuff for movie geeks or fans of design in general. The Art Of Destruction is but one of a legion similar "art of" books which provide not only a lasting document of a film's making, but also the changing way ideas are generated and films are put together.
Currently sitting on our shelves, we have a pair of old books devoted to the making of Batman Returns and Back To The Future 2; it goes without saying that the process of creating artwork and special effects has changed beyond all recognition over the past 20 years, and it's fascinating to look back at how airbrushed artwork and pencil sketches have given way to digital concept paintings, and how miniature model effects have replaced CGI.
At the other end of the spectrum, you have something like Prometheus: The Art Of The Film, which shows the extraordinary amount of digital pre-production art was produced for Ridley Scott's return to the Alien universe. While the finished film had its problems, the Prometheus "art of" book is a great piece of work: Scott's famous hand-drawn and fabulously intricate 'Ridley-grams' nestle alongside concept art and set photos, which show up details barely glimpsed in the film itself.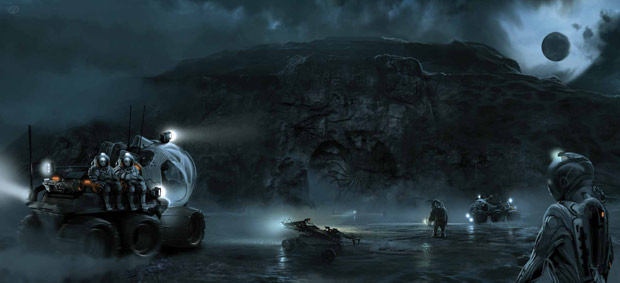 Best of all, it gives us a look at all the creature designs that were considered but never got much further than the planning stage, such as an abandoned version of the Fifield monster with a face like a grumpy foetus. Prometheus: The Art Of The Film is by no means exhaustive – Charles de Lauzirika's documentary, The Furious Gods offers a far more in-depth insight – but it's nevertheless a crisply-designed snapshot of Prometheus' making.
Then there are the visual delights to be found in such books as Frankenweenie: A Visual Companion (replete with images of the stop-motion models and Tim Burton's equally adorable sketches), The Art Of Pixar Short Films, which is akin to the evolution of CG animation in one volume, or Elysium: The Art Of The Film, which is replete with future tech and reproductions of Syd Mead's improbably detailed drawings.

Art of books also serve another, potentially important function: they inspire creativity. In his introduction to The Art Of Destruction, Godzilla director Gareth Edwards talks about his own love of movie art books. "If you looked at my bookshelf at home," Edwards writes, "you wouldn't see many novels or screenplays, as every spare bit of real estate is largely taken up with 'art of' books. As soon as a new concept art book comes out, I head straight to the nearest comic shop and desperately turn the pages, trying to find any cool designs or ideas that didn't make the cut."
In this regard, "art of" books are more than just a collection of pretty pictures: they're also a source of inspiration for other artists and, for people like Edwards, the future directors of major summer movies.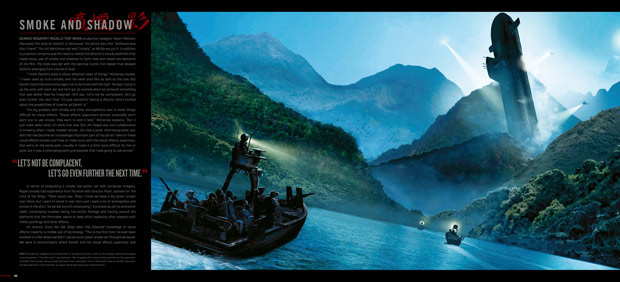 At a time when traditional ink-and-paper publications are coming under increasing pressure from the web and Kindle-type gadgets, books like The Art Of Destruction remain eminently collectible. Some of us will never become film directors like Gareth Edwards, but art of books are still engrossing, inspiring, and objects worth treasuring.
Godzilla: The Art Of Destruction is out now from Titan.
Follow our Twitter feed for faster news and bad jokes right here. And be our Facebook chum here.