News
Arrow's Suicide Squad Comes to a Close, David Ramsey Speaks Out
Arrow has seemingly ended its Suicide Squad connection and David Ramsey discusses the show implications.
WARNING: Spoiler content ahead for those not caught up with Arrow!
Last night's episode of Arrow entitled "A.W.O.L." ended up being poetically appropriate for more than one reason. While the episode centered on the trust issues between John Diggle and his formerly-presumed-dead, newly-resurfaced brother, Andy, a more critical moment occurred with far greater implications to Greg Berlanti's DC Comics television universe: the (apparent) swan song of the Suicide Squad!
It has been evident, most notably on the past few seasons of Arrow, that a unique zero-sum dynamic involving the usage of DC Comics characters existed between Warner Brothers' films and the CW's superhero series. Thus, the characters and story angles surrounding A.R.G.U.S. and DC's menagerie of villainous indentured assets, the Suicide Squad, hassteadily whittled away once the film adaptation was greenlit. Consequently, "A.W.O.L." depicted what might end up being the coup de grace with the apparent death of their version of Suicide Squad mastermind, Amanda Waller.
Depicted in the pages of DC Comics as a cunning high level bureaucrat who rose through the ranks in an unconventional manner, Amanda Waller has also been a crucial character in the Arrow mythos, played by Cynthia Addai-Robinson. However, a definitive bullet to Waller's head, courtesy of Erik Palladino's turncoat soldier, Lieutenant Joyner, gave her run a rather anti-climactic ending. It's the culmination of the cessation of their version of the Suicide Squad (pictured below), which already began with a spate of disappearances and the death of Michael Rowe's Deadshot.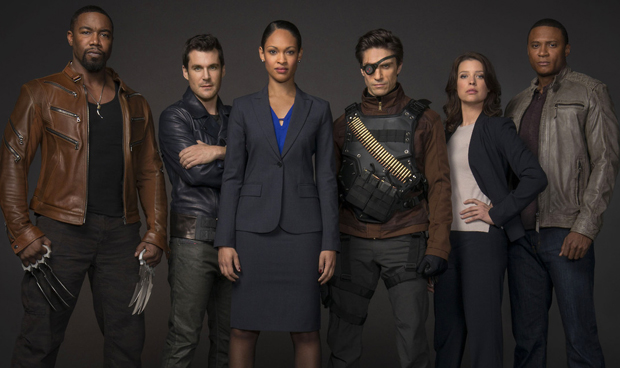 With the death of Addai-Robinson's Waller, the Berlantiverse's Suicide Squad presumably steps away to make room for the team's better-touted big-screen counterparts, notably with Viola Davis' Amanda Waller and Will Smith's Deadshot, amongst others. Thus, the concept will increasingly become unmentionable on the series as the Suicide Squad film builds up to its August release. However, for David Ramsey's John Diggle and his wife, Lyla, whose storyline centered on this angle, the exit leaves their characters in an odd place. As Ramsey tells Comicbook.com of the end of Waller and A.R.G.U.S.:
"Both of those elements played into why he felt so strongly that his wife shouldn't be involved with A.R.G.U.S. Both the inherent danger, and what he felt about Amanda. Now that Amanda's gone, there's a choice that Lyla makes or has to make about her involvement with A.R.G.U.S. We do see a future where she's involved, and by virtue of her involvement, her husband is involved. So yeah, there's trouble on the horizon with that. Because it does get more involved and it does get."
However, Diggle won't just be spending the rest of the series schlepping Big Belly Burgers for his bro and modifying his black Magneto helmet. Ramsey hints that further question-answering elements of Diggle's storyline related to A.R.G.U.S. will end up explored not on Arrow, but on The Flash sometime in the future. Now, definitively freed from the clutches of Waller, it will certainly be interesting to see if these events cause Diggle to reevaluate his place in Team Arrow.
Arrow continues Wednesdays on The CW.