News
Archie To Begin Publishing Marvel Comics Digests
The books themselves are little, but this deal is huge.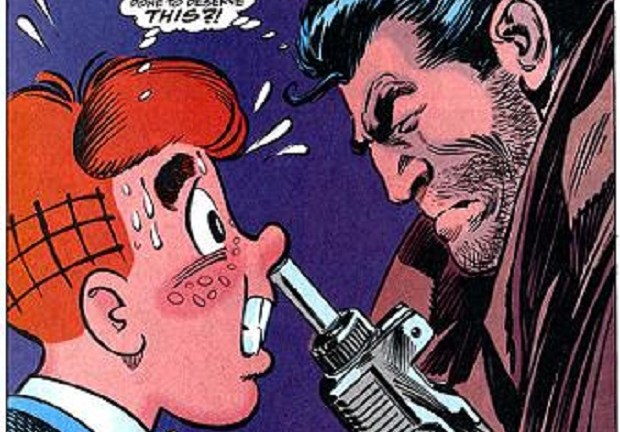 In the 1970s, Archie Comics began utilizing their vast library of material and offering it up as reprints in the popular digest-size that Gold Key had helped make popular the previous decade. Thanks to a brilliant marketing plan that gave the value-priced books a near-ubiquitous placement at supermarket check-out lines across the country, Archie dominated the digest market — introducing thousands of readers to the Riverdale gang and inspiring a love of the comics medium within countless more.
Several digests are still published by the company each month, and while other publishers have tried and failed to get in on the digest action, none of have the success or longevity that Archie had. (Most likely due to the fact that, until recently, Archie characters remained static and the books weren't burdened by continuity — allowing readers to jump right in and immediately be able to follow the madcap antics). But as recent years have proven, Archie is now a considerable player in the industry. So much so that a deal has just been announced that will see Archie publishing a Marvel Comics Digest six times a year:
"The Marvel brand, for decades, has been cultivating a popularity that has recently exploded worldwide," said David Gabriel, SVP Sales & Marketing, Marvel Entertainment in a statement. "Working closely with Archie, Marvel is beyond excited to continue its reach and exposure level as we offer our retailer partners, local comic shops and large chain retailers, a new, fun, and easily digestible way to dive into the Marvel Comics Universe and produce life-long fans."
"For years, Archie has made the digest format our bread and butter. We are supremely excited to spotlight iconic characters like Spider-Man and the Avengers through this major partnership with Marvel," said Jon Goldwater, Publisher/CEO of Archie Comics. "These books will serve as a great introduction to the Marvel Universe for new readers and a very special, curated selection of stories for existing fans. It's a win-win!"
Indeed. Given how successful the previous Archie/Marvel team-up — 1993's Archie Meets the Punisher — was, we fully expect that this venture will thrive. However, Marvel digests aren't without precedent. Throughout the 1960s and '70s Marvel published paperback reprints of their most iconic characters, and in 1987 the company started a short-lived experiment that saw titles like Spider-Man and The Transformersreleased as digests. However, these failed due to a haphazard selection of stories, a high price point ($1.50 for 64 pages was absurd back in 1987) and a general lack of consumer interest. 
As for Archie, they have had tremendous success with licensing other characters for their digests. Although a collab with Disney in the late-'80s didn't quite work out, they went on to have massive success with their Sonic comics…including the Hedgehog's own digest.
We'll have more on this as it develops. Until then, our heads are spinning thinking about what other pairings these companies could potentially get involved in…