News
Archie Comics To Develop More Properties For TV
Basking in the critical success of Riverdale, the company has signed a deal with Warner Brothers.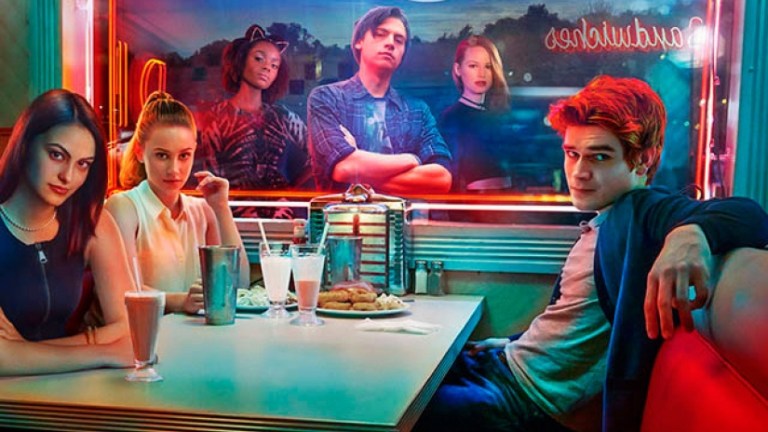 Here's another thing to love this Valentine's Day: The prospect of more Archie on television.
Riverdale is one of this season's biggest surprises, a dark, soap opera take on the Archie characters that manages to be fiendishly addictive while still staying true to the core tenets of 75 years of source material. Although the series has garnered great reviews and gotten the sort of word of mouth/Twitter heat that networks dream about, ratings have been soft to date — having fans of the nascent show worrying about it's future.
Well, it's probably safe to say that Riverdale should be hanging around for awhile.
From a just-published article from The Hollywood Reporter comes word that Archie Comics has just signed a development deal with Warner Brothers Television that would bring other properties from the ever-growing Archieverse to the small screen. The article uses the comparison of the CW's DC TV Universe as an example, and it's a fair one to be sure. Greg Berlanti helped bring those various series' to the network, and as executive producer of Riverdale, it makes perfect sense that not only would Warner want to keep him creatively satisfied, but that there is serious potential for several Archie shows here.
On the deal, the exact details of which are being kept under wraps, Archie CEO Jon Goldwater had this to say:
This deal with Warners is in many ways a culmination of the work, along with the amazing staff and freelancers who work at Archie, to bring these characters forward into the present day. To show that Archie is an iconic brand that is flexible, relevant and energized. It's still Archie, and people want more of him and his friends. In the same way Batman can be dark, bright and funny or off-kilter, Archie can, too. He's part of a pantheon of select characters and brands that are part of America. They're part of the consciousness, so there's a built-in knowledge there.
While no confirmation about a second season of Riverdale is mentioned in the piece (the series just wrapped production on its first 13 episode season, with episode 4 airing this week), it's impossible to imagine that Warners would cancel an already-existing show while forging ahead with more potential Archie series. Then again, any glance at the headlines these days shows how nothing makes any sense anymore, so who knows. As for what possible other Archie shows could happen? Well, If you'll allow me to indulge my inner Archie fanboy for a second, here are but a few possibilities:
 – Sabrina the Teenage Witch. This is almost a given thanks to Sabrina's rumored involvement in the last couple of episodes of Riverdale this season. But what fans really want to see is a series based on the current Chilling Adventures of Sabrina comic by Roberto Aguirre-Sacasa and Robert Hack, which is set in the '60s and incredibly dark. As long as they don't go the Charmed route, this property should be in good hands.
– Afterlife with Archie. This could actually be something that Riverdale could eventually morph into. Showrunner Aguirre-Sacasa has already gone on record saying that he would like to incorporate elements from this Archie zombie comic into a possible Halloween episode of the series, but seeing the current cast square off against the undead while dealing with their own teenage woes is a delicious prospect.
– Josie and the Pussycats. A Riverdale spin-off in which the band goes on the road to make it big. Part Almost Famous, part Empire/Vinyl perhaps?
– Jughead's Time Police. Because yes. Preferably animated in the classic Archie house style, but keeping Cole Sprouse on as the voice of Jughead because his casting as the character is perfection. Think Back to the Future-style stories but with a burger-consuming twist.
– Cosmo the Merry Martian. Created by Bob White in 1958, Cosmo was Archie Comics' attempt at creating a funny outer space-set book filled with aliens and whimsy. The character has popped up in recent years, and is frequently featured in the digest books. A possible Cosmo animated series could fill the comedic sci-fi void left by Futurama. Although these characters are unknown by the general public, their irreverent nature and inherent charm would allow the right kind of writing staff to introduce them to an audience thirsty for cosmic cartoon hi-jinks.
– Sam Hill. Private eye stories with a serious noir influence. Think Sin City, but subtle.
– The Fox. This is one of the superheroes owned by the company that pre-dates Archie himself. Taking a cue from the characters recent Mark Waid/Dean Haspiel minis from the Dark Circle imprint, a possible Fox series could be a live-action series that mixes action with comedy a la The Tick.
– The Black Hood. Another Archie hero, although this one — focusing on the titular anti-hero — is considerably darker. Crime writer Duane Swierczynski's current run on the book from Dark Circle is as much about the perils of addiction as it is about cleaning up the streets. It's not speaking with bombast to say that a Black Hood series could exist somewhere on the TV spectrum between The Wire and Marvel's Netflix TV offerings.
– Life with Kevin. Based on Dan Parent's current digital exclusive, this series would chronicle an adult Keller's life in New York City as he tries to balance his career and professional lives. Ideally, the show would be a smart and funny show a la Looking.
– Katy Keene. Like the Black Hood, this character is name-dropped in the Hollywood Reporter article, and a smartly written drama about a woman maneuvering her way through the fashion industry has some very real potential to be entertaining and a sharp mirror on society at the same time.
– Li'l Jinx. This one could go a number of ways. Joe Edwards' lovable scamp is a kind of Dennis the Menace character, although not nearly as much of a pain in the ass as Hal Ketcham's claim to comics fame. Recent years have seen the character reinvented as a contemporary high schooler dealing with the issues of the day while maintaining or friendships, but a better route to take with the character is to use her as a template for a modern remake of The Bad Seed. Seeing how much a fan of classic genre tales that Roberto Aguirre-Sacasa is, this doesn't seem completely out of the realm of possibility.
– Life with Archie. An anthology series set in the Archieverse in which our characters have to deal with such problems as cannisters of Satan gas, murderous teddy bears, Deliverance-worshipping yokels, aliens and the various other oddities that sprung from the 1970s comic of the same name.
The article goes on to say that the comics are seeing Mark Waid double down on his commitment to the town of Riverdale as well:
Coinciding with news of the Warner Bros. deal, Archie revealed that Mark Waid, the writer of flagship comic book series Archie, will be expanding his relationship with the company later this year by signing up to co-write a number of series, as well as mentoring upcoming writers, with the overall aim of growing the current stable of talent at the company.
The takeaway from all of this is that the Archie media empire is growing by leaps and bounds. Sounds terrific to us.