News
Archie 1941 Explores How WWII Impacts Riverdale
A new mini-series will follow Archie and the gang as they face an uncertain new world.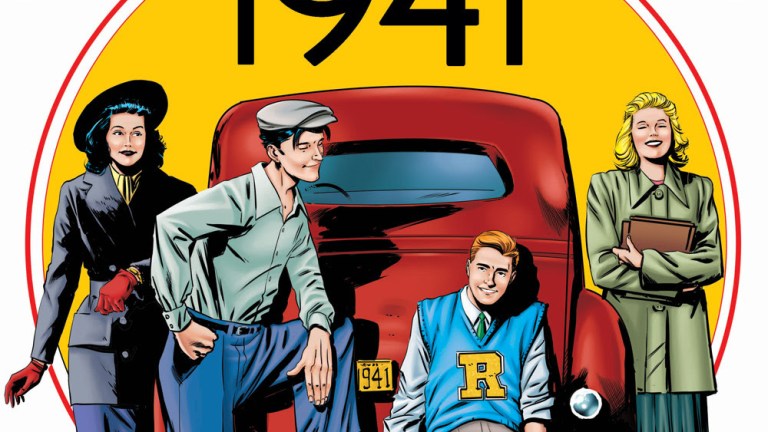 With the world continuing to be a garbage fire raging out of control, there is something to be said for stability. But when it comes to the comics industry, these are things that are perennially in short supply.
Except of course in Riverdale. The past decade has repeatedly illustrated how Archie Comics has accomplished the miracle task of redefining themselves from being a static, mired-in-the-past company whose bread and butter was the sort of disposable reliability that made their digests a supermarket checkout staple to one that repeatedly takes new risks to advance these characters to the next stage in their evolution. Along the way, they've had to endure much belly-aching from Archie purists and criticisms claiming that Archie is just trying to throw a bunch a different things to the way to see what sticks. But let's examine just a small fraction of their recent track record, shall we?:
– The introduction of Kevin Keller, Riverdale's first gay character.
– The bizarre and involving Life with Archie: The Married Life magazine.
– Inspired team-ups that have had the Archie gang hanging with, among others, the Predator, The Ramones, and, coming soon, Adam West's Batman.
– The establishing of a horror line that includes the highly successful (and, admittedly much-missed) titles Afterlife with Archie and Chilling Adventures of Sabrina, along with the second wave of books: Jughead: The Hunger and Vampironica.
– The launch of the noirish and very adult Dark Circle line.
– The debut of Riverdale on the CW, and its various tie-ins.
– Stellar reboots of Jughead and Josie and the Pussycats.
Arguably their most enduring recent property is the reboot of the core Archie book that was spearheaded by Mark Waid. The influence of this book's modern take on the characters is a clear influence on Riverdale, a show that has increased Archie's visability in ways that hardcore Archie fans — this writer included — never could have dreamed of. So imagine our shock we learned of the news that Waid will be once again teaming with co-writer Brian Augustyn (The Flash), and artist Peter Krause (Irredeemable) for Archie 1941, a five-issue limited series that will transport readers back in time 77 years (none-too-coincidentally to the very era when the characters first appeared) to see how their post-high school lives are impacted by World War II. 
The press release makes very clear that this will be a more grounded-in-reality take than the Twin Peaks-ian going ons over at the CW:
"Deep-diving into the characters and their parents from a whole new perspective, Brian Augustyn and I have been able to find a new, rich vein of stories to be told as America edges into World War II and what it'll mean to the kids," Waid said. "It's been an exciting project made only more thrilling by the chance to be able to work alongside my longtime co-conspirator on Irredeemable and Insufferable, Peter Krause!"

Lending his signature style to the iconic Archie Comics characters, Krause has added a realistic touch to the teens fans have loved for generations. "How would Archie and the gang look in 1941? That is my responsibility, and my honor," he added. "I've had great fun going through reprints of Sears catalogs and diving into online photo troves. Along with great colors by Kelly Fitzpatrick and wonderful lettering by Jack Morelli, we've done our darnedest to make it all look good."
It won't be all gloom and doom, as readers are also promised "the humor, heart, milkshakes, and dates that come with any Riverdale tale." It's unclear what lasting impact this mini-series will have on Waid's ongoing Archie book, but given his time commitments elsewhere we are a bit nervous as to what the future may hold there. Stay tuned.
Here's a look at the first issue of Archie 1941, showing something rarely glimpsed in Riverdale…graduation day: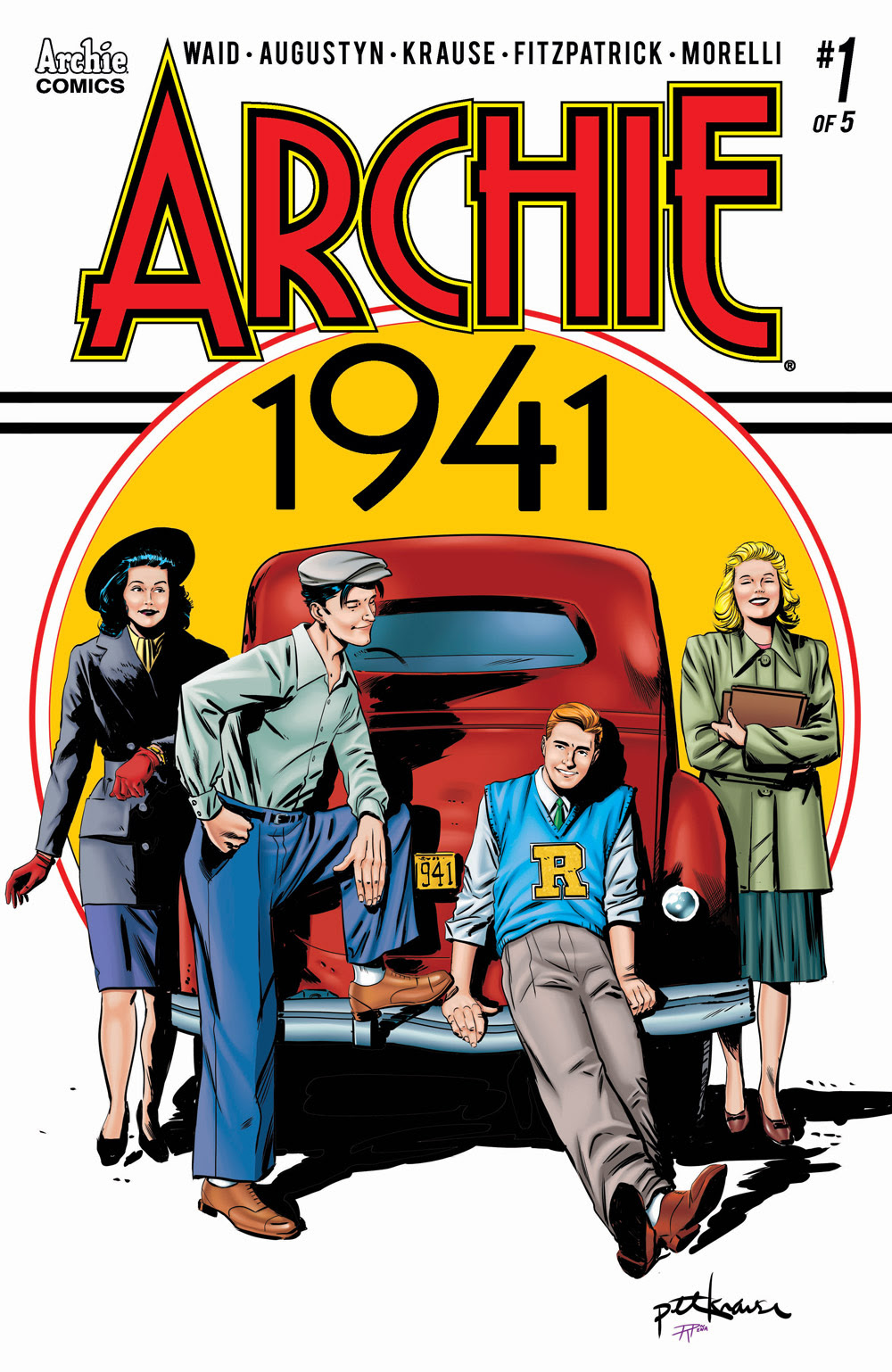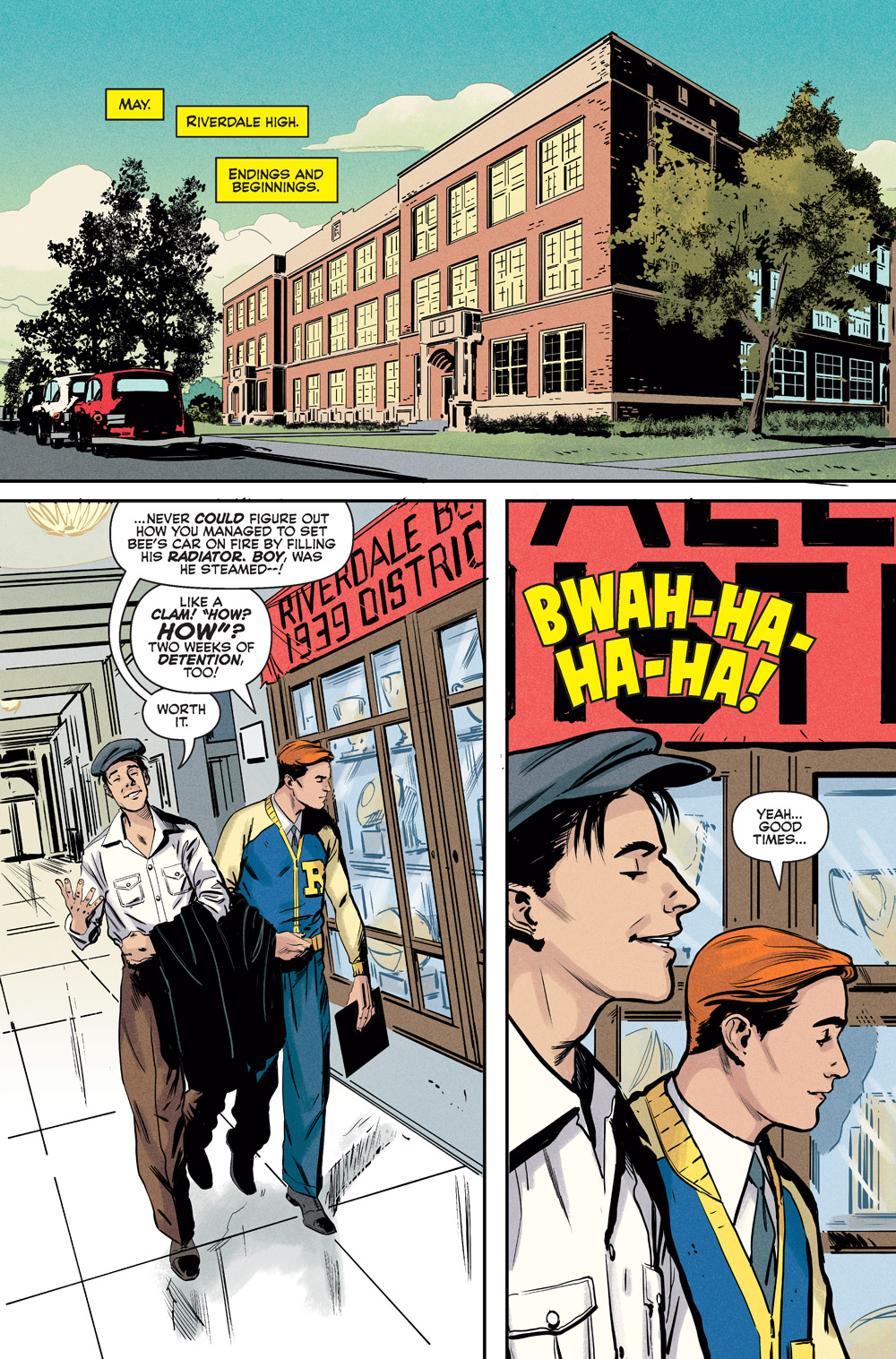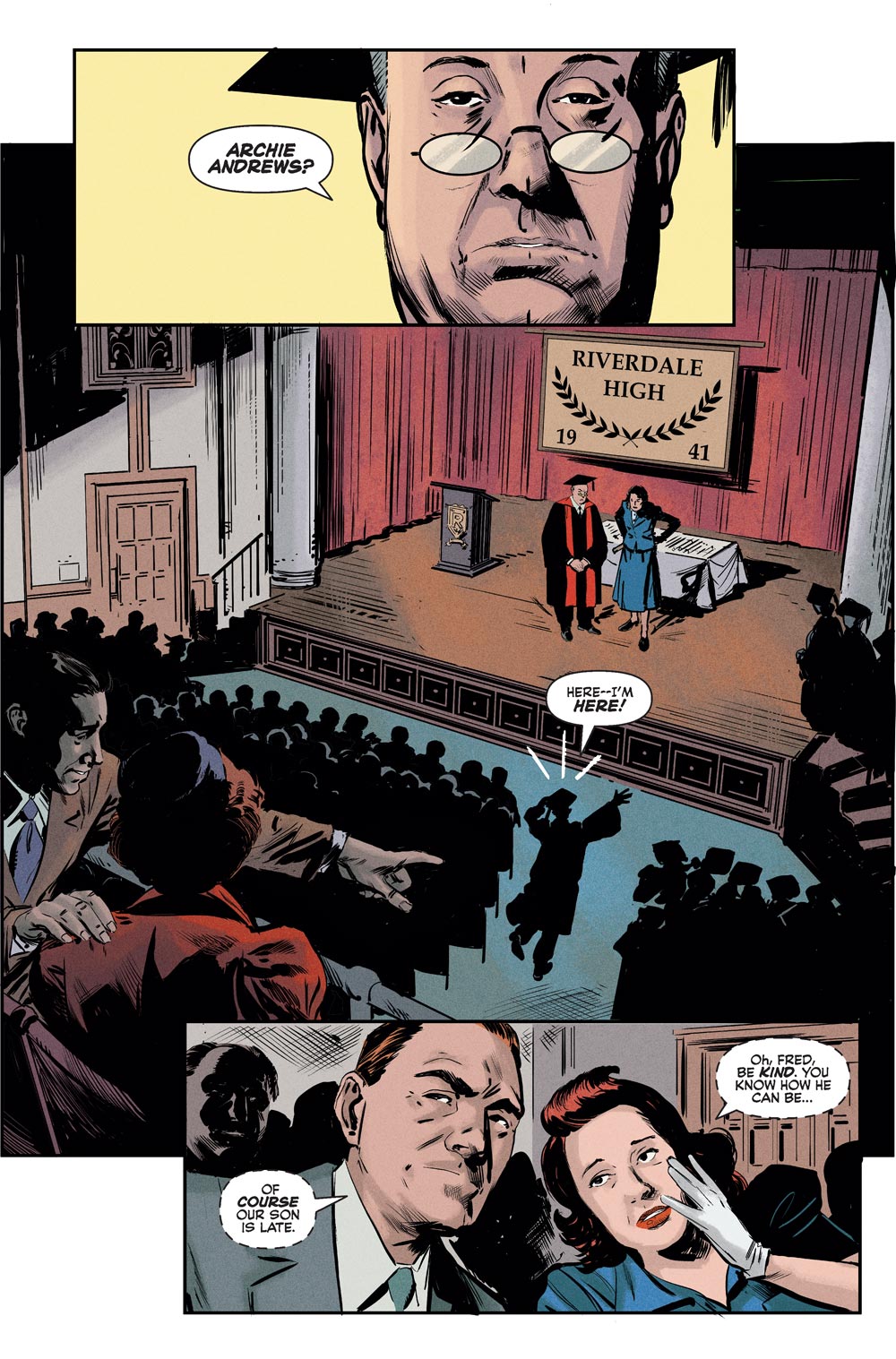 Even with the disquieting choice of ditching Jughead's whoopee cap — an enduring anachronism that was in style when the character debuted/when this book is set — we are on board to see how Archie and friends grow into their roles as part of the Greatest Generation. The first issue of Archie 1941 will be released on September 12.