News
Aquaman Revealed as Cover of Den of Geek Special Edition SDCC Magazine
The Den of Geek SDCC 2018 Special Edition features an exclusive look at the world of the Aquaman movie and much more!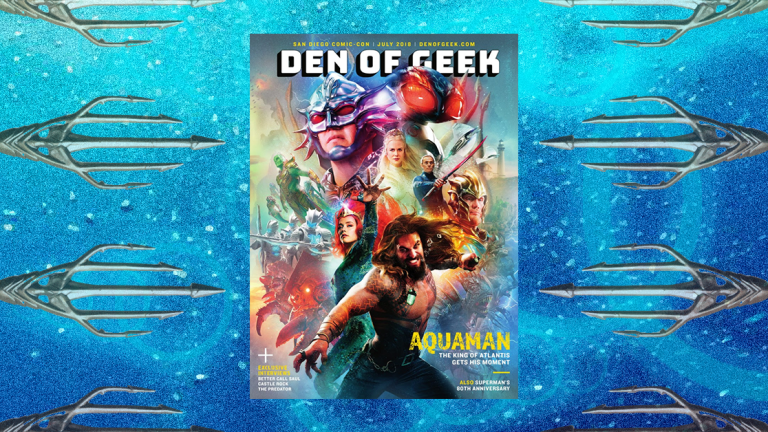 The King of Atlantis is ready for his big moment! Den of Geek is proud to reveal Aquaman as the cover story of our 2018 San Diego Comic-Con special edition magazine, featuring an exclusive, first-look at previously unrevealed characters in the upcoming Warner Bros. film.
Our Aquaman cover was inspired by an illustration from DC Comics artists Ivan Reis, Joe Prado, and Marcelo Maiolo. "The inspiration behind this original work was those classic comic book covers that gave the reader a look at the characters involved in the story and also hints of, and a feel for, their worlds," Aquaman producer Peter Safran says. "It was commissioned by James Wan in the very early R and D stages of pre-production, as he was beginning to define the worlds in which our film would live. It was not originally intended to be a one sheet, but we all loved it so much that we had the idea to transform it into a photorealistic version and use it as a poster."
Sergio Grisanti of Little Giant Studios re-envisioned the art photorealistically to create the movie-accurate renditions of the characters you see here. Check it out…
The cover features Jason Momoa as Aquaman, Amber Heard as Mera, Patrick Wilson as Ocean Master, Willem Dafoe as Vulko, Yahya Abdul-Mateen in the iconic Black Manta helmet, and Nicole Kidman as Atlanna. It also gives fans their first look at Dolph Lundgren as Nereus, as well as several of the other mysterious kingdoms of Atlantis, including the first look at the terrifying undersea race, the Trench.
Check it out…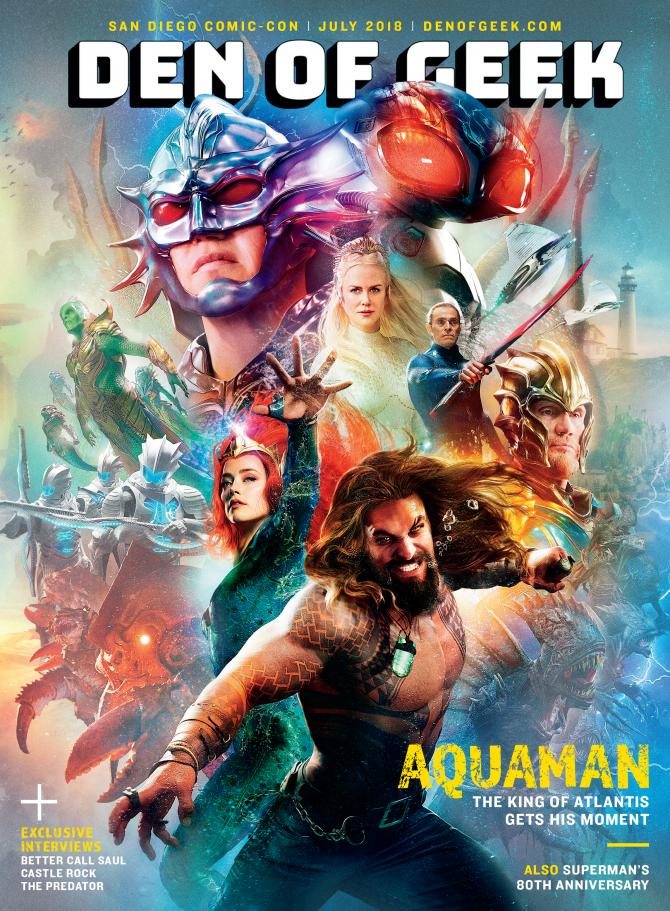 Our Aquaman cover story features interviews with star Jason Momoa, director James Wan, and producer Peter Safran, as they discuss the development of the movie, the challenges of bringing a character like Arthur Curry to life, and where it fits in the Warner Brothers' DC Universe movies.
The glossy, 68-page collector's edition Den of Geek magazine will be distributed at San Diego Comic-Con from Wednesday, July 18 through Sunday, July 22. The magazine also features in-depth previews and interviews for Better Call Saul, The Predator, Castle Rock, Mission: Impossible – Fallout, and Equalizer 2. A digital version of the magazine will be available to read for free on DenofGeek.com beginning on July 18.
Den of Geek will have its largest presence ever at this year's San Diego Comic-Con with a team of writers and video producers bringing fans up to the minute coverage of the show, a launch party celebrating the release of our latest print edition, and exclusive interview opportunities with talent at the Den of Geek Interview Suite at the OMNI Hotel.
Den of Geek and TOR Books will present a special invite-only happy hour on Thursday, July 19, at the Horton Grand Hotel.
You can find Den of Geek contributors moderating key panels during the show. Video reporter Bevin will moderate the Van Helsing panel on Thursday, July 19 at 4:00 p.m. in the Indigo Ballroom. Associate editor Kayti Burt will moderate the Wynonna Earp panel on Saturday, July 21 at 6:45 p.m. in Convention Center room 6DE, as well as Tor's #FearlessWomen panel on Thursday, July 19 at 3 p.m. in the Horton Grand Theatre. Culture reporter Alejandro Rojas will give a special presentation on MARS during Nerd Nite with National Geographic on Friday, July 20 at 8:00 p.m. at the Hotel Solamar.
Follow us on social media for all the breaking news coming out of SDCC! Facebook, Twitter, Instagram