News
Aquaman Gets First Woman Writer
The brilliant Kelly Sue DeConnick is taking over the Aquaman solo book!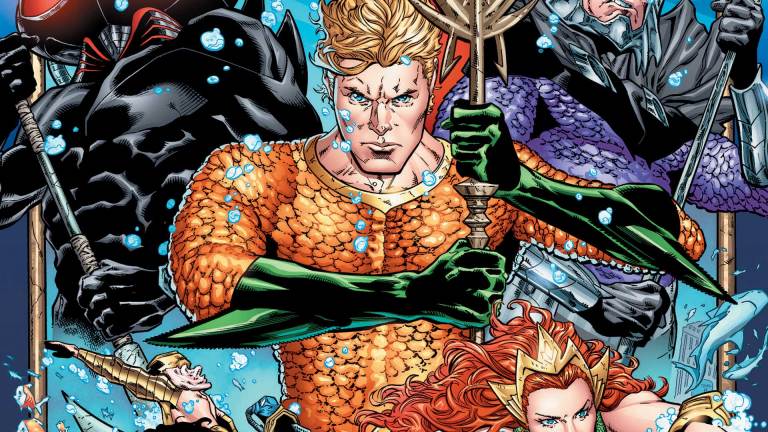 Kelly Sue DeConnick (Bitch Planet) and Robson Rocha (Supergirl) are taking over Aquaman as the new creative team, as revealed during the DC Meet the Publishers panel at SDCC today. DeConnick, who is one of the most exciting (and absolutely brilliant) writers currently working in comics, will become the first woman to write the hero's solo book. 
The writer plans to take Aquaman in a whole new direction that sounds incredibly exciting. In fact, DC co-publishers Dan DiDio and Jim Lee compared DeConnick's first arc to the seminal Batman: Year One origin story by Frank Miller and David Mazzucchelli. 
"It's in many ways an examination of who the character is, kind of in the vein of Daredevil: Born Again and Batman Year One," said Lee.
In DeConnick and Rocha's story, Aquaman wakes up on a mysterious island with no memory of how he got there or who he is. During his journey on the island, he meets other sea creatures and castaways that have been forgotten and abandoned on the island. The story will also deal with Aquaman's relationship with his mother, Atlanna, who is absent from his life. 
DiDio noted that the story is not a reboot of the current Aquaman book, unlike the upcoming Green Lantern relaunch from Grant Morrison and Liam Sharp. DeConnick's story will continue the story Abnett started. 
Aquaman just hit issue #38 this week. DC veteran Dan Abnett has been on the book since the Rebirth relaunch back in 2016. DeConnick's arrival marks the first major creative shift for the character in two years. Rocha most recently drew Aquaman #35. Abnett is scheduled to continue on the book through issue #40. 
No date or issue number has been set for DeConnick's arrival on the book. We'll keep you posted as we learn more!
Read the Den of Geek SDCC 2018 Special Edition Magazine Here!