News
Aqualad Gets a YA Spotlight from DC
Rainbow Boys writer & Blue is the Warmest Color creator retell Aqualad's origin.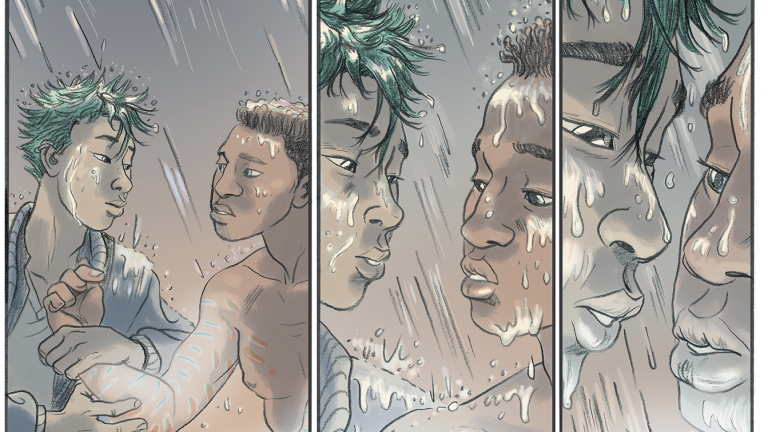 DC has been on a nice run with young adult graphic novels lately – Kami Garcia and Gabriel Picolo's Teen Titans: Ravenhas been an unquestionable hit, to the point where the duo is getting spots in big anniversary books in the mainstream DCU. And it looks like that trend is going to continue with the summer's You Brought Me the Ocean, an Aqualad origin with a queer YA twist from Alex Sanchez and Julie Maroh.
Sanchez is the Lambda Award-winning author of Rainbow Boys, and Maroh the creator of Blue is the Warmest Color, the French graphic novel that was eventually adapted into the award winning film. The new story tracks Jake Hyde through his senior year of high school in Truth or Consequences, New Mexico, as he comes to grips with his superpowers and his crush on the swim team captain.
"This story will allow readers to delve deep into the conflicts of being both a teen and super-powered—and what it's like to be friends with a super-powered teen," Sanchez says. "I believe it will be the type of book that fans will read twice—the first time, compelled to turn pages to find out what happens next, and the second time to linger over Julie's spectacularly beautiful imagery. I hope the book will do what graphic novels do best—tell a story on two levels—through words and art."
You Brought Me The Oceanis both Maroh and Sanchez's first work with DC, and marks Maroh's first American comics work. Their art, as you can see from the preview pages, looks like a nice blend of bande dessinee figures and American indie/zine pacing. Their colors are especially interesting – they manage to be flat, bright and muted at the same time, evoking some really interesting emotional responses which will be fascinating in what's sure to be an emotional book.
"I'm particularly excited and proud to see this book coming to life in a crucial decade for LGBTQ+ rights," Maroh said. "Lives of gay, queer, and trans people of color are particularly at stake. I sincerely hope that this book will bring light and strength to the daily life of whoever suffers due to discrimination or just feels different."
You Brought Me The Oceanis the next in DC's Ink line of middle grade and young adult graphic novels, starting with 2018's Mera: Tidebreaker. It's due in bookstores in June of 2020. Here's what DC has to say about it.
You Brought Me the OceanWritten by Alex SanchezIllustrated by Julie MarohOn sale everywhere books are sold June 9, 2020

Jake Hyde doesn't swim––not since his father drowned. Luckily, he lives in Truth or Consequences, New Mexico, which is in the middle of the desert, yet he yearns for the ocean and is determined to leave his hometown for a college on the coast. But his best friend, Maria, wants nothing more than to make a home in the desert, and Jake's mother encourages him to always play it safe.

There's nothing "safe" about Jake's future—not when he's attracted to Kenny Liu, swim team captain and rebel against conformity. And certainly not when he secretly applies to Miami University. Jake's life begins to outpace his small town's namesake, which doesn't make it any easier to come out to his mom, or Maria, or the world.

But Jake is full of secrets, including the strange blue markings on his skin that glow when in contact with water. What power will he find when he searches for his identity, and will he turn his back to the current or dive headfirst into the waves?
For more on this or any of DC Ink's other books, stick with Den of Geek!