News
Amethyst Returns to the DC Universe
Amethyst, the Princess of Gemworld, will get a new look courtesy of DC's Wonder Comics imprint.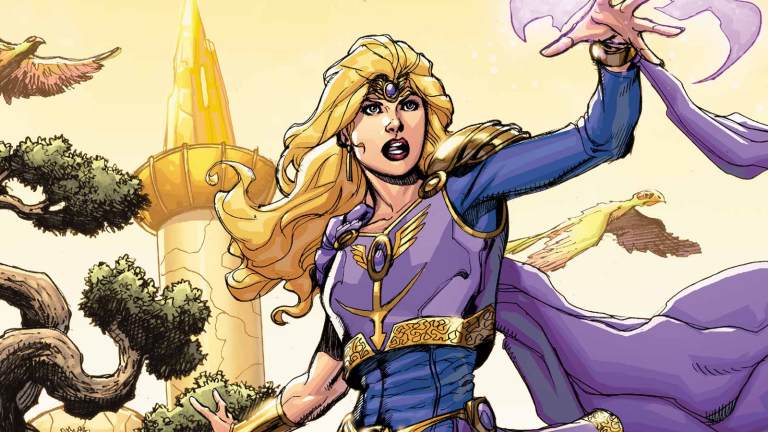 DC's imprint Wonder Comics, a group of Brian Michael Bendis curated titles that includes Young Justice, Dial H For Hero, Wonder Twins, and Naomi, has been one of the publisher's bright spots over the last year. Now, Wonder Comics has grown bigger with the inclusion of a new series. At the Wonder Comics panel at New York Comic Con, DC announced a new series starring Amethyst, Princess of Gemworld.
This latest Wonder Comics entry will run for six issues and it's written and drawn by Amy Reeder (Moon Girl and Devil Dinosaur). Amethyst made her pre-Rebirth debut in Wonder Comics' Young Justice which peaked Reeder's interest. "Well, I guess my side of the story is that I heard that Bendis was going to bring Amethyst, Princess of Gemworld into Young Justice," Reeder told the NYCC crowd. "Editor Andy Khouri reached out… they wanted me in and, at the time, I was actually more planning to go and do my own creator owned thing… Both Andy and Bendis have been giving me a lot of space to dream things up."
Whatever Reeder's "creator owned thing" might be will have to wait because, according to Reeder, "I really wanted to do fantasy next. I just really wanted to have a place where there's no rules." 
As for the Wonder Comics experience, Reeder beamed, "It's been amazing to work on. It's all about her in Gemworld. It's a lot of world building… psychedelic fever-dream stuff."
The character Amethyst first appeared in The Legion of Super-Heroes #298 (April 1983) and was created by Dan Mishkin, Gary Cohn, and Ernie Colón. Reeder describes the Princess of Gemworld as "a well-meaning person who cares about doing the right thing. That's kind of the major theme for her."
According to Reeder, the new series will focus on Amethyst returning to Gemworld. "She's got to take care of a whole world," Reeder says. "Brian is helping set me up with that. One thing that he really wanted to have happen in Gemworld is that he wanted Gem-tech. I'm definitely not doing Sword and Sorcery. Basically, with Gemworld, but it's like twelve realms and they're based on the different Earth stones. so I drew from that. Bendis really likes Dark Lord Opal, so he'll be in there. It's a lot of world building, a lot of gorgeous landscapes and psychedelic fever dream stuff. It's really fun."
During the panel, it was also revealed that the Wonder Twins and Naomi will be joining the Young Justice team. Big things are in store for Wonder Comics in its second year and Amethyst and Reeder should be a big part of the action.