News
Agents of SHIELD Season 4: New Ghost Rider Gabriel Luna Dishes on the Role
Gabriel Luna discusses the interesting dynamic involved in playing a reinvented version of Ghost Rider on Agents of SHIELD.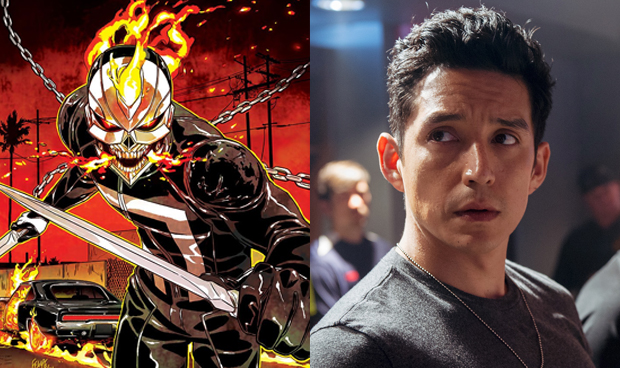 ABC's Agents of SHIELD made a vengeance-filled, fiery announcement at Comic-Con last month with its teased introduction of Ghost Rider to the acknowledged Marvel Cinematic Universe continuity. Of course, said introduction came with a crucial caveat, since the traditional motorcycle-ripping iterations of Johnny Blaze or even his 1990's successor Dan Ketch will be skipped over in lieu of the newest comic book version Robbie Reyes and his flame-spewing muscle car. Actor Gabriel Luna, who plays Reyes, now reveals an interesting take on the classic character.
In an interview with The Hollywood Reporter, Gabriel Luna reveals some welcome insight to his small screen version of Ghost Rider, which looks to be his biggest break as an actor. With the Robbie Reyes version of Ghost Rider making his comic book debut only two short years ago, Luna understands that his onscreen adaptation will also serve in a pioneering capacity, stating that, "Because there is so little material on him right now, a lot of the show is going to be expanding the Ghost Rider canon." In fact, Luna reveals that – while aware of the classic Blaze and Ketch versions – he was not familiar with Reyes and that his existence actually surprised him when cast as the character. As Luna explains:
"When [Marvel TV head] Jeph [Loeb] and [Agents of SHIELD executive producers] Jed [Whedon] and Mo [Tancharoen] finally cracked the lid on what I'd be playing, I was shocked because when they called me they were very secretive as to what it was. When I finally found out what it was, I did my research and I looked into it, and that's when I discovered that there was this new incarnation of Ghost Rider."
However, the apparent surprise that he would inhabit an iconoclastic iteration of the classic Marvel character didn't deter his enthusiasm and he went straight to his local comic book shop to obtain research in the existing dozen issues of the Reyes run. Coincidentally enough, the store personnel were said to be discussing the initial SHIELD/Ghost Rider fire-chain teases. Referencing his risky interaction with the store proprietor, Luna confesses:
"He has this encyclopedic knowledge of everything that's going down in the books and graphic novels and comics world. I just loved the excitement that this guy had. That was the very first moment that I realized just how big this role was going to be and the importance that this role had. But even though he had this excitement, I had to bite my tongue and I couldn't tell him that here I am buying my research. But this guy really took care of me. I can't wait to go back and tell him. I'm going to make some time to do that."
Experiencing a situation where he had to keep his important secret gave Luna the proper perspective of his character's crucial place in the small screen MCU. It also seemed to complement some coincidences between himself and the Robbie Reyes/Ghost Rider character, since the actor reveals that, like Robbie, he also cares for a little brother. Plus, Luna had a 2014 television run on the El Rey network's Matador; a show produced by Robert Rodriguez, who sports the same initials as Robbie Reyes and drove around in a similar black Dodge Charger. For Luna, that seems to be a poetic message from the universe that this is THE gig.
Take the Den of Geek 2016 Reader Survey for a Chance to Win a $100 Amazon Voucher Right Here!
Luna was able to be candid about the fact that Robbie Reyes's internal struggle between his own sense of self and the spirit of vengeance that made a home inside his body will be a crucial focus upon his debut on Agents of SHIELD in this fall's Season 4. It is essentially a yo-yo like struggle between the violent vengeance that the entity wishes to reap and Robbie's increasing loss of agency over his own life. However, further details are sparse, since Luna reveals that his character's debut in Season 4 was just recently completed. As Luna explains:
"It's so early right now, and there's very little I know right now. We have the first episode in the can. What I'm really excited about is that the Robbie I had in my mind, he's there. It's not just his name or his body. His personality is all there. And it's still the Ghost Rider. The Ghost Rider is a completely separate thing from Robbie. It's something that always inhabits his body and something that he always has to fight. It's an evil thing. That's what they have maintained in the writing. It's going to be a really solid interpretation of Ghost Rider. But as for his family, we're going to have to wait and see if they show up."
Luna sound like he wants to bring his A-game to this most unusually iconic characters from the Marvel lore, especially after the two big screen renditions of the Ghost Rider franchise starring Nicolas Cage in 2007 and 2011 didn't exactly ignite the world of fandom with the unquenchable fires of Hell. Luna comes fresh from a run on ABC's nixed 2015 drama Wicked City. Also, in a bit of irony, Luna, the car-driving Ghost Rider, will also appear on Discovery Channel's upcoming historical miniseries about the motorcycle industry Harley and the Davidsons.  
Agents of SHIELD will see Gabriel Luna's Robbie Reyes/Ghost Rider reap vengeance in a world defined by the emergence of Inhumans when Season 4 premieres on ABC on September 20.