News
Agent Carter: Hayley Atwell Discusses the Possibility of Season 3
As Marvel's struggling Agent Carter heads to its season finale, star Hayley Atwell sees a way to continue the series.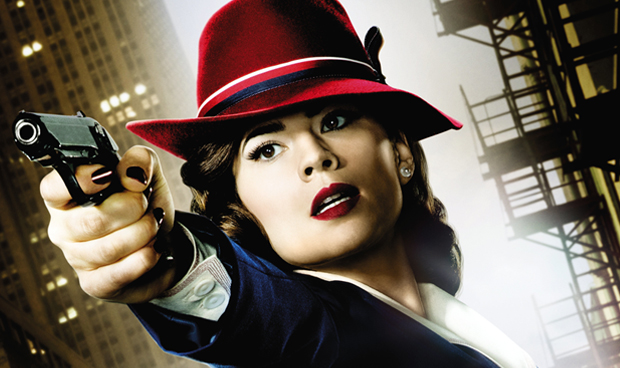 As Marvel's Agent Carter rounds its Season 2 finale, the celebrated series finds itself in the dubious position of having both critical acclaim and low ratings. Thus, when news recently hit that Hayley Atwell will headline another ABC series, Conviction, it felt like a cancellation certificate for Agent Carter. However, fans might be encouraged by the fact that Atwell has no intention of letting that happen!
In an interview with The Hollywood Reporter, Atwell candidly discusses the rather perilous thread on which Agent Carter currently hangs. Acknowledging the perceived inauspicious message that accepting the lead in another major series would send, Atwell definitively states that Conviction does not intrinsically represent the axing of Agent Carter, explaining:
"That's something ABC has talked about a lot [with me]. If both got picked up, then we'd work out some way where I could do both."
Elaborating on the Conviction deal with ABC, Atwell reveals that the possibility to juggle multiple series' and continue on with Agent Carter was actually on the table, but not a definite thing. As Atwell explains:
"They [ABC] said that in the same sentence when they offered me Conviction which I was very flattered to get. But they also said this doesn't actually mean anything yet for Agent Carter. So we're just out in limbo in that respect. All I can do at the moment is just focus on the pilot that I have to start filming two weeks from now and do the best that I can with that. And then I'll just see what happens and see how people respond to it."
Last year, the heralded arrival of Marvel's Agent Carter seemed promising, showcasing Hayley Atwell's celebrated Peggy Carter character from Captain America: The First Avenger, kicking ass in post-World-War-II America. However, while earning a second season, the series never managed to make a ratings impact. In fact, Season 2 has seen a precipitous drop, inciting ABC to air two episodes per night for the past few weeks in a deliberate attempt to accelerate the rollout, lest it seep into the next sweeps period in May.
Atwell clearly has no delusions about the fact that the odds of a renewal for Agent Carter are not exactly stacked in its favor. In fact, when discussing tonight's season finale, titled, appropriately enough, "Hollywood Ending," the actress implies that the episode, while sporting a cliffhanger, could still suffice as a series closer. According to Atwell:
"Things are nicely wrapped up in a way that I think the audience will find very satisfying. The audience won't feel frustrated. If anything, they'll come away satisfied but also curious as to what happens beyond, because thanks to all the Marvel films she has appeared in, we know that Peggy's life goes on and she lives quite an extraordinary life and a long life. So there's always room to revisit her in different ways, different decades and different ages."
Nevertheless, Atwell still seems to be jockeying for a third season. The growth of the Peggy Carter character and her evolving working partnership with James D'Arcy's Jarvis remains intriguing. Moreover, she also sees potential to further unravel another mystery born in Captain America: The Winter Soldier pertaining to the identity of the man Peggy ends up marrying. While Enver Gjokaj's West Coast SSR Chief, Daniel Sousa seems to be the obvious candidate, the only clue the elderly, bedridden Peggy gave in the film was that her husband was someone that Captain America rescued. As Atwell speculates:
"I don't know what they've got in mind for that really. So if Sousa and Peggy were to get together, that doesn't exactly mean they'll be together forever. It could really go either way."
Given how much screen time Agent Carter has invested into the "will they or won't they?" dynamic between Peggy and Sousa, it would seem odd to not see a meaningful payoff. Perhaps, a prospective Season 3 could reveal that the incident during the War that relegated Sousa to walking with a crutch DID involve Captain America saving his life and he kept that secret from Peggy, since he knew of their legendary romance; something he never thought he could match.
Marvel's Agent Carter is set to make what could end up being its last serial stand when the Season 2 finale airs Tuesday night (tonight) on ABC.