News
Win This Magical 'The Witchlands' Giveaway!
Engulf yourself in the saga of Susan Dennard's 'The Witchlands' series with this awesome prize pack!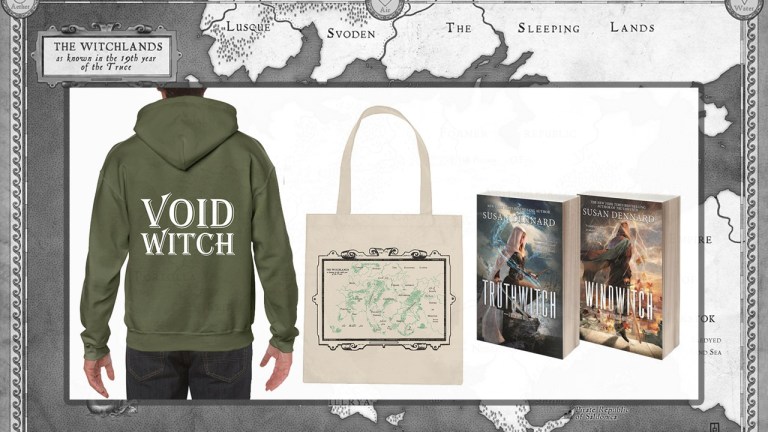 We've partnered with our friends at Tor Teen to bring Susan Dennard's The Witchlandsseries to one lucky, geeky reader!
A huge hit among fantasy readers, Susan Dennard's New York Times bestselling The Witchlandssaga has become widely known for its inventive, epic fantasy world and young adult themes. The story of The Witchlands is told through Truthwitch, Windwitch, the special illustrated novella Sightwitch, and next February's forthcoming Bloodwitch. The series is set on a distant continent, in which some are born with a "witchery," a magical skill that sets them apart from others. Following best friends Safi (a Truthwitch) and Iseult (a Threadwitch), as well as the cunning ship captain Prince Merik (a Windwitch), and the mysterious and powerful Aeduan (a Bloodwitch), the heroes of the series must navigate warring empires, political machinations, and mercenaries who seek to use their magic for selfish gain.
Any fan of a gripping and fast-paced fantasy saga will be captivated by the wonderful world of The Witchlands, where Dennard focuses on the true power of magic, bravery, and most importantly, friendship. That's why we're giving our readers the opportunity to get immersed in the universe with our giveway. One (1) lucky winner will receive the prizes pictured above:
– One copy each of Truthwitch and Windwitch (Books #1 + #2 in the series)- A custom The Witchlands map tote bag and a "Voidwitch" zip-up hoodie!
Entry for the giveaway is simple:
– Join the Den of Geek Book Club over on Goodreads.
– Comment in one of the discussion threads, and be sure to mention you're there for the The Witchlandsgiveaway!
Unfortunately, only readers who reside in the United States qualify for this contest. Final entries will be accepted Friday, November 21st! One (1) winner will be drawn at random and contacted via Goodreads message. Good luck!
Brian Berman is the social media manager for Den of Geek. He is a self-professed turbo nerd and pop culture enthusiast who enjoys late night Netflix binges, PC gaming, and cooking. You can check out more of his work here.