News
Wild Cards: George R.R. Martin Superhero Series Coming to TV
Ever wonder what a George R.R. Martin take on superheroes would look like? You're about to find out with a Wild Cards TV series.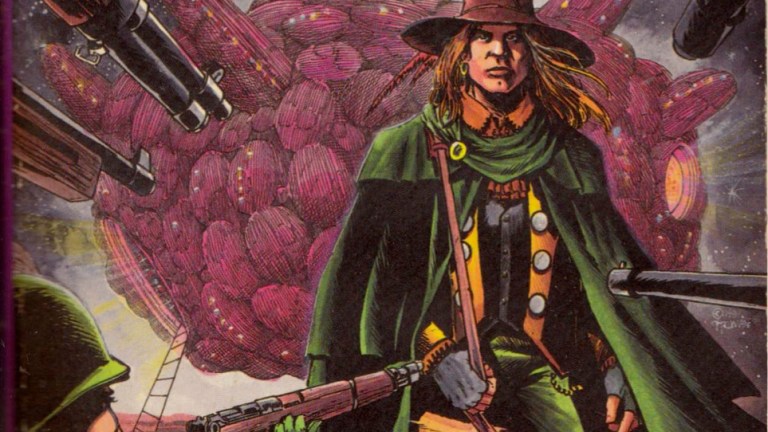 Wild Cards, the long-running series of superhero prose anthologies edited by Mr. Martin and Melinda M. Snodgrass is coming to TV, possibly just in time to fill the Game of Thrones shaped hole in your viewing schedule.
Universal Cable Productions picked up the rights to make a Wild Cards TV series two years ago, and now they are close to a deal with Hulu to bring the show to life. THR also has word that a writers room will soon be convened, and the show could take the form of multiple different series, all set within a shared universe. Andrew Miller (The Secret Circle) is already writing, and THR makes it sound like there are two shows already in the works.
The news was first announced by Mr. Martin himself on his blog back in 2016. I'll let him tell you in his own words what the overall concept of Wild Cards is.
"The shared world of the Wild Cards diverged from our own on September 15, 1946 when an alien virus was released in the skies over Manhattan, and spread across an unsuspecting Earth. Of those infected, 90% died horribly, drawing the black queen, 9% were twisted and deformed into jokers, while a lucky 1% became blessed with extraordinary and unpredictable powers and became aces. The world was never the same."
The Wild Cards series encompasses over 20 books of short stories and shared universe novels, and there are more on the way. Considering the massive amount of material the show will have to pull from, it's not yet clear which characters will make the jump to the screen. Again, I'll turn this over to Mr. Martin.
"Which stories will be adapted? Which characters will be featured? Hard to say at this early stage. Let's see… we have Jetboy, the Four Aces, Dr. Tachyon, the Great and Powerful Turtle, Modular Man, Yeoman, Wraith, Cap'n Trips, Fortunato, Puppetman, Chrysalis, Popinjay, the Oddity, Father Squid, Water Lily, Sewer Jack, Bagabond, Peregrine, Carnifex, Infamous Black Tongue, Bugsy, Curveball, Earth Witch, Cameo, Elephant Girl, Demise, Ramshead, Mackie Messer, Mr. Nobody, Double Helix, the Amazing Bubbles, Stuntman, Rustbelt, Lohengrin, Hoodoo Mama, Drummer Boy, Abigail the Understudy, the Midnight Angel, and many many MANY more…Only one thing I can say for (almost) sure. You will be seeing Croyd Crenson, no matter shape the eventual show or shows ends up taking. It wouldn't be Wild Cards without the Sleeper."
Mr. Martin's partner in the Wild Cards universe, Melinda M. Snodgrass will serve as executive producer along with Vince Gerardis. This isn't the first time UCP has flirted with Wild Cards, as the series was considered as a movie back in 2011 as well, but that never came together.