News
Wicked Movie Gets New Release Date
Universal has changed the Wicked movie release date.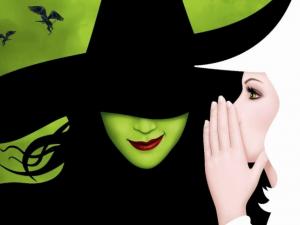 Look to the western sky: Wicked will finally fly from Broadway into movie theaters.
Universal has moved the release date of the Wicked movie. According to Deadline, the Wicked movie will be released on December 22, 2021, rather than the originally announced December 20, 2019 (which was more of a placeholder release date, anyhow). This means it will be going head-to-head with Avatar 3. You know, in theory.
"I will tell you 100 percent there will be a movie of Wicked and it won't be that far away, but it won't be next year, because we're still writing," Wicked stage musical creator Stephen Schwartz told THR in September 2018. "Pre-production hasn't even begun, but that could start in the not-too-distant future."
Luckily, musical fans will still have something to look forward to Christmas 2019. The Cats movie is set for a December 20, 2019 release.
Wicked is the musical adaptation of Gregory Maguire's bewitching book Wicked: The Life and Times of the Wicked Witch of the West, taken to the stage by writer Winnie Holzman and Oscar-winning composer and lyricist Stephen Schwartz, who will be collaborating again for this spellbinding production. Director Stephen Daldry and producer Marc Platt, also the producers of the Tony-award winning show, will conjure movie magic.
Exposing the darker side of the Emerald City, Wicked is meant to be the untold story of the witches of Oz. They first appeared via bubble and broomstick in L. Frank Baum's over-the-rainbow fairy tale The Wizard of Oz and its 1939 movie adaptation. Wicked tells of how an outcast sorceress named Elphaba, whose swampy complexion didn't boost her social life much, unjustly becomes known as the Wicked Witch of the West. No good deed of hers ever goes unpunished no matter how many times she repeats eleka nahmen from her spellbook. Her glittery pink college roommate Galinda doesn't exactly help matters, either. 
Witches aren't the only supernatural beings in Maguire's vision of the land of Oz. Watch closely and you might be able to pick out the origins of other Wizard of Oz characters, such as the Scarecrow, those infamous winged apes and the elusive Wizard himself (you'll find out exactly how Elphaba got so green).
Wicked, which originally starred Idina Menzel and Kristin Chenoweth as the green and pink frenemies, has managed to gross over $1 billion on Broadway and snag a trio of Tonys during its run.