News
Why you should support The Dandy
Once a British comics institution, sales of The Dandy are now sadly dwindling. Here, Andrew explains why it deserves your support…
The Dandy is a British institution, part of the great Dundee comics powerhouse that is DC Thomson, who also publish The Beano, The Broons and Commando.
The Dandy is something most people are aware of, if not familiar with. Desperate Dan, Korky the Cat and Bananaman are all characters who have graced the comic's pages throughout the years. If you grew up in Britain, you probably received a Dandy or Beano annual for Christmas. It's one of those things that seems like it has simply always been there.
However, the latest circulation figures show that, in the first half of 2011, The Dandy lost almost half its readership. In October 2010, it was rebranded (losing the word Xtreme from its title), and incorporated celebrity spoofs alongside new strips. The comic now resembles a strange parody of Heat at times, with a regular Harry Hill strip and pop culture references amidst such characters as My Own Genie, Mr Meacher The Uncool Teacher and Desperate Dan.
In a recent issue, nine out of thirty two pages featured comics based on real celebrities, including the front and back cover. It is this approach that has angered a portion of its readership (although, if social media sites are anything to go by, this portion mainly consists of a few dozen adults who aren't very good at the whole 'change' thing).
Not knowing any children, I don't know whether they either like or get some of the references, but certainly most of the celebrity strips are, as the cover promises, mickey-takes. It seems like a minor annoyance, when the rest of the comic is exactly what you'd expect of it. As an adult, I've only ever read The Dandy for research into Den Of Geek articles, and I'm not a long-term reader.
Comics are having a hard time in general, and circulation figures show a slight increase in magazine sales but a decrease in comics. Heavyweights such as The Simpsons and Doctor Who Magazine have lost sales despite no obvious decrease in quality. Clint has hardly set the world on fire, but that might be because it isn't as good as the alternatives. 2000 AD is still maintaining a high level of quality, but times are tough.
The Dandy deliberately moved away from a magazine format to include more strips. Crucially for some people, established stars have moved away from the covers, but the really important question regarding The Dandy is this: is it any good?
The answer, as far as I'm concerned, is a resounding yes.
It now has strips that appeal to children and adults. There's a gleeful, all-pervading sense of silliness that makes such CBBC shows as Sorry I've Got No Head and The Legend Of Dick And Dom appealing to a wide audience. Even if a youngling doesn't know who Mr T is, they're going to understand an angry man shouting advice at them, and they're definitely going to understand The Bogies (featuring Justin Sneezer) even if they have, mercifully, been spared the knowledge of the celebrity it references.
Does anyone remember the experience of finding The Sarah Jane Adventures infinitely more mature than early Torchwood? That something happy in its own skin, capable of being enjoyed by everyone, but aimed largely at children, could easily surpass something aimed at us dark and cynical adult types? That's how reading The Dandy feels  when compared with some adult-comic strips. It was purely enjoyable, in no way patronising, and considerably funnier than I expected. The artwork is varied, idiosyncratic and therefore less daunting for children, particularly aspiring young artists who want to develop their own style – these artists clearly have, so why not them?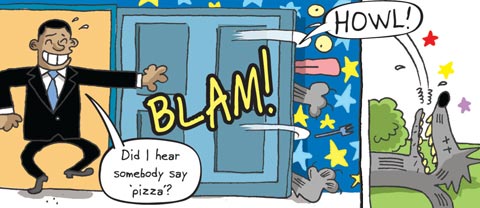 This begs the question: Why are the comic's average sales figures falling?
It's a tricky question, because while the new direction has divided opinion, there are plenty of people out there who love it. Compared with Dandy Xtreme (and how effortlessly patronising does that sound for a kids' comic title?), it is a more traditional comic, with no free gifts or feature articles. There are adverts, jokes pages and competitions, but otherwise it's just comic strips. This seems, intuitively, like a good idea, but perhaps it is one of idealism over pragmatism.
Egmont Publishing produce Toxic Magazine for a similar audience, but as well as comic strips, it features reviews of film, music and sport. Its sales figures went up very slightly, but with an average circulation of around 40,000, it sells almost six times as many copies as The Dandy (albeit with a fortnightly rather than weekly release rate).
Let's be honest, there are many examples of something great being cancelled due to a lack of popularity. Firefly, Doctor Who, Arrested Development, Attention Scum – the list goes on. (Here's a Den of Geek list of shows cancelled before their time.)
The obvious worry is that The Dandy might go the way of Beezer or Topper, until DC Thomson end up publishing just one children's comic under The Beano banner, incorporating the most popular comics from its other titles. This has happened before, with its leading titles assimilating the more popular strips from other comics with dwindling sales.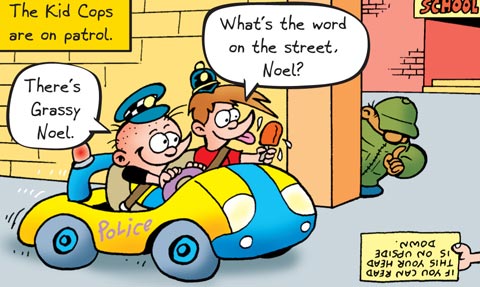 You may not be a parent, or have children who would read The Dandy, but I would definitely recommend trying it anyway. It's worth having a look at, for not only is it gloriously daft, but you'd also be helping a worthwhile cause. Then, if you like it enough, a subscription is an offensively reasonable £15 for fifteen issues.
Why, that could be somebody's birthday present. (Sorry, not sure what happened there. I'm not on commission for this, incidentally, but I do have a birthday coming up.)
It just seems a massive shame that a group of talented people – and it's not as though comic creators in the UK are huge earners to begin with – are having their ability and livelihoods called into question, mostly by adults who the comic is not aimed at. Buying one issue, just to see if you like it, isn't a huge hassle.
The alternative is that, one day, there won't be as many comics around for children, and so there won't be as many places that aspiring writers and illustrators can go to earn a living. There'll just be the Internet, which is not an easy place to stand out in, while Clint, Disney & Me, and Bob The Builder will be all that's left in newsagents.
And none of those has a strip where the sun is covered in jam on the whim of an infant British Prime Minister. The Dandy does. Just sayin'.