News
WHITE: Sequel to Controversial BLACK Announced.
The follow up to the critically acclaimed comic BLACK is on Kickstarter now.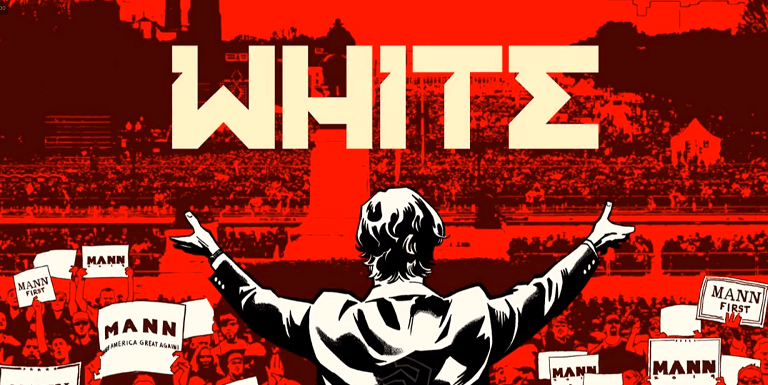 It's not terribly surprising given how critically and financially successful the original was and the spinoffs announced not long after, but we are finally getting our direct sequel to BLACK, one of the best comics of 2017. Kwanza Osajyefo, Tim Smith 3, Jamal Igle, Khary Randolph and the team behind that book are back with a new Kickstarter for WHITE.
"How does a nation struggling with a history of racial inequality cope in a world where only black people have superpowers?" said Osajyefo. "Our story asks: In a time of supposed inclusion and diversity, how far will those in charge push back to retain the status quo?"
The original book brought readers into a superhero world where only black people had powers, and used the superhero metaphor to examine social issues while telling a banger of a cape story. The follow up takes Theodore Mann, the main villain of the original tale, and installs him as President. Kareem Jenkins – X from the original book, the young man killed by police who returns from the dead with an array of powers – is the leader of the resistance.
This isn't BLACK's first expansion. The world of BLACK expanded shortly after the first story concluded with BLACK AF: America's Sweetheart, from Osajyefo and Jennifer Johnson, a graphic novel about America's first superhero, a black teenage girl from Montana. That was followed by BLACK AF: Widows & Orphansby Osajyefo and Smith. Widows & Orphans is a four-issue series that examined the history of the world
The idea of "inclusion and diversity" is an interesting one for WHITEto be tackling, and is potentially a signal of a swerve coming from the creative team. It suggests a couple of things: that WHITE will be no less topical than its predecessor, a book that had X and Donald Trump laid out like Donkey Kong and Mario.
It also suggests that we'll be spending more time at the subtlety proposed by the world. The metaphor of BLACK is abundantly clear, but race is an infinitely complex issue. Passing and the lines between tolerance, acceptance, and celebration are fascinating issues to shine through the superhero comic prism.
WHITE is, like BLACK, starting its life as a Kickstarter. The book will still be published by Black Mask Studios, but the Kickstarter campaign will fund publication in single issue format, with backers getting the first printing and stretch goals unlocking variant covers by industry legends like Ashley Wood or Denys Cowan. "My goal with the BLACK covers was to evoke an emotion that would stop the reader in their tracks," said Randolph. "I'm thrilled that some of the biggest artists in comics will also be a part of the Kickstarter for WHITE."
Learn more at the WHITE Kickstarter link.
For more on BLACK, WHITEor anything else from the BLACK universe, stick with Den of Geek!