News
Wheel of Time Amazon TV Series: Everything You Need to Know
The Wheel of Time, the sprawling fantasy novel mythology by Robert Jordan, is heading to Amazon Prime as a series.
One of the most popular fantasy franchises of the literary world, The Wheel of Time, is getting a live-action television adaptation. Originally authored by Robert Jordan, the 80 million-selling 1990-2013 book series depicts a sprawling mythology, amalgamating feudal and magical tropes with elements of Eastern mysticism. Indeed, the books bear philosophical influences from European and Asian culture, notably Buddhism and Hinduism, centered on the idea of time being cyclical in nature.
Amazon gave a series order to The Wheel of Time back in October 2018, setting the project as an hour-long series that will stream on Amazon Prime Video, as reported by Deadline and confirmed by an APV retweet. The move was the culmination of what had been a year-and-a-half process, going back to April 2017, when it was first reported that Sony Pictures Television was moving forward with the TV project.
The Wheel of Time Cast
The latest additions to The Wheel of Time cast arrive via Deadline in the form of a trio of recurring players – and we do mean "trio."
Priyanka Bose (Lion) will play Alanna Mosvani, "a member of the same organization of powerful women as Moiraine (Rosamund Pike) — the Aes Sedai." The character is "renowned for both her kindness and her temper." Intriguingly, instead of having one warder (protector), Alanna keeps two, forming a trio who have what's described as "a complicated relationship built on love, sex and respect that welds them into a fearsome force in battle."
Taylor Napier (All About April) and Emmanuel Imani (Black Earth Rising) will field the roles of Alanna's warders, playing Maksim and Ihvon, respectively.
In other recent casting news…
Amazon has cast four relatively new faces (at least to American audiences). Veteran Spanish actor Alvaro Morte will play Logain Ablar of the Black Tower. Hammed Animashaun (Black Mirror) will play Loial, an Ogier from Shangtai. Alexandre Willaume will be Thom Merrilin, a former bard. Johann Myers will portray the darkfiend Padan Fain.
Amazon recently released this footage featuring The Wheel of Time cast in a table read of the script, which also reveals the presence of Naana Agyei-Ampadu (GameFace), whose role is unknown at this time.
As for the rest of the cast…
Daniel Henney was recently added to The Wheel of Time cast. He will play al'Lan Mandragoran, a.k.a. Lan, the stoic warder (essentially a protector,) of Moraine (Rosamund Pike). However, Lan happens to be the lone survivor of a royal bloodline, and is the uncrowned king of Malkier, a province that was overrun by forces of the Shadow. Henney's announced casting as Lan was accompanied by the following quote: "I swear to stand against the Shadow so long as iron is hard and stone abides – to defend the Malkieri while one drop of blood remains. I swear to avenge what cannot be defended."
Henney, an American actor, can be currently seen on CBS's Criminal Minds, which he joined in 2015's Season 10, and is also known as the voice of Tadashi in 2014 feature Big Hero 6 and its current animated series. Besides TV runs on Revolution, Hawaii Five-0 and Three Rivers, he appeared in the 2009 Fox-Marvel solo spinoff movie, X-Men Origins: Wolverine, as Agent Zero, the character known in the comic book mythology as assassin Maverick.
The series recently revealed a quintet of main cast members. The show's official social media also provides pertinent quoted descriptions for each of the characters, culminating with the message, "It was about them all." The cast members consist of the following (pictured directly below from the left):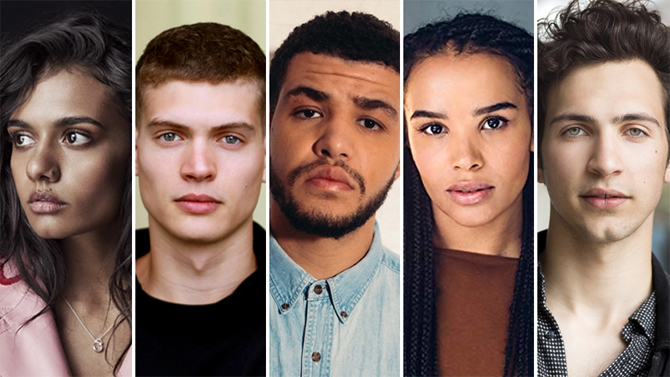 Madeleine Madden (Picnic at Hanging Rock, Tidelands) as Egwene Al'Vere. – "It was about a woman who would not bend her back while she was beaten, and who shown with a light for all who watched."
Josha Stradowski (Instinct, Spangas) as Rand Al'Thor. – "It was not about me. It's never been about me."
Marcus Rutherford (Obey, Shakespeare & Hathaway) as Perrin Aybara. – "It was about a man whose family was taken from him, but who stood tall in his sorrow and protected those he could."
Zoë Robins (Power Rangers Ninja Steel, The Shannara Chronicles) as Nynaeve. – "It was about a woman who refused to believe that she could not help, could not heal those who had been harmed."
Barney Harris (Clique, Billy Lynn's Long Halftime Walk) as Mat Cauthon. – "It was about a hero who insisted with every breath that he was anything but a hero."
They will, of course, join the show's June-announced headliner…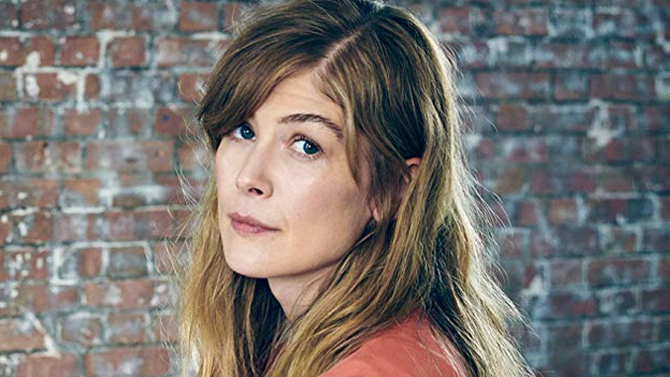 Rosamund Pike officially landed the lead role in The Wheel of Time as Moiraine. A member of an all-female secret society of magic users, called the Blue Ajah of the Aes Sedai, Moiraine embarks on a dangerous journey with five young people she comes to mentor, one of whom she believes could be the reincarnation of someone prophesized to either save or destroy humanity.
Pike, an Oscar-nominated actress for her role as Amy Dunne in 2014's Gone Girl, is also known from 2005's Pride & Prejudice and as a Bond villainess in 2002's Die Another Day. She recently fielded a small screen starring run on SundanceTV comedy State of the Union, and appeared in films such as A Private War, 7 Days in Entebbe, Beirut, Hostiles and The Man with the Iron Heart. She'll next be seen in the August-scheduled crime drama, The Informer, and, amongst other projects, will co-star as Marie Curie in the fact-based 2020 romance drama, Radioactive.
The Wheel of Time Director
Uta Briesewitz is set to direct the first two episodes of The Wheel of Time, reports Deadline. This should be great news for genre fans, seeing as the German director and cinematographer, Brieswitz, brings small screen experience from directorial runs on shows like Netflix's Stranger Things (in the recent Season 3), HBO's The Deuce and Westworld, AMC's Fear the Walking Dead, Starz's Black Sails and Netflix-Marvel shows such as (the just cancelled) Jessica Jones, Iron Fist and The Defenders, as well as streaming giant offerings Orange is the New Black and the returning Altered Carbon. Plus, she's fielded runs on Fox's Lethal Weapon and The CW shows The 100 and Jane the Virgin. Indeed, with a peak television CV like that, The Wheel of Time should be in good hands for its launch.
The Wheel of Time series buck stops with Rafe Judkins, who assumes duties as writer, executive producer and showrunner. Judkins is no stranger to genre television, serving as a producer and writer on ABC's Marvel series Agents of S.H.I.E.L.D. and the Netflix horror series, Hemlock Grove. He was also a story editor for NBC's beloved geek-wish-fulfillment spy series, Chuck. Judkins will be joined by executive producers Rick Selvage and Larry Mondragon of Red Eagle and producers Ted Field and Mike Weber of Radar Pictures. Additionally, the property's authorial legacy is in place with Jordan's widow, Harriet McDougal, onboard as a consulting producer.
As Sharon Tal Yguado, Head of Event Series, Amazon Originals states:
"Developing and producing Robert Jordan's beloved fourteen-books-series for TV is a big undertaking, and we don't take it lightly. We believe that Rafe's personal connection to the material and soulful writing will resonate with the book's passionate fans."
The Wheel of Time Release Date
The Wheel of Time has yet to announce a release date. However, a production timeframe was recently spotted in trade magazine Production Weekly, via fan site The Daily Trolloc. The excerpt claims that the series is set to begin rolling cameras in Prague, Czech Republic sometime in September 2019.
The Wheel of Time Details
The Wheel of Time TV series is moving along swiftly, with production having started on September 16, a bittersweet date, since it also marked the 12-year anniversary of author Robert Jordan's passing.
Of course, The Wheel of Time is a large-scale endeavor, since the novels of Robert Jordan (nom de plume of James O. Rigney Jr.), three of which were completed by Brandon Sanderson after Jordan passed away in 2007, build an intricate mythology governed by the titular seven-spoke Wheel of Time powered by an incorporeal celestial source of power. Like the Force in Star Wars, it is a binary power utilized by gifted people, here called "channelers." The story is spread across epochs in the continuing battle against Shai'tan (or, the Dark One,) who, upon breaking free of imprisonment from the Creator, exerts influence on the malleable to lead the source toward evil.
Amazon's series order for The Wheel of Time arrives after several years of starts and stops, going back to 2000 when author Jordan was still alive. A pilot called Winter Dragon, starring Billy Zane and Max Ryan, aired on FXX on February 8, 2015 (at 1:30 a.m.) to no fanfare or fruition (it was essentially a move by Red Eagle to prevent the rights from expiring). However, McDougal herself made media ripples in April 2016 when she announced "exciting news" about the property; something that required the clearing of some legal issues before moving forward. After the resolution of said legal issues, McDougal speculated that The Wheel of Time would become a "cutting edge TV series."
We'll keep you updated on Amazon's The Wheel of Time as things develop.
Joseph Baxter is a contributor for Den of Geek and Syfy Wire. You can find his work here. Follow him on Twitter @josbaxter.