News
What's Next for Valiant Entertainment?
Between their Icons titles, Harbinger Wars 2, and the Ninjak vs. The Valiant Universe webseries, Valiant certainly has a lot on their plate.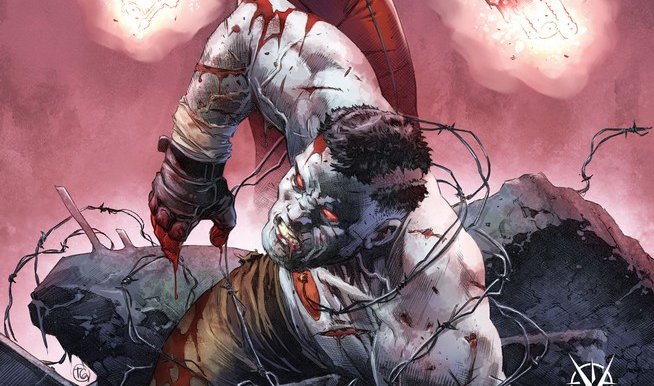 Valiant Entertainment had a pretty strong New York Comic Con, featuring four panels throughout the weekend. While one was off-site and talked about jumping-on points, the other three focused on the future. One discussed the new Icons direction, the hyped up Harbinger Wars 2, and the last one was about the upcoming webseries Ninjak vs. The Valiant Universe.
If 2016 was about branching out in different creative directions, the present is about focusing on Valiant's big guns. Guys like X-O Manowar, Bloodshot, Ninjak, Harbinger, Quantum and Woody, and even the return of Shadowman.
Yes, Shadowman will be coming back "in a big way" in March, but they didn't give us much in terms of details.
X-O Manowar will continue with Aric's off-world adventures, though X-O Manowar #10 (Matt Kindt and Renato Guedes) will have relatively little to do with Valiant's top hero and will instead tell "Interlude," a story that will introduce a bunch of new characters. More specifically, a group of bounty hunters who rescue their own kind from a prison planet.
Speaking of new characters, Bloodshot Salvation #4 (Jeff Lemire and Mico Suayan) will show us the origin of Rampage, the dark opposite of Bloodshot. This continues the "Book of Revenge" arc, which will be followed by "Book of the Dead" (issues #6-8) and "Book of Revelations" (#9-12).
Some pages were shown of the new book Eternity (Matt Kindt and Trevor Hairsine), which is a follow-up on the Divinity series. While they were tight-lipped about what it's truly about, it's apparently very different from Divinity, which is why it's not simply called Divinity IV.
Ninjak's new book Ninja-K (Christos Gag and Tomas Giorello) will essentially be about the ten Ninjas that existed before Colin King's stealthy alter-ego. For instance, there's Ninja-A, the Japanese warrior who fought in World War I, who led to the counter-creation Ninja-B to combat him during World War II. The fourth issue will talk about Ninja-G, the black female ninja from the 1970s with a blaxploitation look.
With the return of Quantum and Woody (Daniel Kibblesmith and Kano), the brothers are on rougher terms than ever. Apparently, Woody's biological father is still alive, Quantum finds out, chooses to keep it under wraps for whatever reason, and Woody becomes aware. Considering the two need to clang their bracelets once every 24 hours or they'll cease to be, it means a daily meeting between the two where neither says a word.
While Quantum and Woody being back is great on its own, Valiant is going the extra mile with Extreme Ultra-Foil Variant Covers for the first twelve issues. They actually went to Quebec to fight the right foils that were left over from the 90s. To go the extra EXTRA mile, there's also the Most Variant Cover of All Time: chromium, lenticular, embossing, die-cut, two kinds of foil, iridescent ink, hand-numbered, and stickered with a fourth hero that has nothing to do with the book! Then they went even further down that extra extra mile by adding glow in the dark and something that they call "Valiant Vision."
No two covers will be exactly like and it's only one per store.
But of course, the big story coming up is Harbinger Wars 2, written by Matt Kindt and Eric Heisserer with art by Tomas Giorello and Raul Allen. The story here will be a bit more scattershot than everything building up to heroes vs. villains finale. Instead, it's going to be told on different fronts. Each issue will essentially be two different storylines by different creative teams.
The basic story is this: the organization OMEN is trying to chase and hunt down Generation Zero with the Harbinger Renegades knowing that they're next. Psiots as a concept have become known to the public, so OMEN is having the Hard CORPS hunt them down and eliminate when necessary. Livewire doesn't especially appreciate this and this leads to her taking out the power grid across the country. Ninjak and Bloodshot are sent to bring in their former ally and it looks like X-O's absence from Earth will be coming to an end at an opportune time.
That will be coming out over the summer of 2018 and will last four issues.
Valiant's future isn't all comics, though. Some time within the next few months, we'll be getting the six-episode web series Ninjak vs. The Valiant Universe, starring Michael Rowe as Ninjak and directed by Bat in the Sun's Aaron Schoenke (known for the YouTube series Super Power Beat Down). The final product will be about 70 minutes long and at a NYCC panel, a little over ten minutes of footage was shown.
The plot has Ninjak blackmailed by his rival Roku to steal a maguffin of great importance from MI-6. Ninjak's good friend Neville has no choice but to bring in various heroes from all over to bring Ninjak in, including X-O Manowar, Archer & Armstrong, Eternal Warrior, Livewire, and Bloodshot. The footage included the first few minutes of the first episode, the introduction of Archer & Armstrong, and a brief intro to X-O.
Archer is basically portrayed as Kenneth the Page from 30 Rock and I love it.
Valiant will also be releasing a tie-in comic by Eliot Rahal. Coming out in January, the four-issue series will expand on the story of the web series.
Gavin Jasper wants a scene of Woody getting a call from Neville and casually hanging up before going back to sleep. Follow Gavin on Twitter!
Read the full Den of Geek NYCC Special Edition Magazine right here!