News
Valiant's Harbinger Movie Moves Closer to Production
The Harbinger movie now has two writers.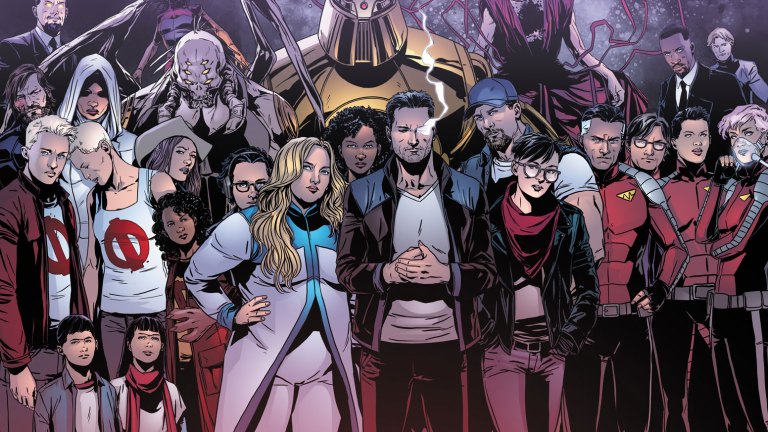 Harbinger, the opening entry in the new Valiant Cinematic Universe, picked up two new writers for a quick script rewrite ahead of production, according to Deadline.
Justin Tipping and Joshua Beirne-Golden have been brought on board to touch up the script for Valiant and Sony Pictures' flagship series. The comic centers on Peter Stanchek, a Psiot (Valiant code for "mutants") with a host of powers ranging from telekinesis to the ability to successfully unlock the powers of other Psiots with a 100% success rate. He joins the Harbinger Foundation, led by Toyo Harada, another powered individual with designs on reshaping the course of human history and secretly one of the best villains in comics. Spoilers: he's a bad hombre.
Tipping and Beirne-Golden previously collaborated on Kicks. The films will be produced by Neal Moritz, a producer on the Fast & Furiousfranchise. Harbingeris the first in a five-film series, to be followed by Bloodshot and sequels to both, before they tie together in the fifth movie, tentatively planned to be loosely based on Harbinger Wars,the first crossover from the most recent iteration of the Valiant comics universe. 
A huge part of Valiant's recent success has been their measured, methodical approach to building the universe. They had a set plan for expansion, and that expansion was driven by the story, not by arbitrary market decisions. The other key to that program was to hire top talent and give them the space to build their characters and tell their stories. It looks like they're following a similar template with the Valiant Cinematic Universe, and if past results are at all predictive of future returns, we should be in for a solid batch of movies.
No release dates for these films has been announced yet, but with a director attached to Bloodshotand Harbingerin rewrites, expect an update from Den of Geek soon.