News
Valerian and the City of a Thousand Planets: 15 Things to Know
Luc Besson's science fiction presentation had much of the Hall H crowd on its feet — and with good reason.
Based on the series of French comic books Valerian and Laureline by Pierre Christin and artist Jean-Claude Mézières that Luc Besson grew up reading as a kid, Valerian and the City of A Thousand Planetsis more than just your average passion project. It is a movie almost five decades in the making, yet one that could perhaps only be done credit in the post-Avatarcinematic world.
Besson — along with film's stars Cara Delevingne and Dane DeHaan and producer Virginie Besson-Silla — presented seven minutes of clips from the space adventure set to come out next summer, and it blew Hall H away, garnering a standing ovation from many of the fans in the audience. 
Den of Geek was there — both for the Hall H presentation and for the Valerianpress conference preceding it — to learn everything we could about this film from the director of The Fifth Elementand La Femme Nikita.Here are the most fascating tidbits we came away with…
Valerian is about two spatio-temporal agents: Valerian & Laureline.
Before we dive into all of the new stuff we learned about Valerianat Comic-Con, let's make sure we're all on the same page here. Here's the official synopsis for Valerian: 
Valerian (Dane DeHaan) and Laureline (Cara Delevingne) are special operatives for the government of the human territories charged with maintaining order throughout the universe. Valerian has more in mind than a professional relationship with his partner, blatantly chasing after her with propositions of romance. But his extensive history with women and her traditional values drive Laureline to continuously rebuff him.
In talking about the casting of DeHaan and Delevigne during the Valerianpress conference, Besson said: "I want actors passionate. My fear was someone taking a job. I just need to be sure that they want to be part of it and give everything. I give everything. I need to be sure that they would be there. Then, I need to be sure that they're talented. We made a lot of tests. I pushed them, pushed them pushed them. They're so good."
In addition to the aforementioned, Valerian and the City of a Thousand Planetsalso starsClive Owen, Ethan Hawke, Rutger Hauer, Rihanna, and John Goodman.
The prologue explains the evolution of the city of Alpha.
Before showing footage from the film, Silla walked those in Hall H through the formation of this world through some gorgeous concept art. The film only wrapped five weeks ago and still has 10 months of post-production work to go, which means that much of the most imaginative imagery from the film was unavailable to show (so it says a lot that this footage still blew Hall H away).
We learned from Silla that the film's prologue will start with actual footage from the docking of the American and Russian space stations, which represents the beginning of Alpha. From there, the city grows to include all of the countries of Earth and, eventually, to include many alien races. When the film begins, Alpha is the universe's center of science and culture — the place that everyone wants to be.
The film has over 200 varieties of aliens.
Silla showed us some amazing concept art from the many different kinds of aliens that inhabit this world. (Note: The above image is not from the movie, but rather from the comic book series.) In total, there are more than 200 unique kinds of aliens that hail from and live in all different kinds of environments, which just goes to showcase what the world-building for this film looks like. Besson worked with designers around the world for several years prior to even beginning production on the film, and that dedication shows, if this vividly-imagined concept art is anything to go by.
The film is set in 2700 and takes place over the course of 24 hours.
We learned from Delevingne that the entire plot of the film will take place over the course of 24 hours, and it will be a particularly trying day. This was definitely confirmed by the various clips show in Hall H.
In one clip, Laureline mocks her official-looking captors into trying to handcuff her before easily taking them out. In another, we see Valerian and Laureline go "undercover" to retrieve something on a desert-like planet, only to have their colleagues eaten one-by-one by a giant alien monster as they rush to board their ship. So, you know, just another day in the life of Valerian and Laureline.
Valerian & Laureline's chemistry grounds this entire project.
In speaking about what drew her to the script even though she isn't a huge fan of science fiction, Silla said: "[I] loved the joy there was in the script, how colorful it was. And also the relationship between Valerian and Laureline. I think anyone can relate to it." That relationship was definitely front and center throughout the clips, with the chemistry between Valerian and Laureline really grounding the weirder imagery and fantastic world-building.
In one scene, Valerian and Laureline bicker about Laureline's spaceship-driving. In the aforementioned desert planet escape scene, they hold hands as they rush to safety. Besson confirmed that, when the film picks up, the two have already been working together for a few years, so this isn't an origin story. (Just another way this film feels original and fresh in the face of so much else out there right now.)
DeHaan describes Valerian as a "space bro."
In one of the greatest pull quotes from the Hall H presentation, DeHaan compared Valerian to a "space bro," elaborating: "He thinks of himself as the most capable soldier in the universe, there's a lot of luck on his side, and he'd be nothing without Laureline."
Laureline's role is the latest in a pattern of kick-ass female characters from Besson.
Speaking of Laureline, she was a real standout character in the clips, and Delevingne is perfect in the role. Unlike so many of the big-budget (and, you know, small-budget) films out there, Laureline and Valerian seem to have an equal partnership. Laureline is in no way the damsel in distress here, and that is felt in every frame. She is often the one leading the way or directing Valerian in what he should do next.
In talking about what it is like to play the latest in a long line of kick-ass female characters, Delevingne said: "[It was] one of the most incredible experiences I've had in my life, but definitely the most daunting."
This movie is weird — in the best ways possible.
Besson seemed reluctant to compare Valerianto The Fifth Elementtoo closely — after all, the latter came out 19 years ago — but he did make some comments about how the movie-going audience has changed since The Fifth Elementwas released, saying: "Twenty years ago I was [considered] weird. And 20 years later, the world has gotten as weird as me."
In one of the most visually-stunning sequences Besson showed (during a sizzle reel at the end of the presentation), Valerian blasts through what is presumably one of Alpha's wall and runs through various segments of the vast space-city. All of them are different colors and textures, some filled with different kinds of vegetation, others with strange bubbles.
The sequence is similar to the aesthetic of Snowpiercer(coincidentally, a movie also based on a French graphic novel) in the way that it imagines a variety of different, beautiful, strange environments within the confines of one space. Of course, rather than taking an entire film to move through said space, Valeriandoes it in the space of seconds. Because Luc Besson.

The film has over 2,700 visual effects shots.
Just to give you some comparison, The Fifth Element;had 200 visual effects shots. During the Valerian;press conference, Delevingne and DeHaan spoke a bit about the process of working with so much green (or rather blue) screen, with DeHaan saying it was a bit like "[going] back to imaginations from when we were all kids. Sci-fi, whatever, comic book-kinds of movies, they're such a great way to back to playing … That's all there is: your costume and your imagination … There's something really interesting and freeing about that process, if you don't take it too seriously."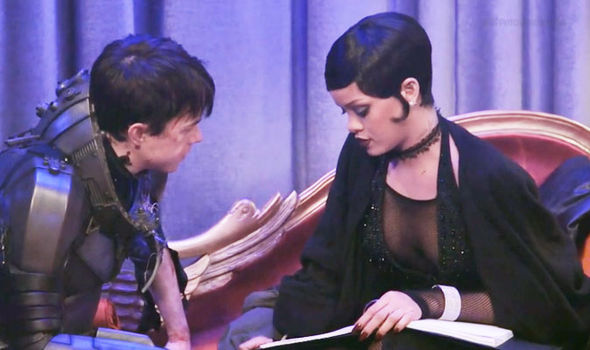 You will never be able to guess what Rihanna's role is.
Rihanna was featured at the end of the very last clip showed in Hall H. In it, Valerian enters into Glam Club, a neon-saturated establishment run by Ethan Hawke's character. He sits down, and a woman comes out onto the stage to perform what appears to be some kind of burlesque. It is Rihanna.
Speaking about Rihanna's role, DeHaan stayed tight-lipped about what the singer would be up to, but he did tease: "You guys don't even know. It's so crazy, so awesome."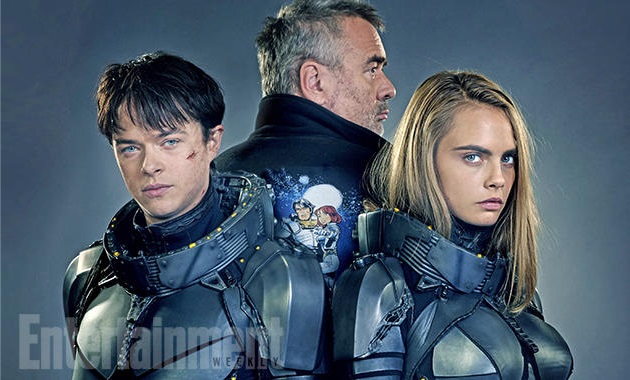 Luc Besson doesn't want you to know too much going in.
DeHaan's reluctance to talk about the details of Rihanna's role was echoed by Besson himself, who, rather than pitch the movie to potential viewers during the press conference, made this plea to potential viewers: "If you can trust me enough, try to know [any]thing. Just sit and watch the film. I've made 17 films, so watch some of them and decide if you can trust me, and then just go and sit and watch."
They're already hoping for a sequel.
(Spoiler alert: so am I.)
Besson, Silla, Delevingne, and DeHaan mentioned a few times that they would like to do a second film, though only in the most abstract ways possible. Right now, that is obviously dependent on how the first movie does. But, as the comic book series has 29 issues in all, it seems like it would be relatively easy to step back into this world — and the cast and creators already seem keen to do so.
Besson got an Inkpot Award.
OK, so this isn't technically Valerian news, but Besson did have his Inkpot Award presented during the Valerian panel, so we're going to count it. The Inkpot Award is given to individuals who have inspire us through film, TV, or books.
When Besson was presented with the award, he made a deal with the audience: Watch the seven minutes of clips from Valerian,then decide if he deserves the award. I'm pretty sure the popular vote was unanimous.Valerianlooks out of this world. In talking about what makes this big-budget genre film different from other big-budget genre films out there, DeHaan gave a great answer, saying: "I think the answer is Luc. I really do. I think Luc has a very distinct style. He's got a very distinct, unique taste, and this movie captures that. Without Luc, you can't have that."
Valerian and the City of a Thousand Planetsis slated to hit theaters July 21, 2017 and we will be counting down the days until we get to see it.
Don't forget to read Den of Geek's SDCC special edition magazine. Get a print copy on the show floor or read the digital version below: