News
Vagrant Queen TV Series Ordered by Syfy
Vault Comics' space-set action title, Vagrant Queen, is getting a TV adaptation, which Syfy has ordered to series.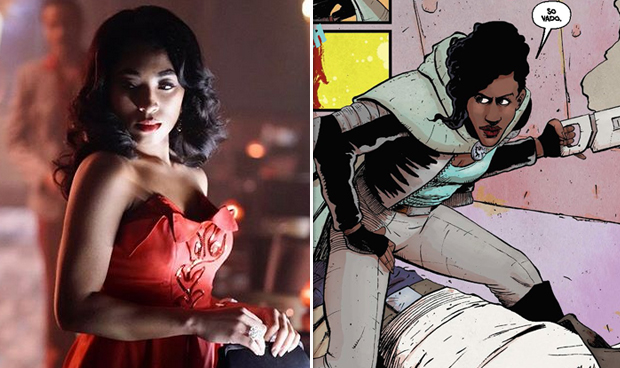 Vagrant Queen is bound for live-action glory. The Vault Comics title – created by writer Magdelene Visaggio with artist Jason Smith – is a fairly recent offering, having debuted back in February 2018, but it is now set up with a TV series adaptation over at Syfy, which has already given it a go-ahead as a 10-episode series.
Syfy's TV plans for Vagrant Queen are already in the works, according to Deadline. As a production of Blue Ice Pictures, the series – an outer-space epic about an exiled queen on the run across the galaxy – is comprised of an all-female creative coalition of writers and directors, led by creator and showrunner Jem Garrard (You Me Her, Android Unemployed). As the official synopsis from the producers of Vagrant Queen reveals:
"Vagrant Queen follows Elida from child queen to orphaned outcast, as she scavenges the treacherous corners of the galaxy, always one step ahead of the Republic government out to extinguish her bloodline. When her old friend Isaac shows up claiming her mother Xevelyn is still alive, they head off with their new ally, Amae, to stage a rescue that will take her back into the perilous heart of her former kingdom and up against a deadly foe from her childhood, Commander Lazaro."
In an intriguing side note, Vault Comics' description of its source material comic book series boldly states, "If Star Wars was directed by the Coen Brothers, you'd have Vagrant Queen."
Vagrant Queen Cast
In a further testament to the rapid progress of this surprise project, which is described tonally as a "fun, violent, snarky, space opera," Syfy has also revealed the show's cast.
Adriyan Rae will star as Elida, the titular vagrant queen. The role is the biggest break yet for the medical sciences double-major-turned actress, who's banked TV appearances on BET's American Soul, IFC's Brockmire and FX's Atlanta. She'll next be seen on a TV run in the upcoming second season of Hulu's Light as a Feather.
Tim Rozon will play Isaac. This co-starring role on a new Syfy series might be seen as an ominous sign for the future of Syfy's Wynonna Earp – on which Rozon co-stars as the enigmatic Doc Holliday – since that series is currently mired in delays that jeopardize its fourth season. Rozon previously fielded TV runs on Schitt's Creek, as well as defunct Syfy offerings Being Human and Lost Girl. He also currently appears on the CBC drama series, Diggstown.
Paul du Toit will play Commander Lazaro. This villain run will be important for the South African actor, who's previously fielded TV guest spots on Starz's Black Sails, BBC's Our Girl and a home-country TV run on Buurtwag.
Besides aforementioned showrunner Jem Garrard, Vagrant Queen's creative team will also be comprised of writers Mika Collins (Deep Six) and Mariko Tamaki (Skim). Garrard herself will be stepping in the director's chair for some episodes, as will Danishka Esterhazy (Banana Splits). Also aboard are executive producers such as Lance Samuels & Daniel Iron (Goalie), along with Vault Comics' F.J. DeSanto & Damian Wassel.
Vagrant Queen Release Date
Vagrant Queen is set for a premiere on Syfy in 2020.
Principal photography will reportedly commence in July in Cape Town, South Africa.
Joseph Baxter is a contributor for Den of Geek and Syfy Wire. You can find his work here. Follow him on Twitter @josbaxter.