News
The Pretenders' Chrissie Hynde Issues Art Book
The paint's not even dry yet, but Chrissie Hynde is Adding the Blue to a trace of the outline of a shadow.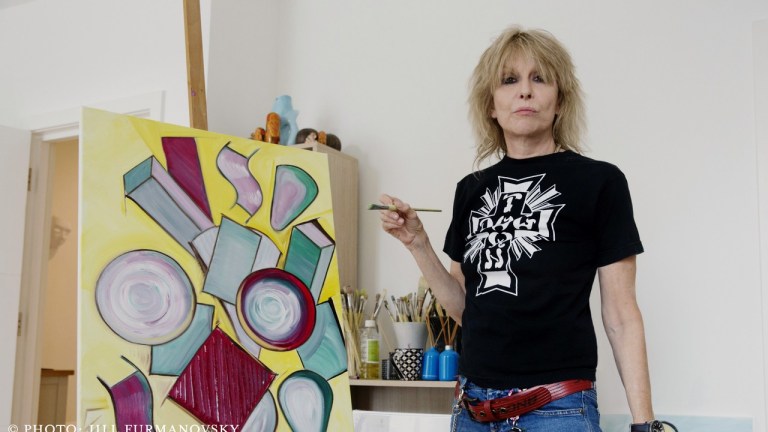 Chrissie Hynde's tattooed love boys smeared paint stick all over their scars and lumps and bumps, but the former Pretender can't fake it anymore. She will display 200 never-before-seen paintings in the book Adding The Blue. The edition of colorful still life studies and expressive abstracts is being published by Genesis, which  has brought out art books from musical icons like David Bowie, Bob Dylan and The Rolling Stones and Small Faces' Ronnie Wood.
"Coming off tour can be a tricky affair," Hynde said in a statement. "It feels like jumping off a trampoline. Painting is the one thing I've found to adjust back to civilian life. Genesis has been there collecting it all into book form. Now you can see for yourself. In fact, blame them."
Adding The Blue is introduced by the Royal Academy's Artistic Director, Tim Marlow and visionary musician and artist, Brian Eno. "These paintings wake me up, show me life, make me want to get up and do something," Eno writes in the foreword.
Hynde first rendered an oil painting of a ceramic vase made by a friend in 2015, and has now produced nearly 200 canvases. "Finally, I thought, 'now's the time,'" Hynde said in a statement. "I always thought I would get into painting, but I got waylaid by rock 'n' roll."
Hynde put The Pretenders together in 1978, merging the sounds of British Mods with punk Rockers, equal parts The Kinks, The Who, and The Ramones and Sex Pistol. Over nine albums they showed us what that hole was for. Hynde released her first solo album, Stockholm, in 2014, trading licks with Neil Young and, most recently, Dan Auerbach of The Black Keys.
Further reading: Ringo Starr Announces Photography Book and Tour
"Painting is pretty much like writing songs," Hynde said in a statement. "I might know what I want to write about, but generally I just dive in." Each Deluxe edition copy will also contain an exclusive, signed print of Hynde's "Sunday Painter" self-portrait. The images will be captioned with Chrissie's thoughts and reflections. The front cover will feature Hynde's "Monogram II."
Only 1,000 limited edition copies are being published, presented in a cloth-bound solander box, half-bound in linen. All will be individually signed by Hynde. The 212-page volume is printed on heavyweight uncoated paper, with hand-torn page edges. 
Culture Editor Tony Sokol cut his teeth on the wire services and also wrote and produced New York City's Vampyr Theatre and the rock opera AssassiNation: We Killed JFK. Read more of his work here or find him on Twitter @tsokol.
Read and download the Den of Geek NYCC 2018 Special Edition Magazine right here!