News
The Pan Books Of Horror Stories
What has the classic series of horror short-story anthologies got to do with Martin's grandad...?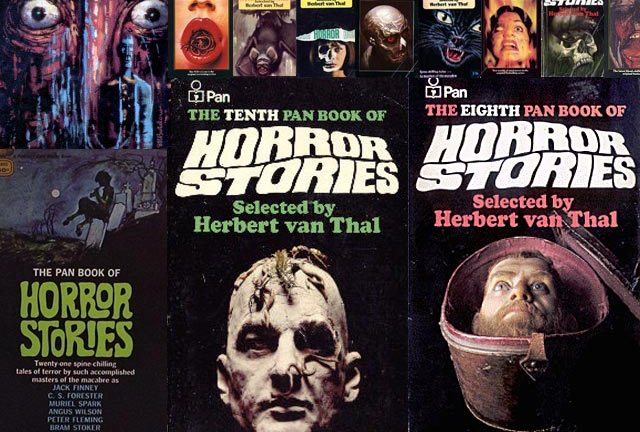 Next year sees the 50th Anniversary of a series of books so iconic in the public's mind that it's hard to believe critics continue to dismiss it. In truth, the Pan Book of Horror series contained some of the nastiest, most brutal stories ever committed to paper. Ramsey Campbell, when asked, called them 'increasingly illiterate, disgusting and meritless.' Still, their popularity persisted and they are being discovered by a whole new generation.The Pan Book of Horror Stories ran from 1959 – 1989, edited by the intriguing figure of Herbert Van Thal, who died in 1983. Clarence Paget took the reigns until the series finished some 6 years later.
With their often shocking covers and 'feature' authors such as H P Lovecraft, Robert Bloch and Bram Stoker, the early books claim to have sold over 4 million copies. Latter books upped the interest levels further with names such as Ruth Rendell, Ian McEwan and Stephen King.
John Mains is writing a history of the 30 book series, the research for which is proving very challenging. 'I've managed to speak with around 25 authors of over 200 named. That in itself has been a huge task. Quite a few went under pen names and to add to the confusion, when Pan (Macmillan) moved offices in the early 90's, they threw all documentation into a skip; contracts, even original artwork. Very little now exists. Even obtaining a photograph of the editor Herbert Van Thal is a gargantuan undertaking.'
There have been some amazing discoveries though.
'My favourite story from the 30 books is Spinalonga by John Ware. It appeared in book number 13, which I read after I managed to persuade my Dad to buy a rather tattered copy at a Jumble Sale.' John remembers. 'I searched high and low for Ware and I hit a brick wall. I had a lucky break when my details were passed on to his son. Luck like that makes you more determined.'
John Ware sadly died before he saw Spinalonga published and his son has given John access to a story he wrote before the war, which was never published.
'The story is a first draft and has needed a gentle edit to get it ready. But it will be up on the site extremely soon. It's a great honour to be entrusted with a piece written by the man who wrote my favourite short story.'
John is interested in talking to anyone who was involved in the series in any way shape or form; be it authors, artists or workers at Pan from 1959-1989. We've started the ball rolling – Den of Geek's own Martin Anderson revealed his grandfather Frank Quinton appeared in The Eighth Pan Book Of Horror Stories, with the story 'Lover's Leap'.
'Lover's Leap is a perfect example of what made the early Pan Book of Horrors such a force to be reckoned with, John says. 'It is almost innocent in its telling…before it hits you in the face with an ending as sharp as a pick axe.'
John can be contacted through his website at www.panbookofhorrorstories.co.uk