News
The Ian Gibson column: how to improve spam
Comics legend Ian thinks that spam needs a makeover. Plus, he's been getting fan mail...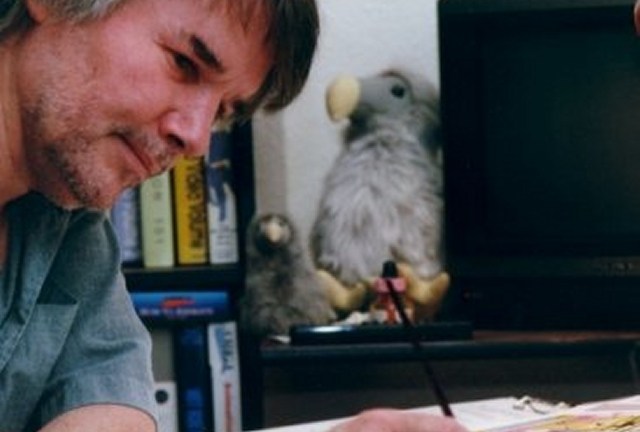 Even for me, this is tasteless. Probably needs more garlic and a pinch of Cayenne..? But I was browsing, in an idle moment, a pewter magazine that was suggesting, in these constrained (with the accent on 'strained'!) times, that money was to be made online more easily than in the regular jobs market.
So, as I notice that there is very little humour in the spam that clutters my inbox, I get an idea. Because when I turn on my newly acquired TV (mostly used to catch up on the episodes of Stargate SG1 that I've missed over the years, discover what 'Discovery' has on offer and, naturally, follow the Golf) I find Meerkats advertising car insurance and cute squirrels promoting savings accounts. So, a little more imagination could make the deluge of spam much more palatable.
Out of frustrated curiosity, I clicked on one of the links that suggested the equipment nature gave me wasn't up to the job (whatever the job may have been?). I wasn't really surprised to see how boring the site was – some lab-coated types to offer a sense of medical authority and not much else to catch your attention. So I figure a little injection of humour would blow the competition out of the water – or more properly into cyberspace!
Thus, I offer you the concept of: Burl Ives singing one of his classics, with a slight twist to the lyrics. And a Dolly Parton giggle, inserted at appropriate moments, as she has a sexy giggle and just the subliminal message that a suggestion of her sends is loaded with 'enhancement' vibes. So, cue the music as we sing: The Big Cock Randy Mountain. Now I'm destined to be a cyber billionaire overnight!
But enough of the spam that has decided that I have very little manhood, no sex drive and need a new imitation watch. Though the latter may be closer to my situation. But it is easily resolved with a new battery so that I don't need to check with the microwave to know what the time is. And I'm not particularly flattered by the suggestions that some odd berry will trim away my unwanted pounds! Even if I do get out of breath climbing the assault course that passes for a golf course round my way. I blame it on the bag!
So I am happy to find the occasional nugget of joy among all the detritus of the cyber world.
A letter from a fan recently brightened my day considerably. Among the joys of creating various characters over the years, it is delightful to find that an appropriately pretty lady has chosen 'Halo Jones' as her MySpace identity; to hear that a fellow has, after falling in love with Halo, found his own personal Halo and married her; and to have a fan name his daughter after Halo too and then ask me to do a portrait of her with Halo and Toby.
On top of the messages I've had over the years which claim that I inspired people to take up illustration as a career choice, the latest message is a heartwarming tale of family harmony (pun completely intended!) as I learn that a long time reader of 2000AD is reading, and now singing, his way through Play It Again Sam (the Comic Opera that John Wagner ( appropriate name!) wrote for Robohunter)…. with his son and his wife joining in. Now that is so delightful it comes close to bringing a lump to the throat.
The job does have its perks after all.
Read Ian Gibson's previous column for Den of Geek here.