News
The Ian Gibson column: fantasy and science fiction
Ian goes looking for Peter Hamilton novels, and celebrates a bit of Bobby Heinlein too...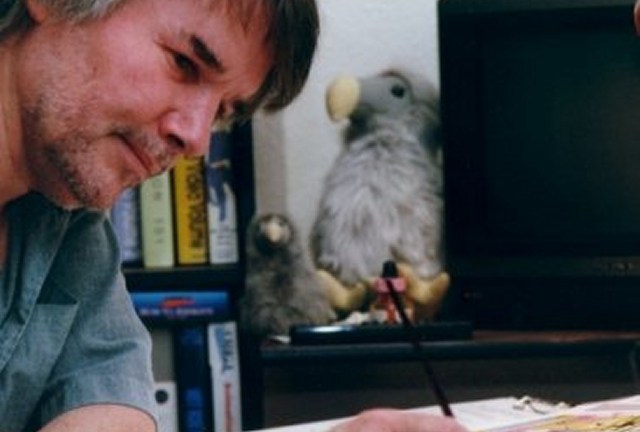 I've been laying here, ear buried in the pillow and duvet tucked securely around my shoulders, gazing out at the veils of rain as they're swept through the streetlamp's jaundiced light by the howling winds that bustle up the street.
It's an old sash window. So I have it open just a little. Just enough for a pussycat to come and go if he or she were brave or desperate enough to face the storm.
Beside the bed I have the suggestion of a bedside table. Really it's no more than a 'cat-perch' or stepping stool for them to come and go or just stop, sit and stare. So the real interested party in the state of the meteorological aspect is Caz, who is desperate for it not to be true – that the weather should be so wretched – just when she needs the garden so badly. I am merely joining in her vigil… enjoying the sparkle of light dancing on the rain striped leaves as they shiver in the chill winds of a winter morning.
This is an old house, built in the late 1800s, so the window sills are low, around bed height. Thus it's easy for me to roll over and see the world from 'pussycat' height, and reach out to pull the window closed should the rain and wind change direction. And, of course, pull it open as the weather allows or the cats demand.
This performance always puts me in mind of Bobby Heinlein's delightful book, The Door Into Summer. He really knew his cats!
He really knew lots of stuff. That's part of what made him such a great writer. And he loved words! I can't think of another writer who would have been bold enough to challenge his readers with a word like "Amphigory".
Science fiction writers are all too fond of confounding their audience with 'meta-words' that they've just made up to fill in for some scientific novelty item that the plot hinges precariously upon.
One writer who seems to do this rather better than most is young Peter Hamilton. I'm shamed to confess that I've only recently discovered his work. And have been making up for it by voraciously devouring many thousands of his pages, which are packed full to overflowing with concepts and innovations. They are a truly rewarding read, and very difficult to put down! Which is something that cannot be said for a certain book of Pern that I was unfortunate enough to encounter recently. I don't think I got past the first 30 pages. And I only got that far with gritted teeth, in the hope that something might hint at why it was ever printed.(!?)
Okay. So I know it's a slightly different genre, being 'fantasy'. Maybe the readers of fantasy have lower expectations than yours truly. But having said that, I also recently started on a compilation of science fiction stories calling itself 'extreme', and am sad to report that the first offering, though highly lauded and heaped with praise by the editor of the collection, was somewhere on the far side of disappointing. Thankfully, it was brief. Otherwise, the book may have joined the tale of Pern as one for the junk shop.
So, to ameliorate my mood and assuage my disappointment, I'm off to Amazon to check on the availability of more Peter Hamilton novels!
And hope that my own words haven't been too disappointing.
Ah. The rain has stopped!
So, how come both the cats are fast asleep on the bed?
Read Ian Gibson's previous column for Den of Geek here.