News
The Ian Gibson column: comic conventions
Comics legend Ian Gibson is hitting the convention circuit again: and he's got some fond memories of yesteryear...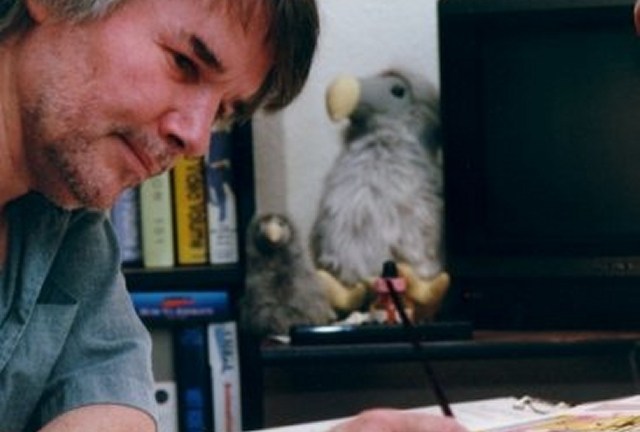 I am planning on emerging from my self imposed exile, and attending at least one of the comics conventions planned for this year. The one in Bristol. A nice small affair, but well attended with a good atmosphere.
Now, conventions come in all sizes. The London Con that used to happen at the LSE was quite a big affair for the UK. There was always more going on than you could get to see, especially if a lot of your time was taken up with signing books and doing sketches. But the occasional 'panel', where you sit and answer questions, could sometimes be fun.
I recall one such where I was sitting next to Pat Mills. Now this was back in the days when smoking in public places was not yet a criminal act. Pat had just been asked a question as he was in the process of popping a cigarette into his mouth. But before he lit it, he answered the question, with the cigarette gripped firmly in his lips, which made his speech somewhat distorted – in fact, barely intelligible. The nicotine tube was bobbing furiously up and down as he mumbled around it. And I was sorely tempted to reach out and snatch it from his lips, saying, "For goodness' sake, Pat. You look stupid!" But I resisted, though the memory lingers on.
One of my favourite memories of a convention was the Norcon in Portland, Oregon.
I'd taken Luke, my son, along. He was just nine years old and was thrilled to see big seven foot high statues of the Alien and Predator characters looming over the stands of comic displays.
I was sitting at a bench, assigned to me for the mandatory sketching session, with Al Williamson just a few seats away. Luke was running around free, looking for some plastic model that he just had to have. And I was trying to summon up the courage to approach Al to tell him how much I'd loved his work over the years. Just like any fan. But Al beat me to it, when he came over with Luke, who had made friends with him, as they were both hunting down the same elusive plastic figurine. So Luke introduced me to Al and we got to chatting and later in the day were sitting together to do some special charity sketches for some worthy cause. That made it a very special convention for me.
In Europe, conventions are much more relaxed affairs. And the creative people, writers, artists etc. all tend to gather for meals after hours where anecdotes, ideas and even sketches are swapped. I recall a mad one in France where we were all sketching for each other on the tablecloths of the restaurant. That was in Lille, I think, just after Grimtoad was published. So everyone wanted me to draw them a toad!
Another wonderful one was in Spain, where I met Esteban Maroto. A long time hero of mine. We were all sitting upstairs in a restaurant, sketching for fans, who had presented us with books to fill for them. I was at the end of the table. And after the meal we set to on various pieces of illustration. I had the habit of taking a DC bag, that had been a present from the company for my work on Mr Miracle, I think? I had it stuffed with pens, pencils, watercolour pencils, markers, erasers and, of course, sketching pads. So I was well equipped to supply all the artists around the table with whatever they needed. Esteban kept complaining that he didn't have the right stuff with him, so he was using coffee and red wine to colour in his work! So, I'd dip into my bag and produce something new to keep him happy. His wife decided that I was like Santa Claus with my magic bag of presents.
Sadly, at the UK conventions the tendency seems to be for the 'after hours' to be spent consuming beer, which just isn't my 'thing'. But the time I spend at the 'table' in the convention hall, doing sketches will be the highlight for me.
Looking forward to it. Maybe I'll see some of you there..?
Read Ian Gibson's previous column for Den of Geek here.